My wife and I visited Al Maeda Restaurant at DoubleTree by Hilton JBR on a Sunday and had a great Arabic feast of Moroccan and Levant cuisine. Al Maeda recently introduced two new Chefs and they brought some fresh options in their Arabic food menu.
The restaurant is located towards the end of The Walk. It's a bit secluded from the busy JBR area which is good if you're looking for a place with a more intimate set-up.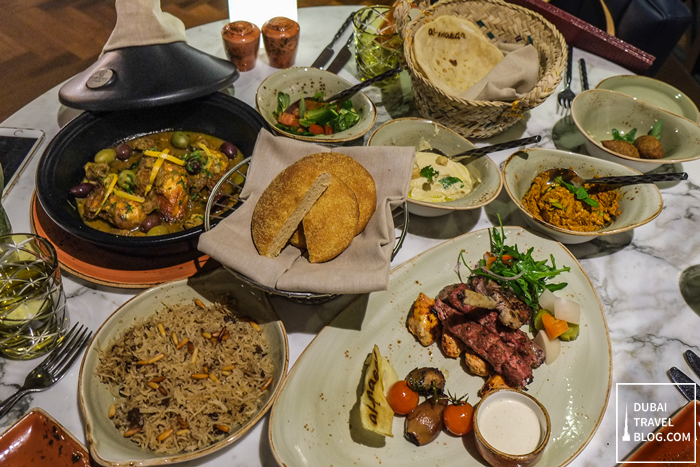 Moroccan and Levant dishes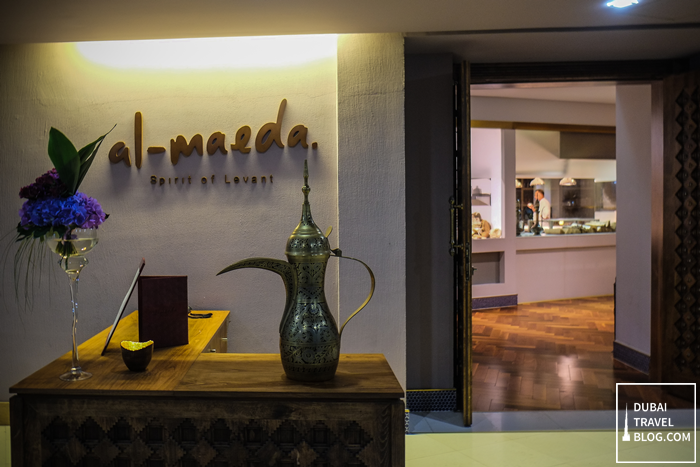 Al Maeda Restaurant lobby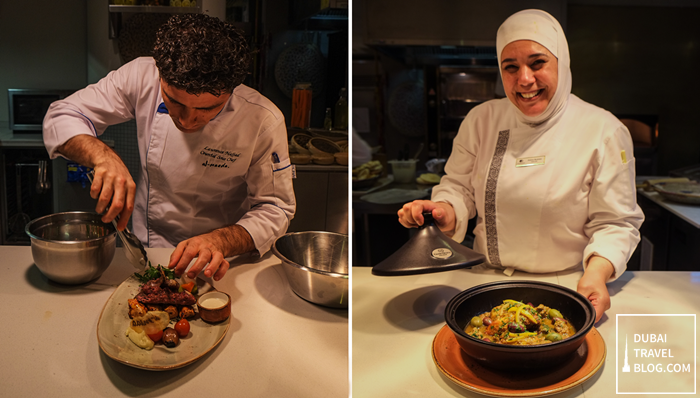 Chef Lawrence and Chef Halima preparing their specialties
Arabic mix grill and Chicken tagine
Al Maeda Restaurant at DoubleTree by Hilton Jumeirah Beach Hotel
As we entered the restaurant, we were greeted by huge tables that can cater from two to a large number of people. I am later reminded about how Arabic meals are served, with a family and over long conversations.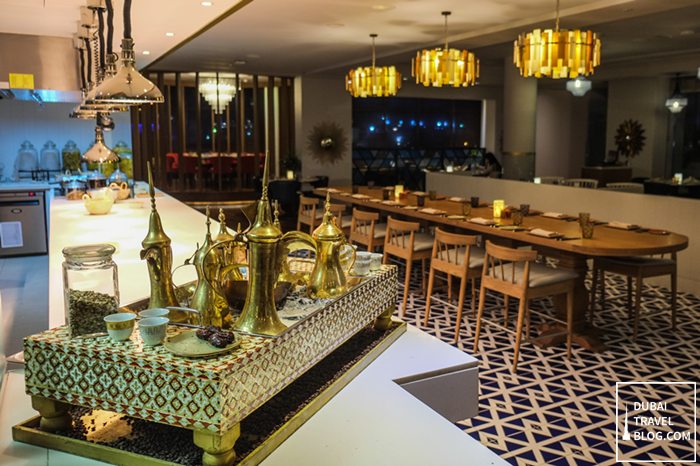 huge dining table in front of the kitchen area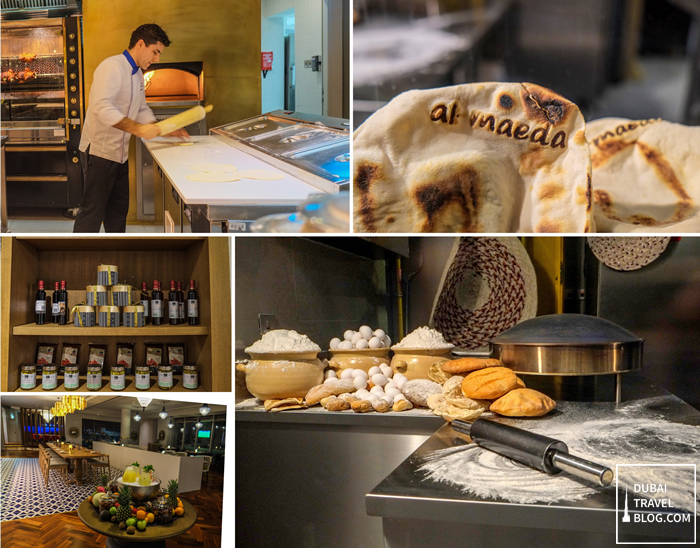 inside Al-Maeda Dubai
This is a fairly new restaurant and they can get quite busy on weekends when families would try hot and cold mezzeh, Moroccan tagines, and other specials.
You can dine in an upscale Arabic cuisine restaurant which offers traditions that are purposely blended in a warm setting with great food options.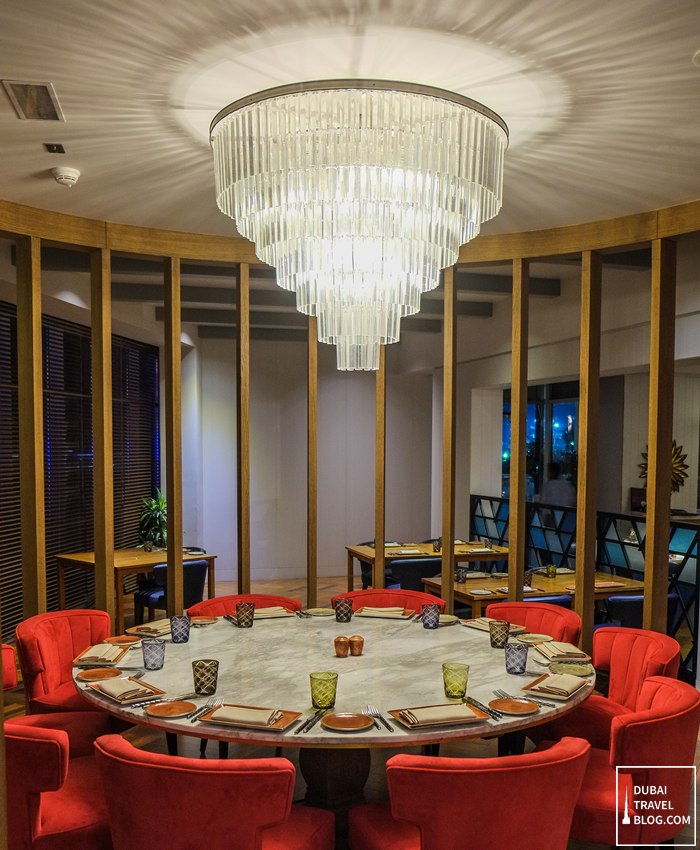 round table with red chairs for a more intimate dining experience with friends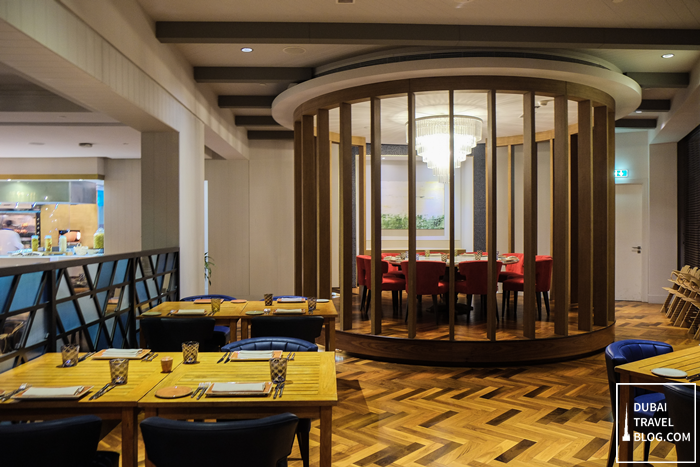 interior of Al Maeda
Photos of Food at Al Maeda JBR
Here are some of the pictures I've taken of the food served to us during that night. The appetizer is a huge part of Arabic cuisine and as we've noticed in Dubai, there are a lot of patrons who dine in their favorite Arabic restaurants and order servings of hot and cold mezzeh only. We were able to try plenty of these starters at Al Maeda.
Appetizers: Variety of Hot and Cold Mezzeh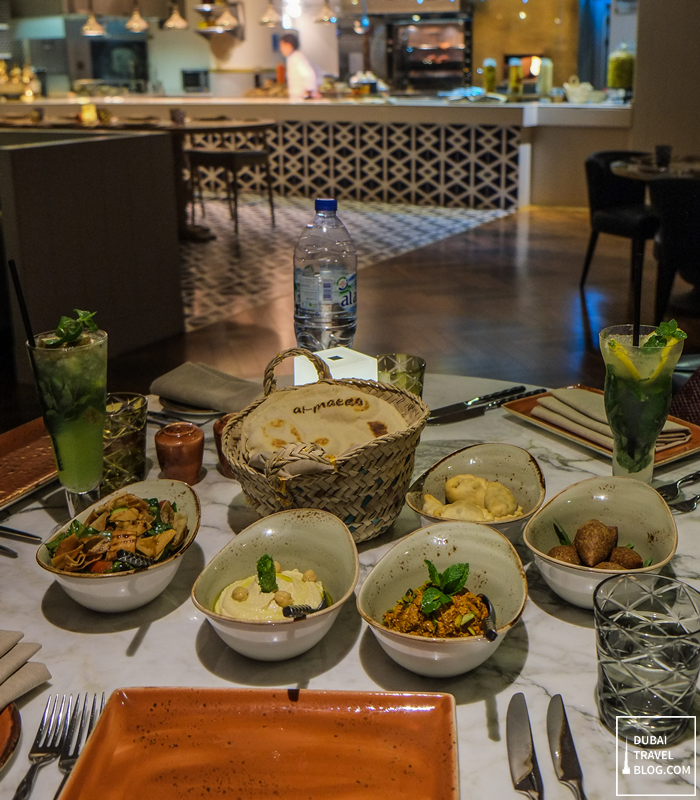 Left to Right: Fattoush – 29 AED, Hummus – 29 AED, Muhammara – 29 AED, Spinach Fatayer – 29 AED and Kibbeh – 29 AED
Main Course
For our main course, we had the Arabic Mix Grill (one of their most requested dishes) prepared by Chef Lawrence and Chicken Tagine Mohamer prepared by Chef Halima.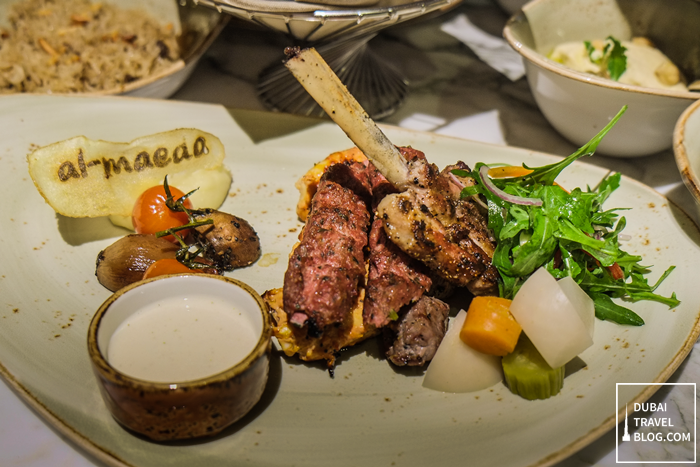 Arabic Mix Grill – 104 AED
Lamb kebab, shish touck, lamb-kofta, lamb chop with brown rice and rowas salad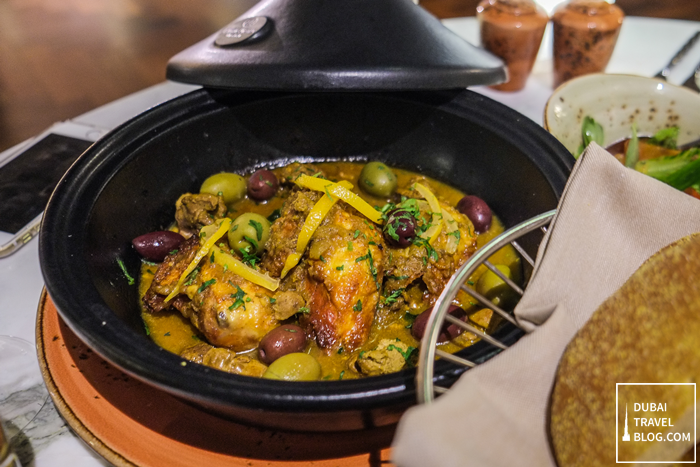 Chicken Tagine Mohamer – 84 AED
Chicken with daghmira (chicken liver sauce), olives and pickled lemon
Drinks
For drinks we had some mocktails, kiwi virgin mojito and Dubai Sunrise prepared by Saurrab.
If you're with a group, you can try their Al Maeda Mega which is any drink of your choice served in a huge cocktail glass to which I initially thought was just there for decoration.
Kiwi Virgin Mojito – 34 AED
Kiwi, Fresh Lemon, Mint Leaves, Sugar
Dubai Sunrise – 34 AED
Orange Juice, Pineapple Juice, Fresh Lime Juice, Grenadine
Al Maeda Mega! 150 AED
Another thing I noticed is their huge kitchen area where the chefs prepared our food. We could see them meticulously working to ensure our dishes were put together perfectly.
The same area would be used to place the dishes during Friday brunch buffets.
Hilton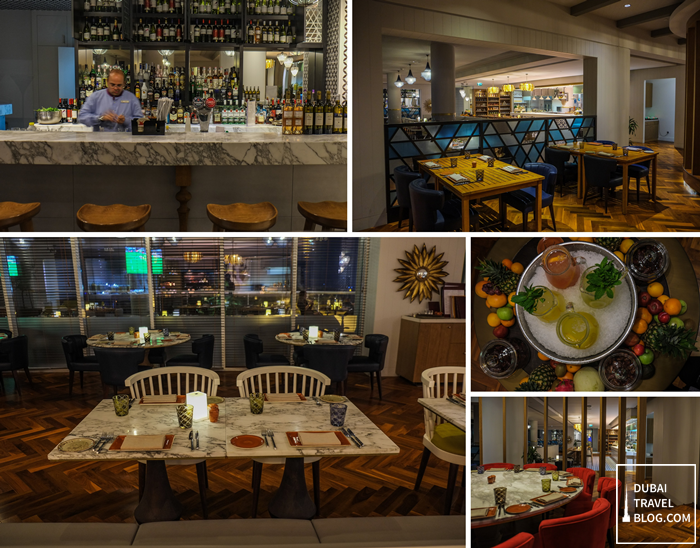 Al Maeda at DoubleTree by Hilton Dubai
If you have friends/family who are looking for Moroccan dishes or Levant cuisine in Dubai, you may want to check out Al Maeda restaurant. They also have brunches available on Fridays which is surely a lively feast.
The restaurant also has a bar area and a terrace that opens till the late hours where you can enjoy some cocktails and other beverages.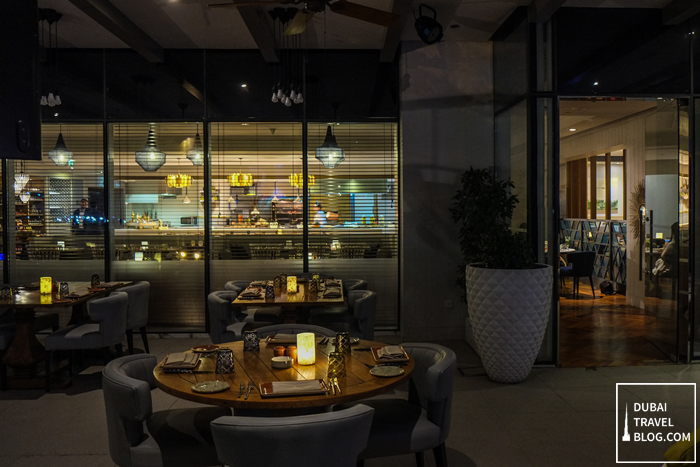 dining al fresco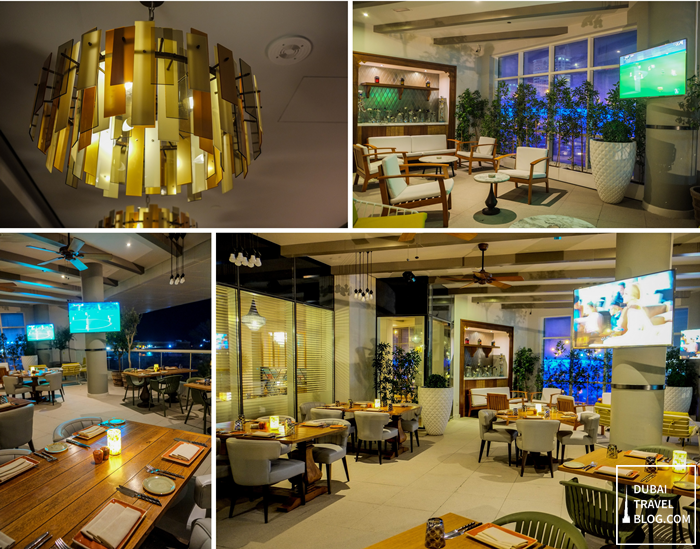 terrace area
Arabic Flavors at Al Maeda
Indulge yourself in a wide choice of signature dishes from the LEvant and North Africa region at Al Maeda Restaurant. Unwind at the terrace and enjoy the traditional shisha in different flavors. Open from 12pm to 3pm and from 7pm to 11pm

-Al Maeda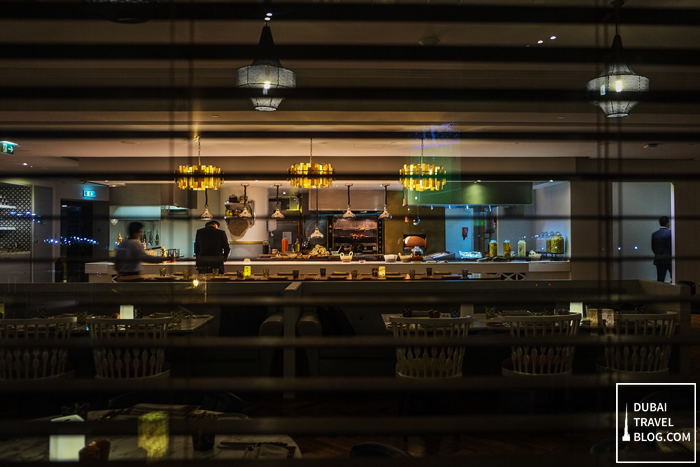 peeking through the blinds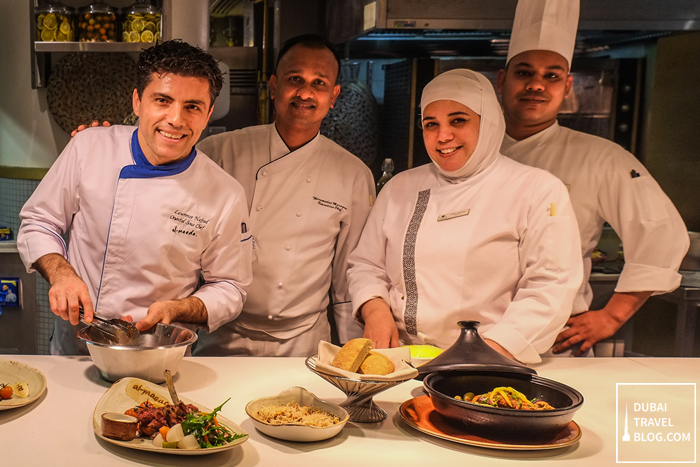 Chefs at Al Maeda, they will prepare mouth watering tagines, cous cous, etc.
How to Get There
To get to Al Maeda Restaurant via public transport, you can
Ride the Metro Train to Damac Properties Metro Station  (Red Line)
Interchange to the Dubai Tram and stop at Jumeirah Beach Residence (JBR) Tram Station 2
Walk towards DoubleTree by Hilton JBR. According to Google Maps, it's an 8 moniute walk from the tram.
Location Map:

Contact Information
Al Maeda, Spirit of Levant
Website: DoubleTree.com
Facebook: facebook.com/DoubleTreeDubaiJumeirah
Twitter: @DoubleTreeJBR
Instagram: @DoubleTreeByHiltonJumeirah @almaeda_restaurant