Dubai residents and visitors can experience a whole new level of tea-time glamour at TWG Tea in The Dubai Mall. The luxurious and modern space has been designed with luxury, sophistication, and comfort in mind, offering an exquisite range of teas from around the world.
As well as stocking their own exclusive collection of tea blends, guests can enjoy high-quality snacks such as macarons, pastries, and cakes. With a selection of over 80 different varieties of tea to choose from – including rare single-estate teas – you'll be spoilt for choice! Every cup is freshly brewed and served in stylish china cups by knowledgeable staff who are happy to offer advice on what blend would best suit your taste buds
The First TWG Tea Takeaway Concept Launches in the Middle East
Dubai, United Arab Emirates, November 2022 – The world's finest luxury tea brand, TWG Tea reopens with a dazzling tea salon, boutique and takeaway experience in the heart of Dubai this November! An enduring journey through time, this mesmerizing destination showcases sparkling lights, mirrored interiors and timeless detailing which echo the brand's contemporary elegance and timeless modernity. The Dubai Mall location is the first in the UAE to offer an exceptional Tea Takeaway experience. The brand's by-invitation-only loyalty programme, MyTWG, also launches across all locations in the UAE from today, offering TWG Tea lovers an elevated personalised service and experience.
"We first opened TWG Tea in Dubai Mall 10 years ago, and reopen today with an innovative approach after having reimagined the concept of gourmet luxury. Tea is more than just a beverage – it is a medium to connect with those around us. With this reinvigorated design in the iconic Dubai Mall, we are confident that customers will be delighted with this refreshed take on the TWG Tea experience." – Taha Bouqdib, President & CEO of V3 Gourmet and Co-Founder of TWG Tea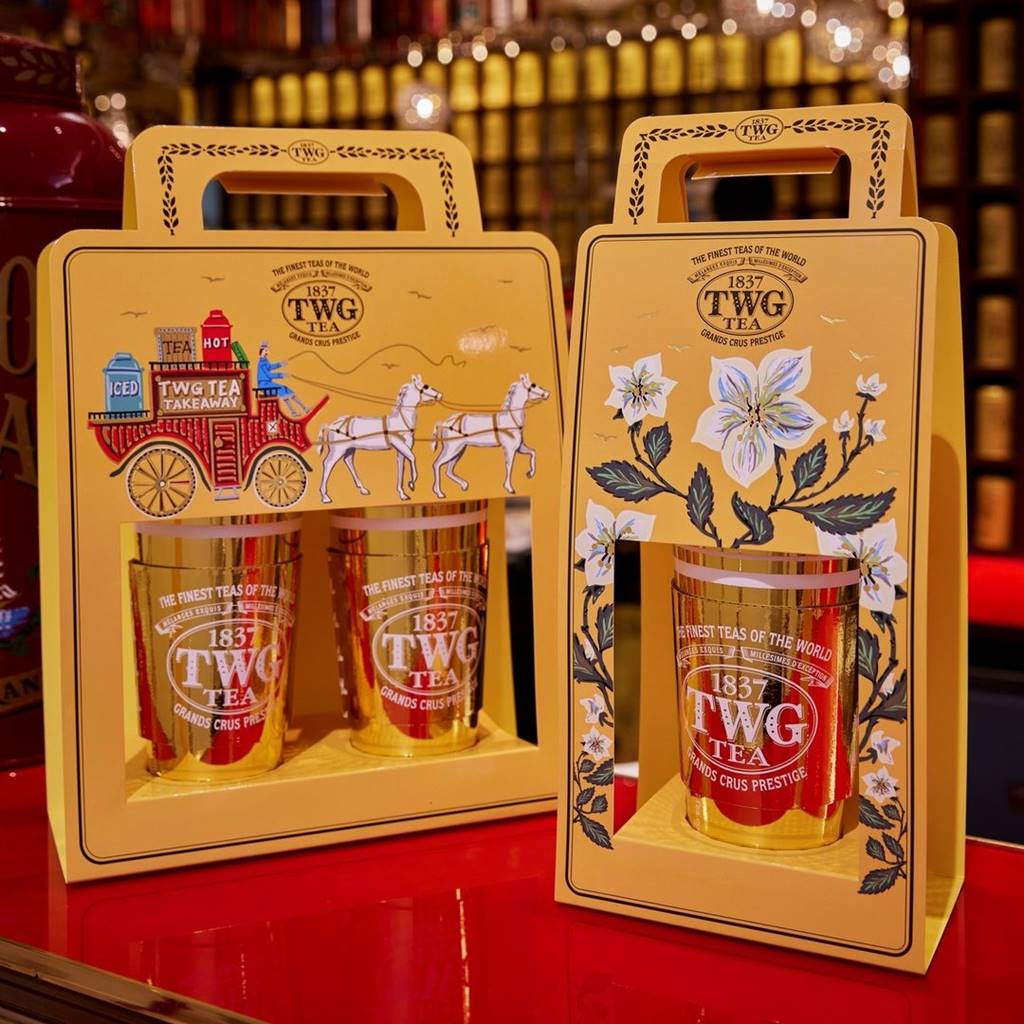 A Refreshed New Look at TWG Tea in Dubai Mall
Situated on the ground floor of Dubai Mall, next to its iconic waterfall, this sparkling and vibrant Tea Salon & Boutique features bold hues, gleaming reds, emerald greens, and glistening amber – a stunning interior with surprising elements of luxurious modernity which reflects the brand's savoir-faire and creativity.
Inspired by a voyage of discovery that transports tea lovers to the indigenous origins of teas, the iconic TWG Tea wall lined with signature yellow Artisan Tea Tins reveals a treasure trove of single estate, fine harvests tea and exclusive blends.
Adorned by unique antique furnishing, gilded mirrors, burnished brass, yellow Italian marble floors, hardwood tea counters, and touches of gold trimming, the lavish Tea Boutique welcomes guests with a beautiful patisserie display highlighting an enticing selection of tea-infused patisseries, and alluring rows of packaged teas and tea accessories.
At the forefront of tea gastronomy, the 34-seater Tea Salon also offers an intimate experience with an all-day dining menu of tea-infused savouries and patisseries for tea lovers and gourmands alike.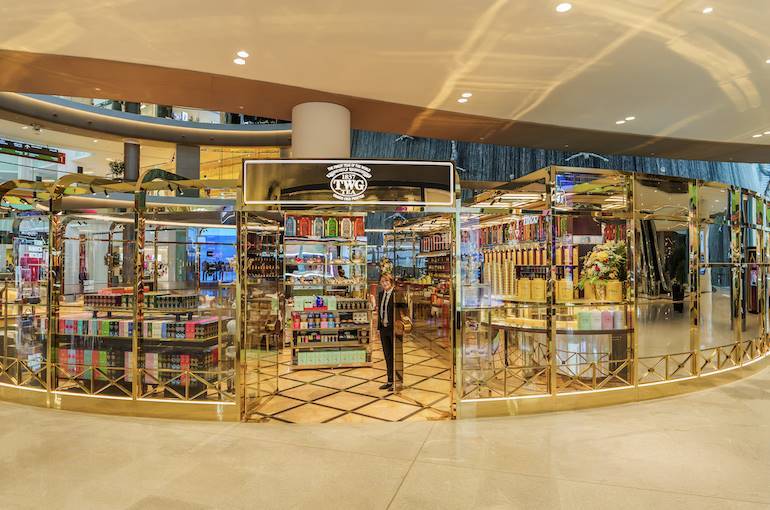 Dubai's First TWG Tea Takeaway Concept
First in Dubai, this exquisite TWG Tea Salon & Boutique invites customers to choose from more than 100 different varieties of tea to take away — the largest such menu in the Middle East — served hot or iced. Priced at just AED29, this is the perfect tea treat for both locals and tourists right in the heart of Downtown Dubai!
Always intent on testing the frontiers of innovation, TWG Tea has designed an exceptional takeaway cup that mirrors – quite literally – its signature gilded teapots and nestles into designer carriers fitted with accompaniments to complete the tea-tasting experience.
Prepared according to the brand's exacting standards, each tea ordered for takeaway is prepared individually and fresh using careful infusion methods and special filtered water, served hot or poured over full cubes of ice. Both hot and iced teas (450ml) are available for takeaway and each takeaway comes with a white sugar stick as well as a TWG Tea Glass Straw for iced tea.
TWG Tea Salon & Boutique is located at The Dubai Mall, Financial Center Street, Unit SF – 161 – 1, Ground Floor.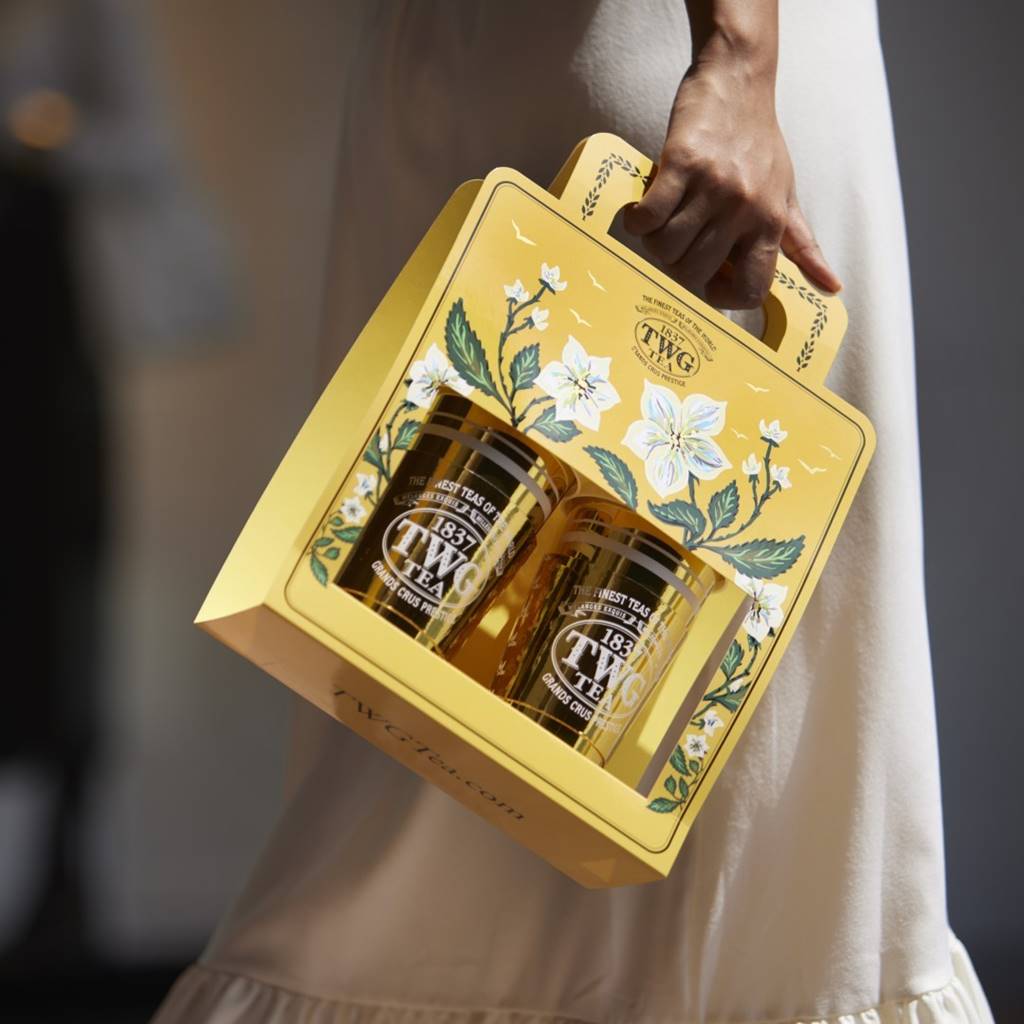 By-Invitation-Only MyTWG Membership Programme
Redefining customers' experience and engagement online and in-store, TWG Tea launches its exclusive, global, by-invitation-only MyTWG membership programme in the UAE – first country to introduce this membership platform outside of Asia.
Named "MyTWG" to emphasize the personalised services offered, the programme features two tiers of membership – Green and Gold, to present a whole host of tea-related rewards and benefits to privileged members. Just as intricate and memorable as every TWG Tea experience in-store, the MyTWG membership programme is designed to be personal and rewarding, forging stronger relationships with tea lovers all over the world. MyTWG members enjoy exclusive access to member-only platform and are entitled to special privileges and global rewards redeemable online or in-store.
TWG Tea welcomes tea lovers in the United Arab Emirates to the World of Tea!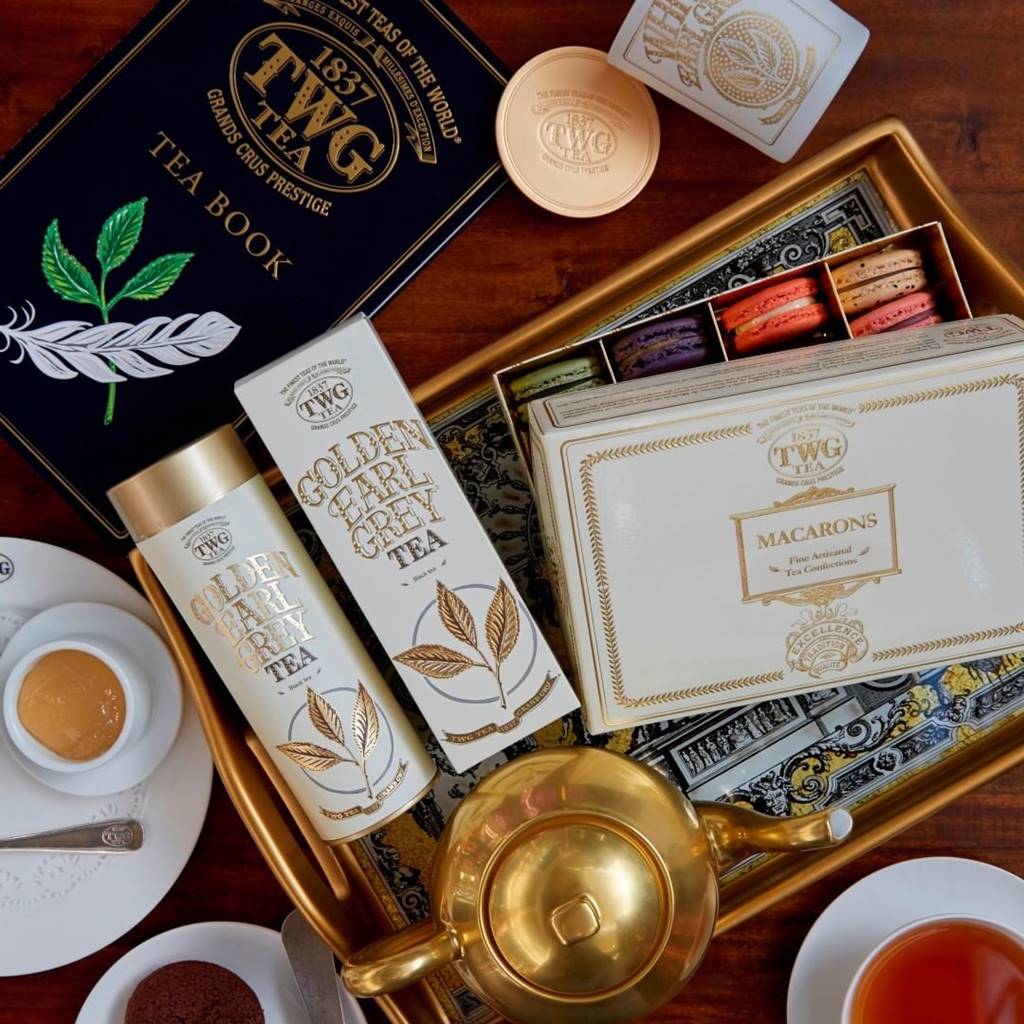 Images: @TWGTeaUAE