We visited Tresind Dubai on a weekday to check out its revamped design and sample their chef's tasting menu. This restaurant is located at the 2nd level of voco Hotel (formerly Nassima Royal Hotel) on Sheikh Zayed Road and offers a modern twist to Indian cuisine. They offer a unique dining affair complete with presentation and theatrics as part of the experience.
We dined in one of the Tresind restaurants before (Carnival by Tresind) and were amazed by the chef's table experience that we were really looking forward to visit this top Indian restaurant in Dubai.
Alcohol: YES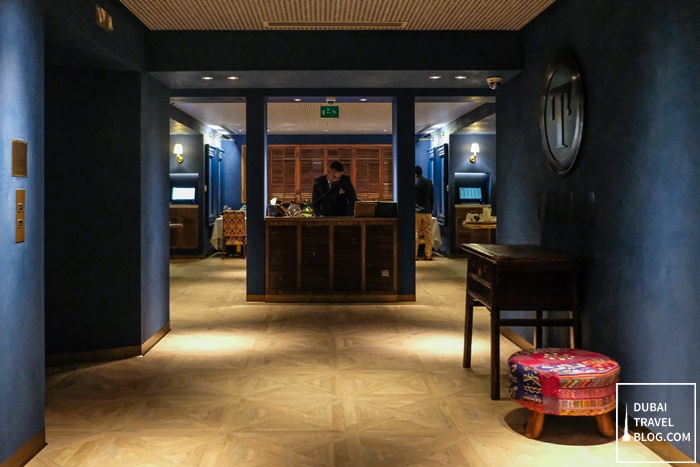 entrance to Tresind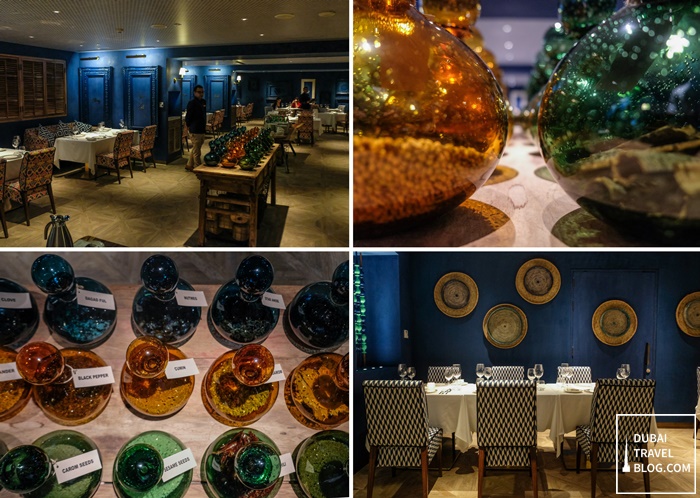 inside the restaurant
blue walls
Tresind Restaurant Review: Modern Indian Food at voco Hotel
When we arrived at the restaurant, we were a few minutes early. The staff wasted no time in taking us to the bar area so we could have some drinks. Bar manager and mixologist, Sherine John, offered us some drinks so we could start the evening right.
I also took  the opportunity to take some photos of the place before it got crowded. The restaurant just reopened with a new design. Royal blue colors adorn the walls with frames that indicated names of various cocktails they serve. The colorful chairs presents a nice accent to the white tables. The latter needed to be simple as the it highlights the food presentation; and based on the restaurants we've been to in the past, the team behind Tresind restaurants tops the list in terms of presentation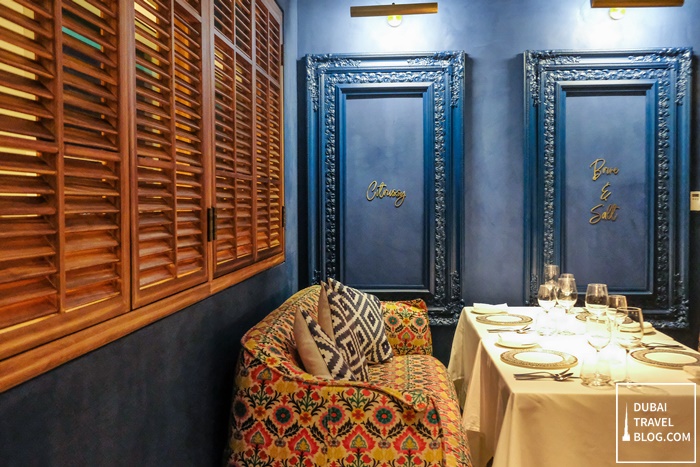 Tresind Dubai review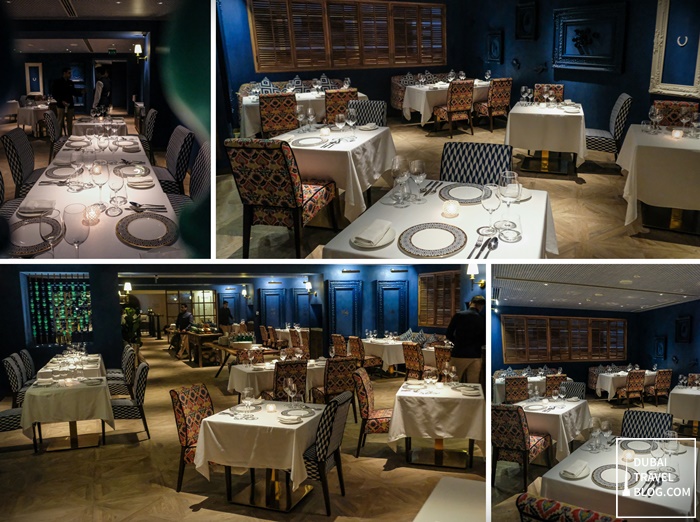 dining set-up
Corporate Chef, Himanshu Saini, has meticulously curated the culinary experience at Trèsind. We were definitely in for a treat for the lovely food and the presentation that comes with it.
We started the dining experience with the staff providing a jar emitting aromatic smoke. I initially thought there was food inside, but they basically said this was to help set the mood for dinner. I remember in the other restaurant (Carnival by Tresind), they spray your table with bubbles.
I was also surprised that they gave us a pre-appetizer after they said that we'd have a minimum of 4 starters. As if the 4 appetizers were not enough to start the meals.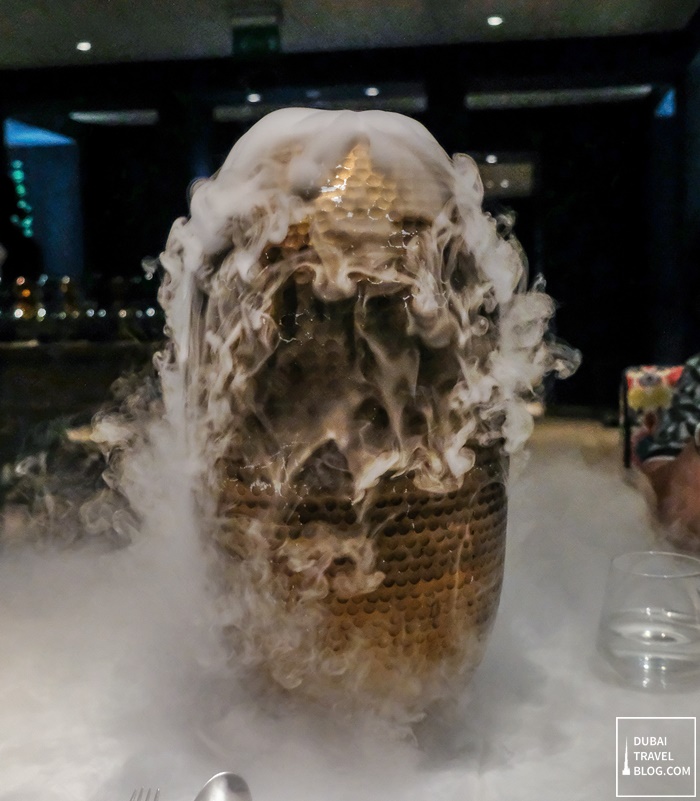 aromatic smoke – setting the mood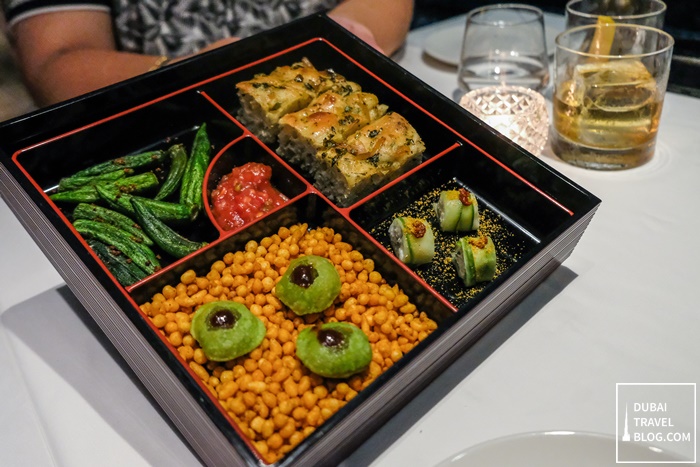 pre-appetizer: Okra, Onion and mango focaccia, Curd Rice with cucumber, Pani puri
Appetizers / Starters
Their menu is composed of vegetarian and non-vegetarian dishes. Among the starters, I really enjoyed the Butter Pepper Garlic Prawn, the Keema Dosa, and most especially the Tandoori chicken.
Every dish is prepared/cooked on your table, they will explain the ingredients and give some insights to each item. It adds to the restaurant's appeal as Tresind is not only about offering good food, but also the theatrics and presentation that comes with it.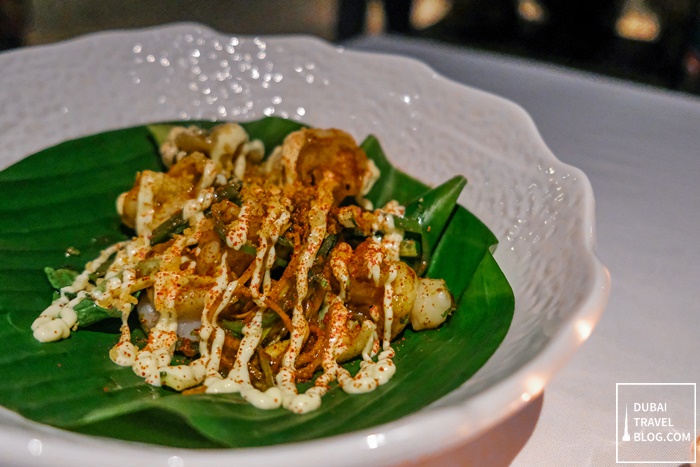 Butter Pepper Garlic Prawn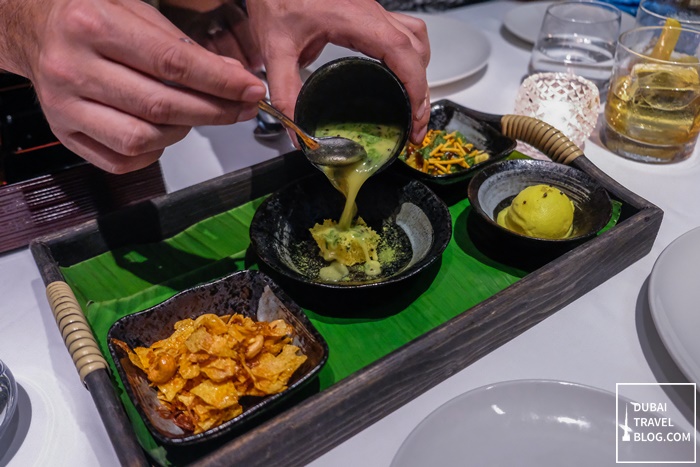 dhokla gazpacho, fafda taco, khichiya muesli, khandvi gelato 'gujarati farsan'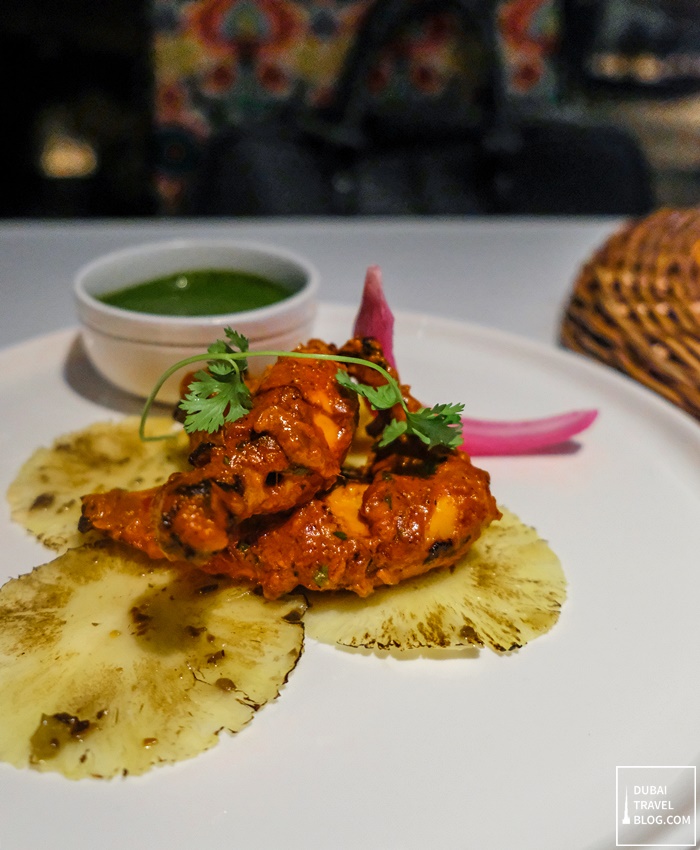 Cedar Wood Smoked Tandoori Chicken, chili marinade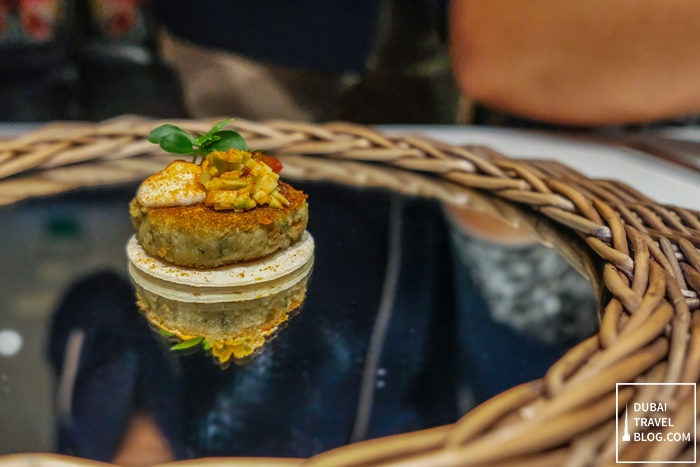 (veg) Avocado galouti kebab, sour cream, tomato salsa, tortilla paratha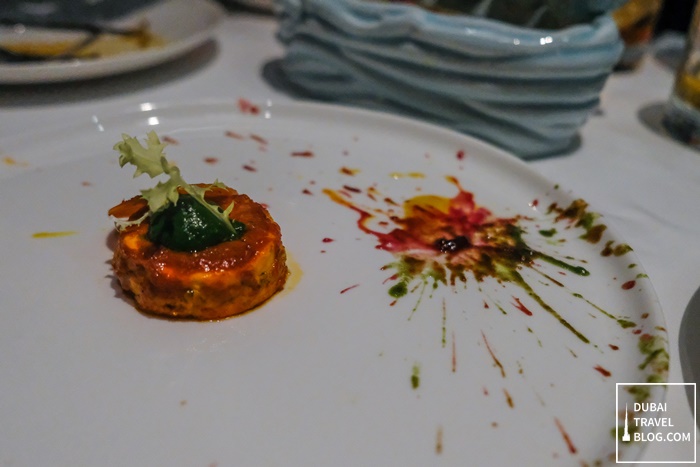 (veg) dahi kebab with muhammara chutney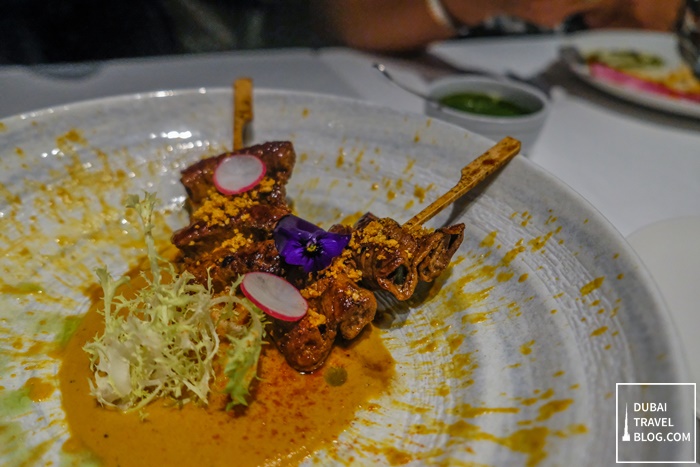 Wagyu Satay, peanut Salan, burnt chili, eggplant pickle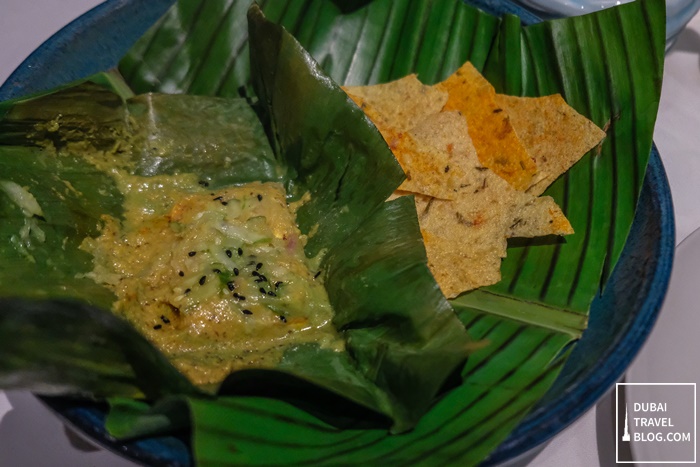 (veg) tofu paturi, mustard glaze, indian chili chips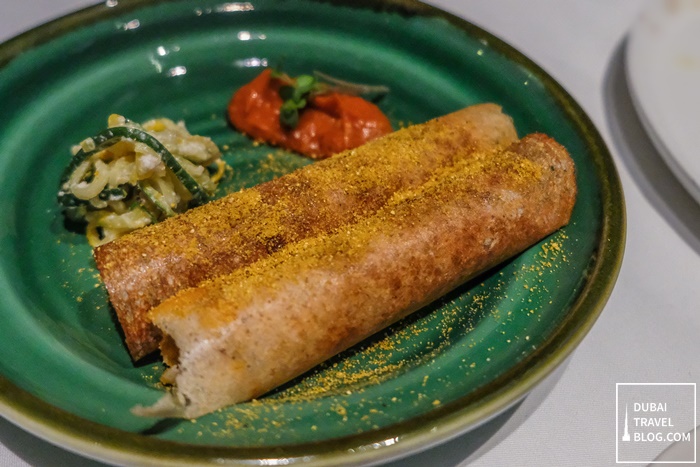 Keema Dosa
Palate Cleanser
After finishing our appetizers, they gave us a palate cleanser nestled in a 'lemon tree' complete with smoke effects. This was to help prepare the taste buds to welcome and assess new flavors during the next course.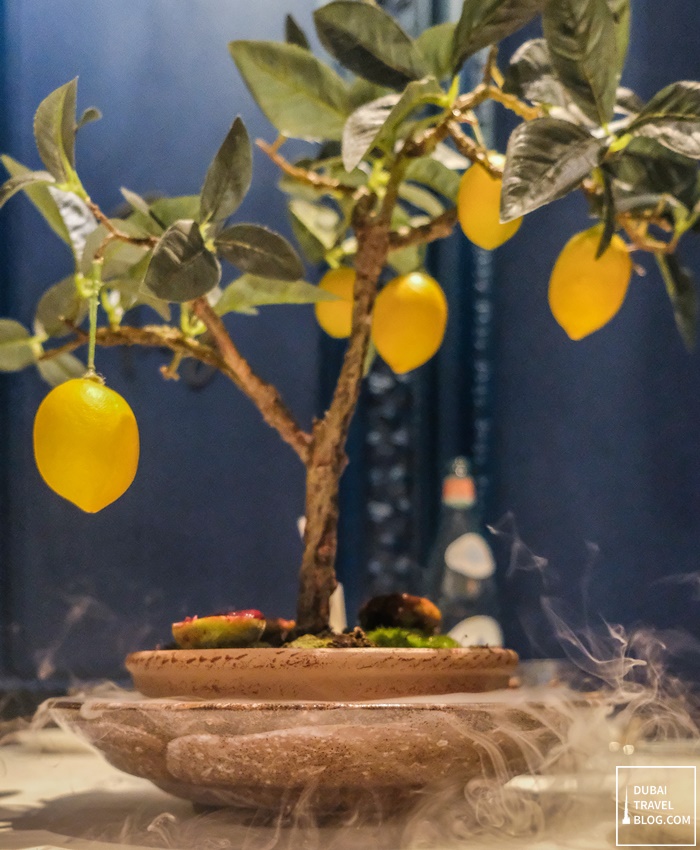 palate cleanser
Main Course
For our main course, we had 3 non-vegetarian dish and 1 vegetarian one. The Bengali Kosha Mangsho was good. The Chettinad chicken curry for me was something new to try, though I feel one of the herbs (I couldn't tell) was a bit strong for me. However, we enjoyed the green pea puffed bread and the thai black rice appam.
While the two non-veg dishes were good, the highlights of the main course were first: the vegetarian dish (morel lababdar) wherein the mushrooms was so good when paired with the rich gravy sauce. Second was the khadai lobster dish which was quite fresh and juicy. I wished we had more servings of these. 🙂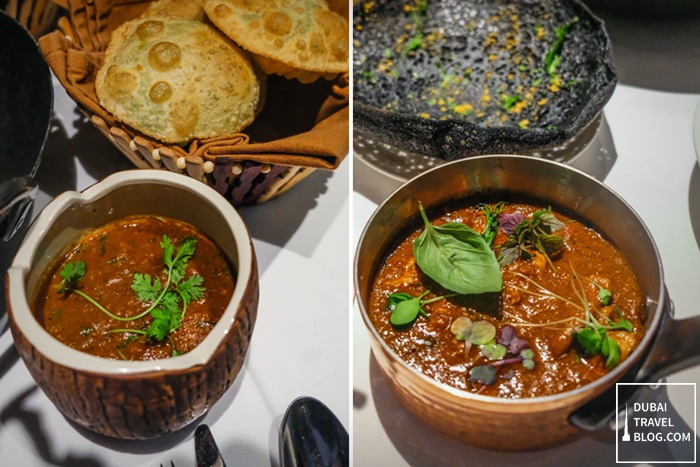 Bengali Kosha Mangsho, Green Pea Kochuri, punched onions
Chettinad Chicken curry, thai black rice appam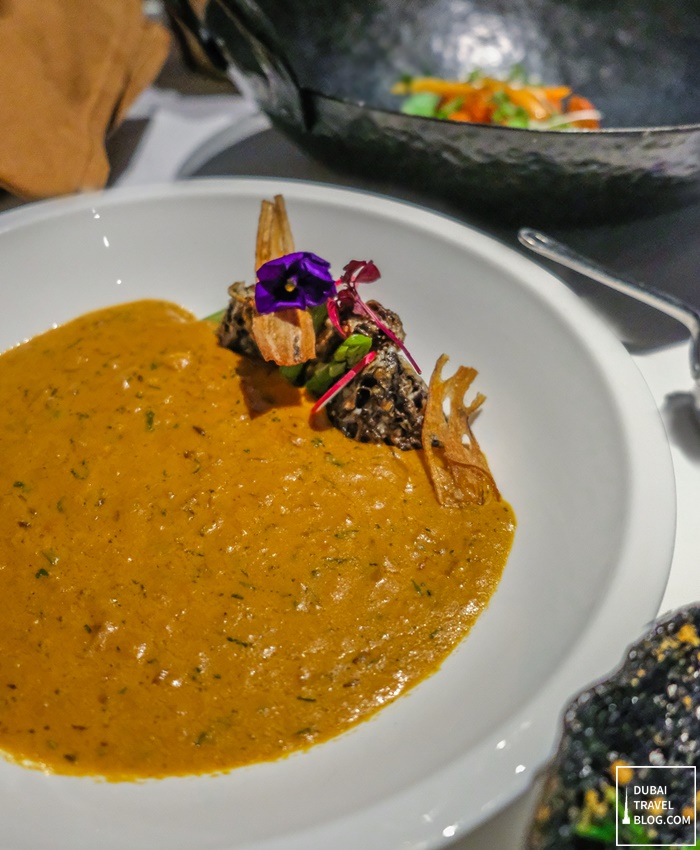 morel lababdar, truffle oil tadka, lotus crisp
— this was so good!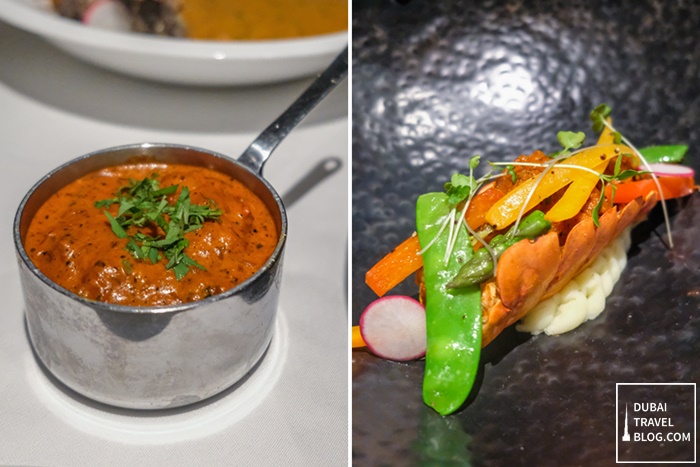 Kadhai Lobster, Stir-fried Snow Peas, asparagus and peppers
— another dish worth the mention
Desserts
Lastly for desserts, we picked three servings from their pastry trolley. Nice concept of bringing a trolley for you to decide among the pastries available. We had a Rice Crispy Tart with hazelnut rabdi, Pizza tomato halba and truffle pizza, Yogurt mille fry. While the tart and the mille fry were alright, the halba was a bit of a mixed bag for me as it felt to me more of an appetizer as I'm not used to the tomato as a dessert.
But the culmination of the desserts that evening was the Inspiration Ghewar. Composed of a caramelized base, filled with milk dumplings and lychee, topped with raspberry sorbet and sprinkled with crushed rose petals (dipped in liquid nitrogen), this dessert is a spectacle to watch when prepared.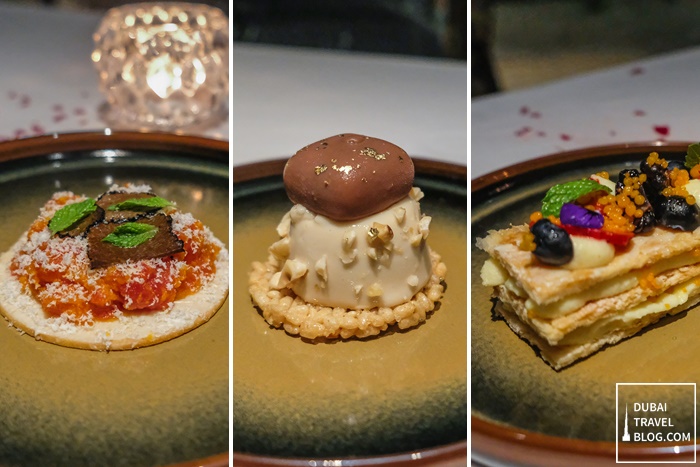 Pizza tomato halba and truffle pizza, Rice crispy tart with hazelnut rabdi, Yogurt mille fry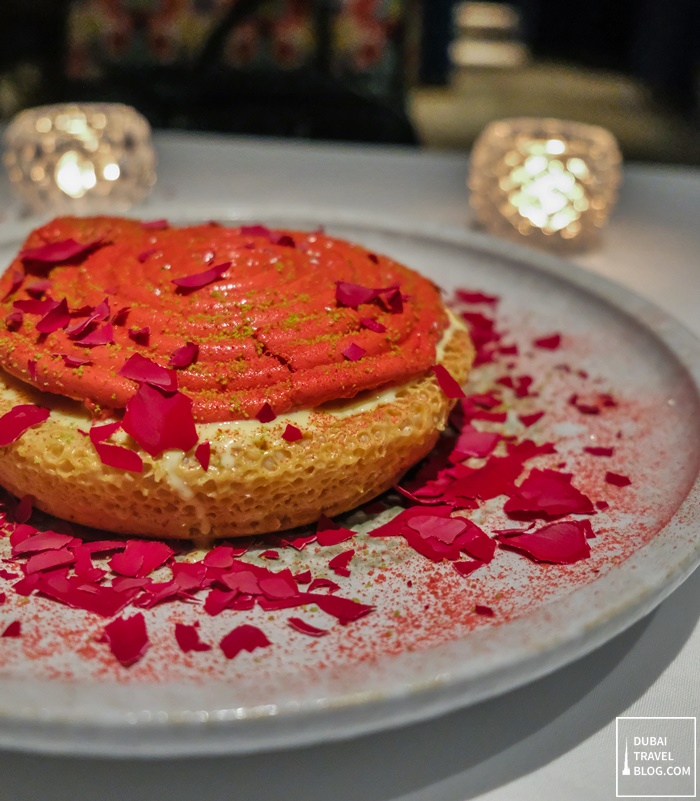 Inspirational Ghewar
Bar Drinks
Tresind has a lot of cocktails, mocktails, wines, beer and spirits to offer. Their signature cocktails also come with their own 'shows' and we trusted Sherine John to provide us the best.
Even the ice cube, has its own Tresind logo, which is a small yet fine detail that adds class to the bar experience.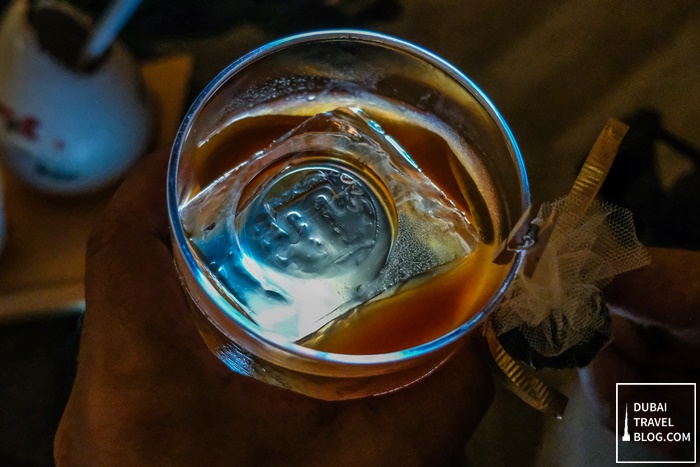 block of ice with Tresind's logo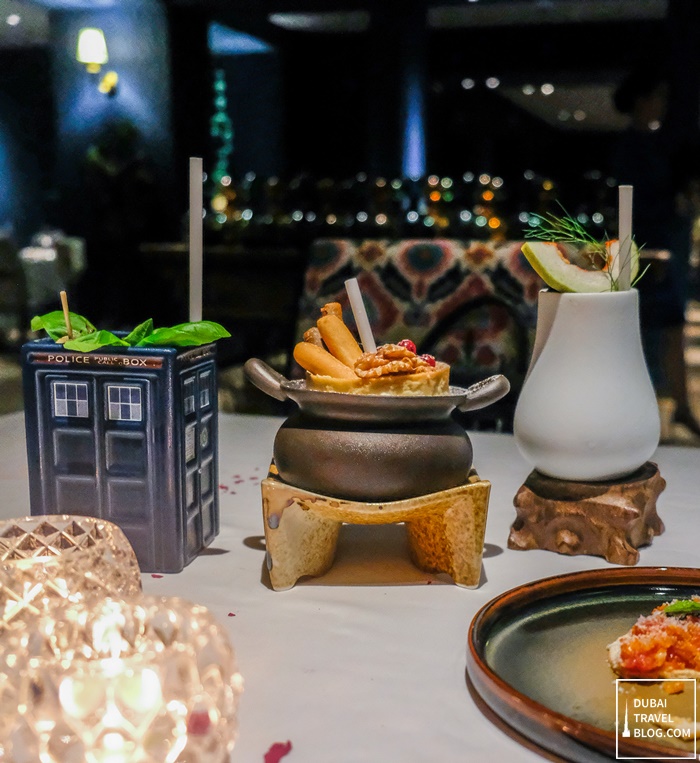 Farmer's Special – strawberry, kiwi, grape juice, lemon
Petit VII – sailor jerry spiced, bitter truth rum liqeur, mandarin, almond paste, walnut, chocolate, red currant, blackberry, basil, and mint
Petit I – guava infused tequila, benedictine, honey syrup, dill, dried plum, green strawberry bitter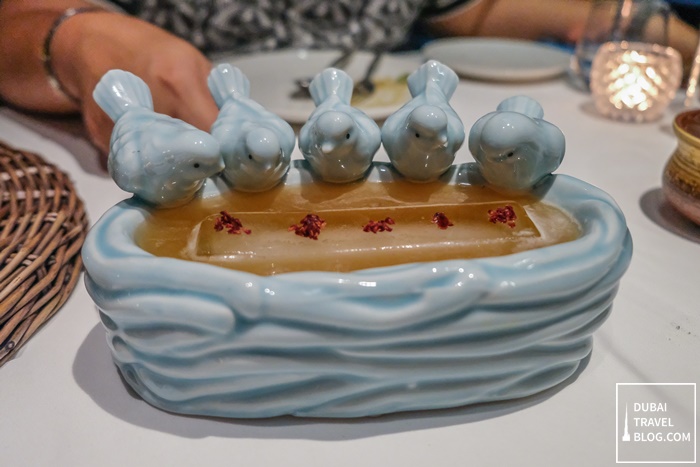 Thirsty Bird – hendricks, benedictine, apricot liquer, jomemade spice syrup, dehydrated raspberry, angostura bitter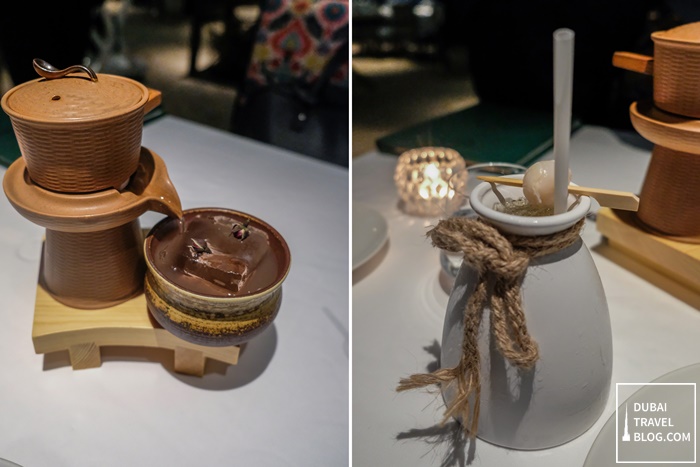 Petit V – rose petal infused tanqueray, dehydrated rose, pineapple, peychaud bitter
Rhubarb Spitzer – rhubarb and apple juice, lychee, ginger, seltzer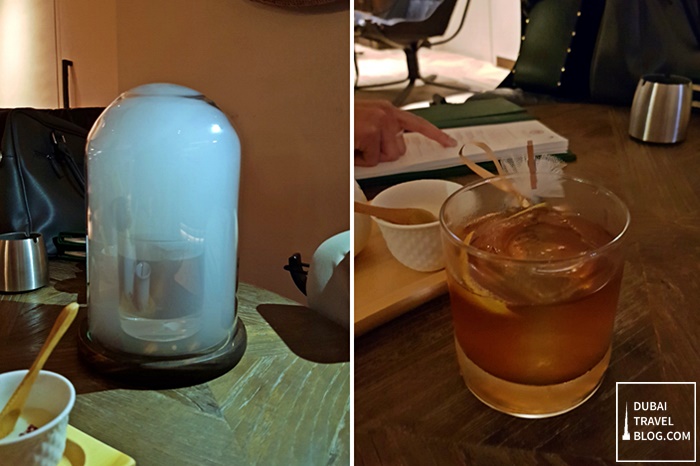 Touch of Phoenix – Woodford reserve, homemade smoked dates syrup angostura bitter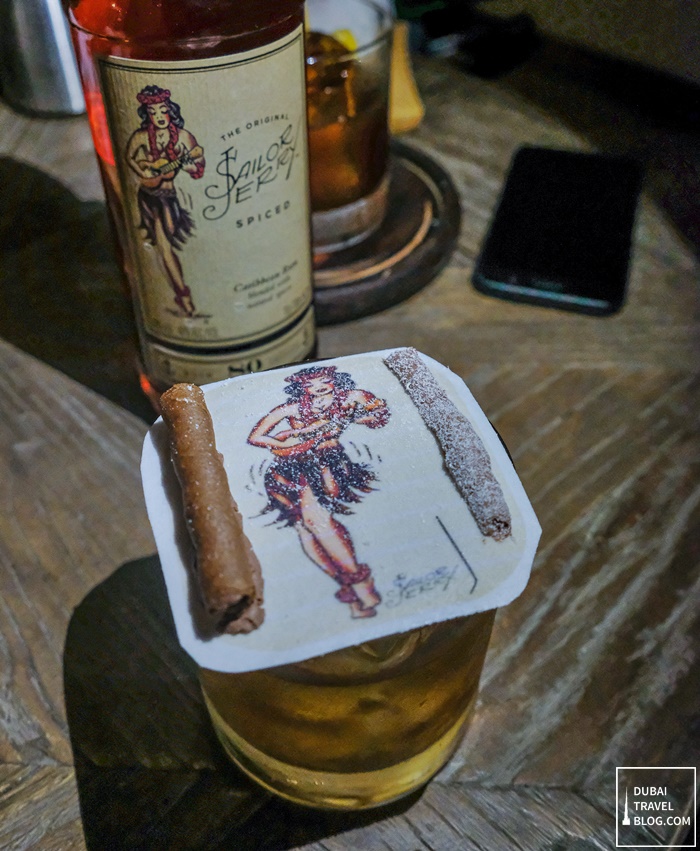 Sailor's Tattoo – Sailor Jerry spiced, homemade clove and cinammon syrup, chocolate bitter
Our overall dinner in Tresind was nothing short of spectacular. The team have carefully crafted their menu and experience to make for a great foodie adventure in the emirate.
This was our second visit to a Tresind restaurant. Service is still as excellent and they still put on a good show. Bring your families and friends here if you want somebody to have a unique culinary experience. Call to book beforehand to reserve a table as it was the place was packed when we dined even on a weekday.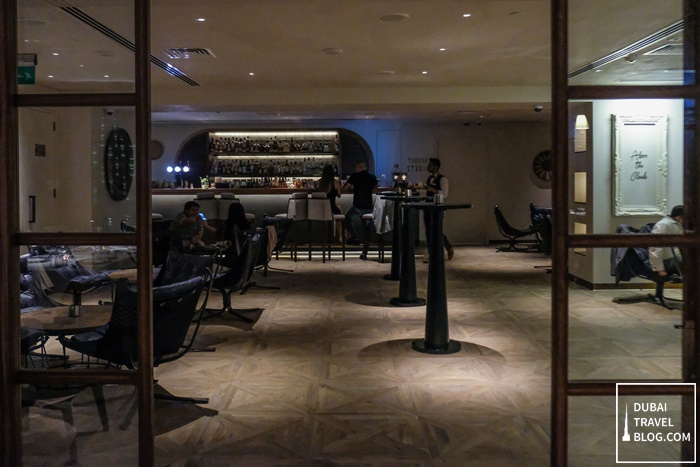 bar area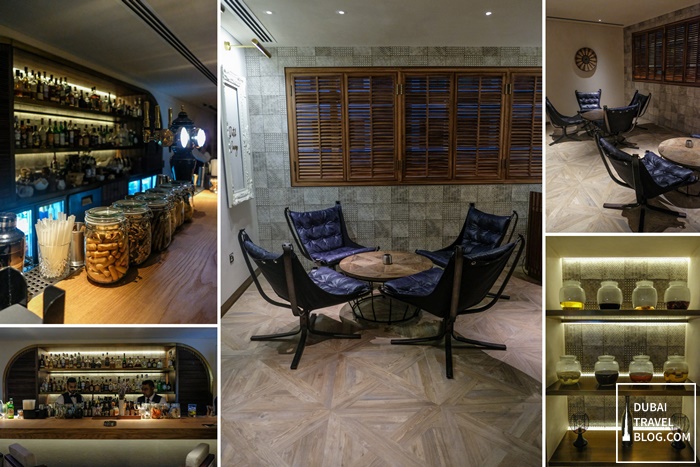 inside the bar
Blending the finest Indian ingredients with progressive culinary techniques, Tresind takes you to a gastronomic journey par extraordinaire. With tantalising flavours and fascinating plating techniques, prepare yourself for a multi-sensory culinary experience that will not only engage your taste buds, but also mesmerise you with its breath-taking presentation.
– Tresind Dubai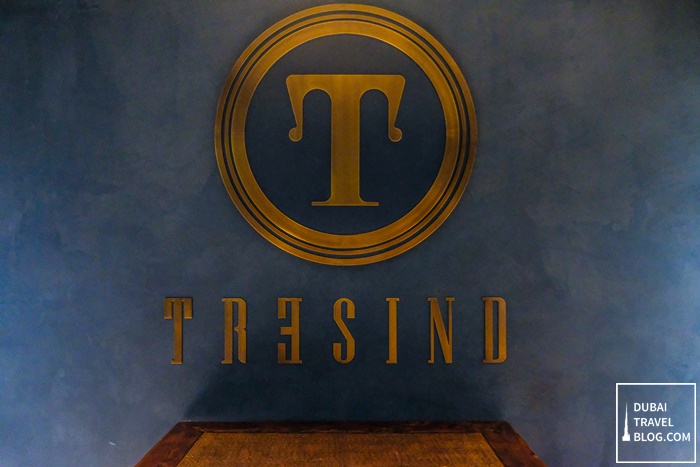 Tresind Logo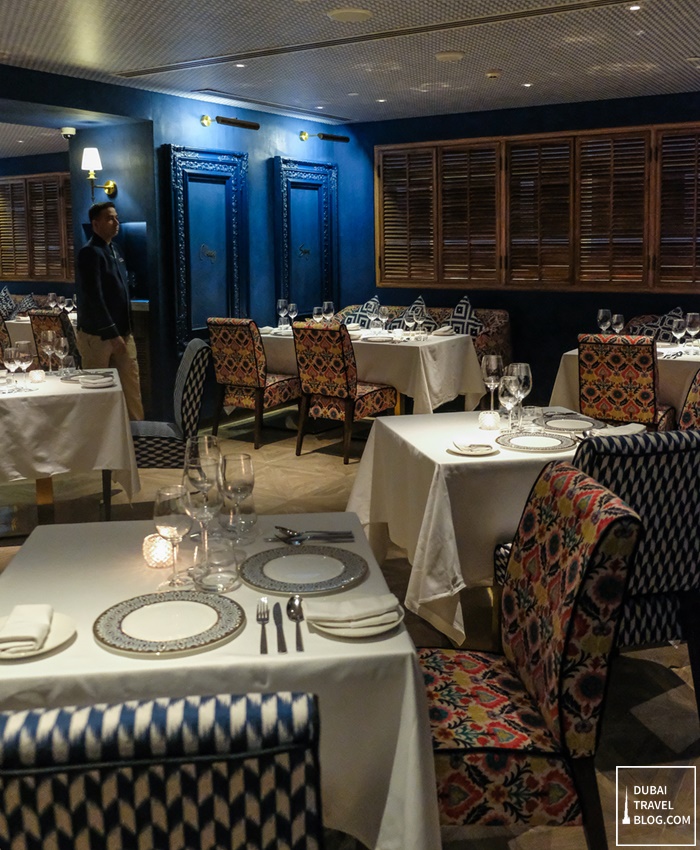 dark blue walls, colorful chairs
Video: Tresind Dubai Restaurant
Here's a video clip of our experience at Tresind.
Note: We were invited to dine at Tresind Dubai. All opinions are my own.
Contact Information
Address: Nassima Royal Hotel, Level 2, Sheikh Zayed Road, Trade Center Area – Dubai
Phone: 04 308 0440
Website: http://www.tresind.com/
Instagram: https://www.instagram.com/tresinddubai/
Facebook: https://www.facebook.com/Tresind/
Twitter: https://twitter.com/tresinddubai
Google Map Location
Below is a Google map guide to get to Tresind restaurant. Valet parking is located at the backside of the Nassima Royal Hotel tower.