My wife and I had a wonderful staycation experience at the Radisson Resort Ras Al Khaimah Marjan Island. We spent 2 days in this property located only an hour's drive from Dubai. The hotel resort features modern and comfortable rooms, 3 outdoor pools, a spa, and several restaurants serving international cuisine.
The resort is set on a beautiful artificial island archipelago known as Four Coral Islands that opens out to the sparkling seas. You can have a memorable beach getaway in Radisson Resort Ras Al Khaimah Marjan, and make the best of the superb facilities and dining experiences.
entering the resort after driving from Dubai
hotel lobby – floor-to-ceiling windows with a view of the sea
staycation time
Staycation at Radisson Resort Ras Al Khaimah Marjan Island
It's been a while since we last went out of the city so it's nice to relax and take a breather. Upon entering the hotel lobby, we could immediately see the private beach from the floor-to-ceiling windows. Check-in was quick and easy, and we were soon in our room with a view of the ocean.
The rooms at Radisson Resort Ras Al Khaimah Marjan Island are spacious, clean, and comfortable. They have all the amenities you need for a relaxing stay, including a minibar and coffee maker.
very comfortable king bed
welcome note from the resort management
Bedroom – Premium Room – Sea View and Balcony
We stayed in a Premium room which is located on the higher floors. It has a balcony with a great view of Marjan private beach. The room comes with a king-size bed, cable TV, coffee and tea facilities, in-room laptop safe, hair dryer, iron and ironing board, and plush bathrobes and slipper.
Our sleep experience was really good with the provided pillows and bedding. The room is also sound-proof so we had a very peaceful sleep even if our room was facing the beach area.
The room is spacious and very comfortable with a balcony that overlooks the ocean. We had a great time just relaxing in our room, and watching movies on the flat-screen TV.
Premium room with a view of the sea
facilities inside our room – it's been a while since we lost saw a fully-stocked bar in a hotel room so this was such a welcome surprise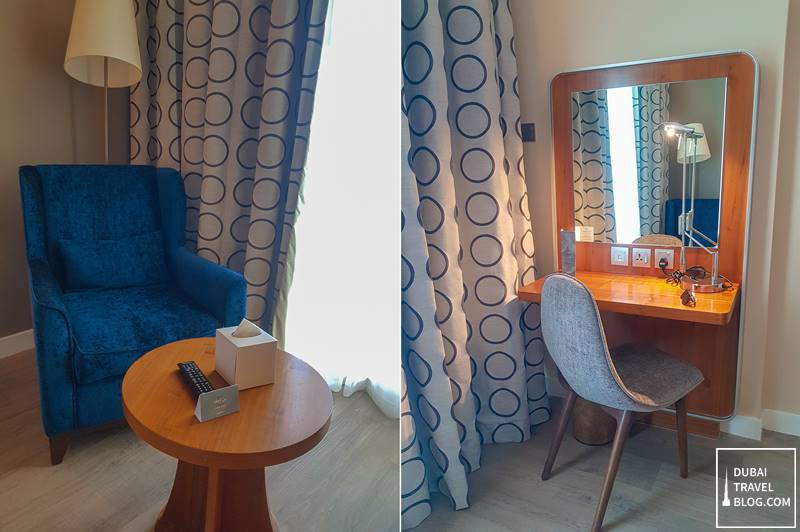 sofa chair and desk mirror
Bathroom
The bathroom was simple and featured a walk-in shower with a rain shower head, toiletries, and bath amenities.
toiletries
bathroom of our Premium Room with balcony view
WiFi Internet
The WiFi was good at 8.5 Mbps download speed and 6.5 Mbps upload speed upon my random check. It had a strong signal inside the room and extends to the hotel grounds (including the beach area).
view of the beach from our balcony
Restaurants
Radisson Resort Ras Al Khaimah has a number of restaurants including the following:
RBG Restaurant – RBG is the all-day dining restaurant of the resort where you can enjoy an international buffet for breakfast, lunch, and dinner with live cooking stations. We had our breakfast for the 2 days in this restaurant.
RBG Bar – Their sports bar features a view of the private beach. Take a break in this chill place, which features vintage-inspired decor, pub games, and delicious meals. Enjoy a game of dart or pool while you pick from an extensive selection of draft and bottled beers, wines, spirits, and cocktails.
Seafood Shack – Relax in the comfortable, modern Seafood Shack while enjoying a raw bar, inventive seafood dishes from around the world, and fresh barbecue straight off the grill. This was where we had our dinner during the 2nd night of our stay. On the shisha terrace, guests may enjoy refreshing, unusual cocktails or an exciting selection of non-alcoholic beverages.
La Med Bistro & Bar – La Med serves up delicious Mediterranean-inspired favorites from the area. This was our dining experience during the first night of our stay. Guests may enjoy delectable and delicious starters, as well as pizzas, pastas, and grilled foods. To perfectly complete your meal, choose from a selection of regional beers, wines, cocktails, and non-alcoholic drinks. Props to the bartender who really created awesome cocktail drinks for us.
Bake House – The hotel lobby also has a bar and snack counter where you can enjoy some pastries, snacks and drinks.
Shelf Pool Bar – Guests enjoying the pool can have a sip or two as prepared by the bartenders in this pool bar.
In-Room Dining – Room Service is also available if you prefer to dine in the privacy of your own room or suite.
buffet spread everyday at RBG All-Day Dining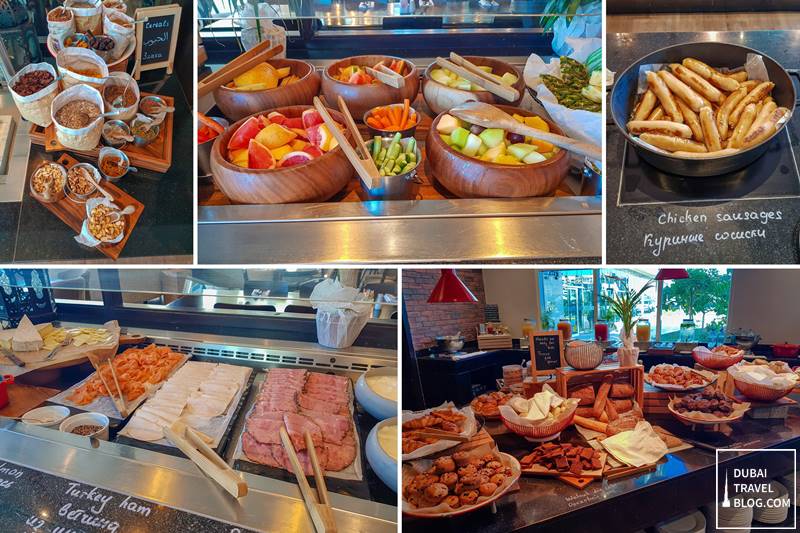 buffet
breakfast at the resort
dining at La Med Bistro & Bar
RBG Bar with pool table
dining at Seafood Shack
Swimming Pools
The resort features 3 outdoor swimming pools. The main adult pool is located on the rooftop in another building and features a pool bar. It is a bit tucked away from the hotel entrance. There is another adult pool, albeit smaller, facing the beach.
Found at the center of the property is the children's pool. The children's swimming pool is complete with giant slides, fountains, and water features that make it look like a mini water park.
children's pool with slides, fountain and water fixtures
Radisson Resort in Ras Al Khaimah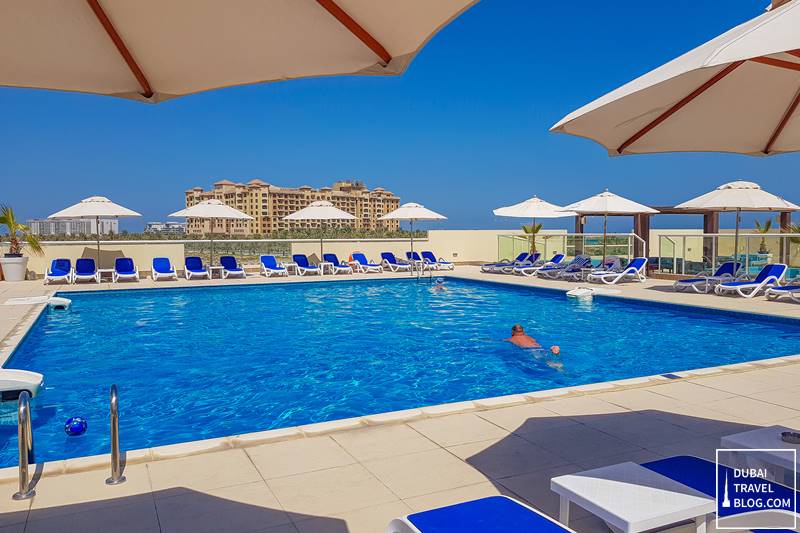 temperature-controlled adult pool
the adult pool
2nd pool – the resort will give you towel cards upon check-in
Private Beach
The hotel has its own private beach where guests can relax and enjoy great views of the water. There are plenty of sunbeds available and guests can take part in some watersports and activities available such as stand-up paddleboard, inflatables, and even a flyboard. During our stay, guests enjoyed a game of beach volleyball.
private beach
lounge at the sunbeds, or go for some watersport activities
Gym / Fitness Centre
Located in the hotel lobby area is a fitness centre. Although quite compact, the gym is complete with the necessary equipment for a good workout. It is also open for 24 hours .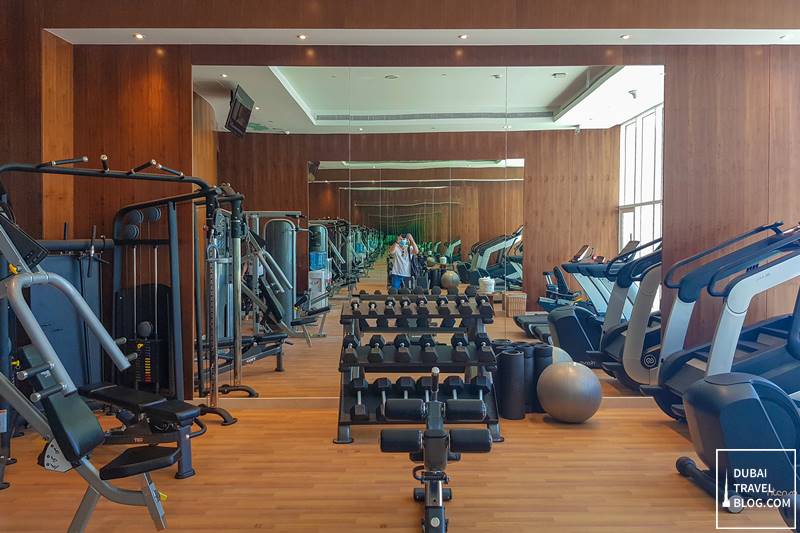 fitness center
the gym is open for 24 hours
Jouri Rose Spa
The Jouri Rose Spa offers a wide range of treatments and therapies designed to relax and rejuvenate guests. There is also a separate sauna, steam room, and Jacuzzi available for guests to use.
massage treatment room
sauna, lockers and massage treatment rooms in Radisson Resort RAK, separate lockers for male and female
97 Photos of Radisson Resort Ras Al Khaimah Marjan Island
Check out this photo album of images during our staycation experience in Radisson Resort Al Marjan Ras Al Khaimah:
Video: Staycation at Radisson Resort Ras Al Khaimah Marjan Island
Check out this video clip of our staycation experience to give you an idea of what to expect when you check into this hotel resort.
Summary
Overall, we had an enjoyable experience and we would definitely recommend this hotel resort to anyone. The highlight of our stay was definitely the private beach and the pool area. The food was also great and we loved the fact that there were a lot of dining options available.
This resort is quite new, having opened only a few months ago. We found the staff to be very friendly and accommodating, and they made sure our stay was enjoyable. We had a great time at the Radisson Resort Ras Al Khaimah Marjan Island and would encourage those who are seeking a chill and relaxing getaway to check it out.
Radisson Resort RAK at night
Contact Information
Radisson Resort Ras Al Khaimah Marjan Island
Address: UG 05E, AC01, Al Hamra industrial zone-FZ, Ras Al-Khaimah, 103945, United Arab Emirates
Telephone Number: +971 7 204 9000
Website: https://www.radissonhotels.com/en-us/hotels/radisson-resort-marjan-island
Facebook Page: @radissonresortrasalkhaimah
Instagram: @radissonresortrasalkhaimah
Google Map Location