Salmon Guru is a popular cocktail bar located in Madrid, Spain. It is known for its innovative and creative cocktails, as well as its stylish and sophisticated decor. The bar is often ranked as one of the best cocktail bars in the world and has won numerous awards and accolades. They have set up a branch for nightlife enthusiasts in Dubai, located in The Opus building of Business Bay.
The bar has a unique and vibrant design, which is inspired by the original Salmon Guru. Transporting you back to the dazzling sixties, this chill spot offers a tropical vibe mixed with an exotic Asian night market atmosphere and comic book-inspired decor. There are neon lightning bolts lining the ceiling and comic book 'BAM' signs fastened to the walls – it's a heady mix of colour and lights!
Alcohol: YES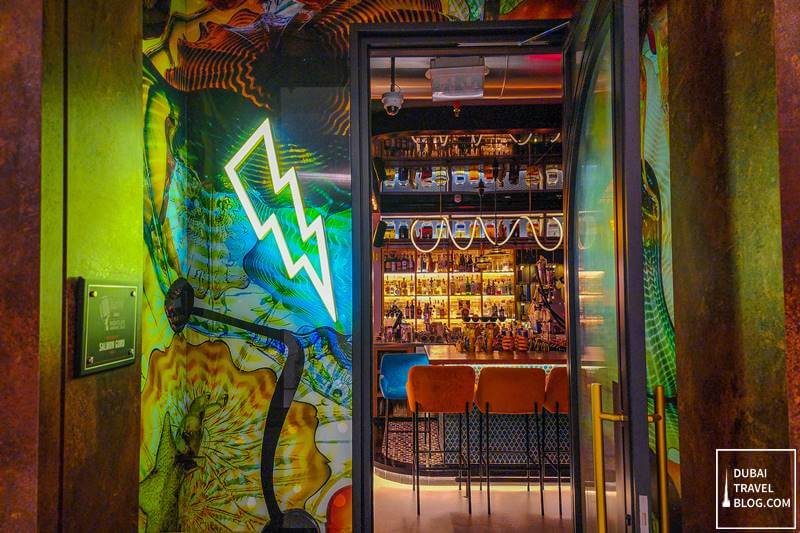 entering the bar
walk-in bar where the team will prepare your drinks up close
While the place's name is Salmon Guru, they don't have salmon in their menu
SALMON GURU – The Story Behind the Name
SALMON
The salmon, which in Norse mythology was admired for its power and wisdom, swims against the stream and embodies self-improvement, as well as resilience. It's these three qualities that our concept embodies.
GURU
"In search of the light"
We consider a guru to be someone wise who acquires knowledge over time and through practice.
We hereby declare that at Salmon Guru we forge our own path, applying our knowledge and professionalism with the single aim of evolving within our world, the world of mixology, and to never cease to surprise you.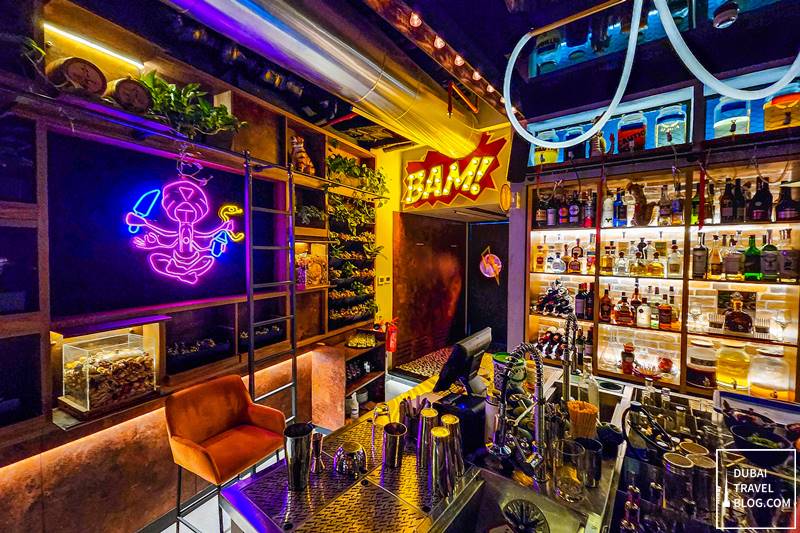 playful interior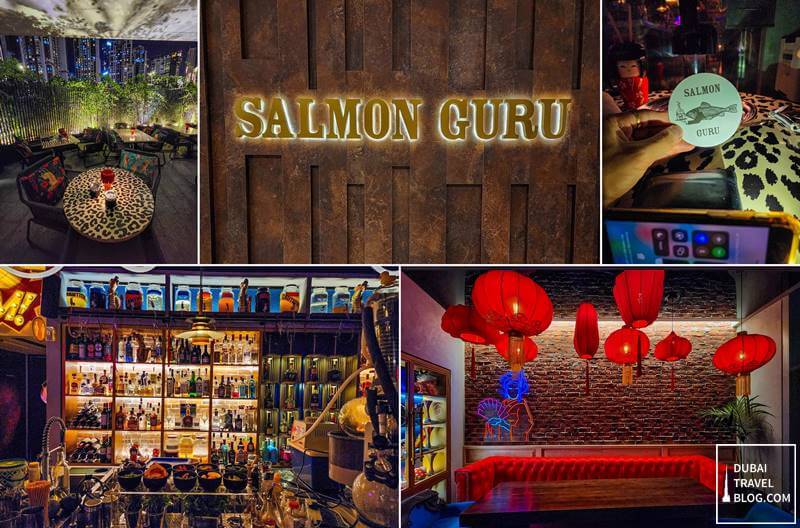 Salmon Guru in Business Bay
Restaurant Review: Salmon Guru Dubai Cocktail Bar
Not only does Salmon Guru have stunning decor, but it also serves up some amazing drinks too! From the signature cocktail menu featuring well-balanced flavors, fruity sour refreshers, and strong beverages to delicious sharing platters that are beautifully presented – you can enjoy a night of deliciousness.
TimeOut Dubai has awarded Salmon Guru as the winner of the Best Cocktail Bar in their Nightlife Awards in 2022. To think that they also opened in the same year.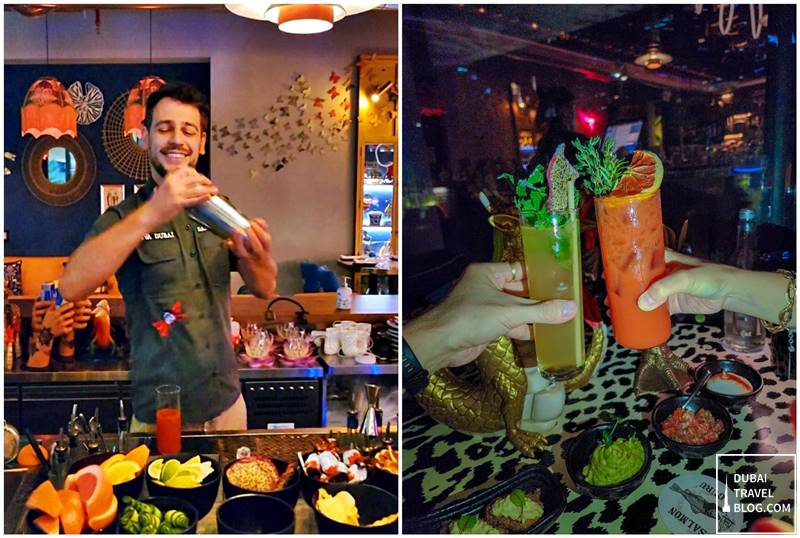 delicious drinks prepared by their team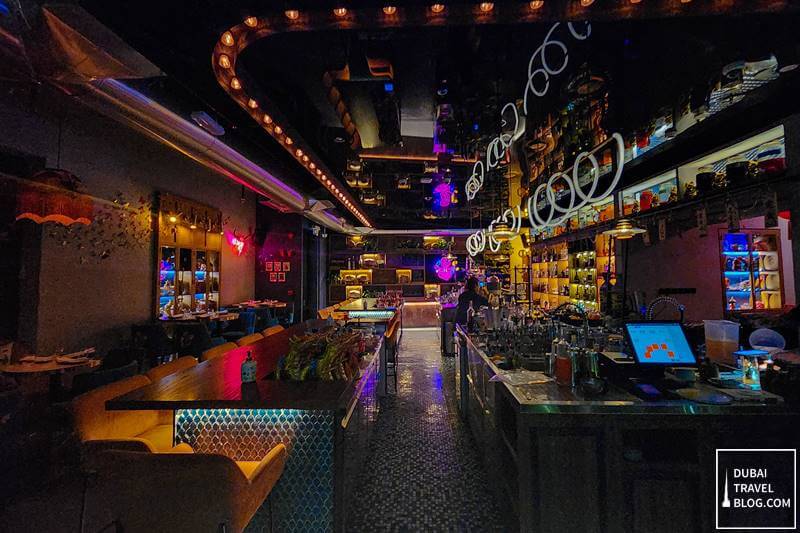 Salmon Guru – one of the best 50 bars in the world
Cocktail Drinks
Let me focus on the drinks as their alcoholic beverage selection is the main star here at Salmon Guru. They feature a wide range of unique creations you should look out for. Not only is their signature cocktail superb, but each of their other specialty concoctions boast its own delectable taste profile.
From REFRESHING to SOUR, FRUITY to STRONG to CRAZY, every glass will be sure to tantalize your taste buds. They also have some NON-ALCOHOLIC drinks too.
Dragon's Daughter
Curry Colada
Picara Mix (non-alcohol)
Appetizers / Starters / Sharing
Salmon Guru boasts an array of tantalizing appetizers and shareable dishes – from their 36-hour braised Chuck Beef Short Ribs Taco Bao complete with coriander & lime mojo, pickled shallots, and sweet smoked paprika to Against the Current Golden Fried Oysters dressed in panko fried oysters no.2 and granny smith apple BBQ sauce.
Finally, for something a bit lighter yet still delicious try their Crisps Chips & Dips featuring selected chips accompanied by homemade Tex Mex guacamole paired with soft goat cheese cream and tomato salsa.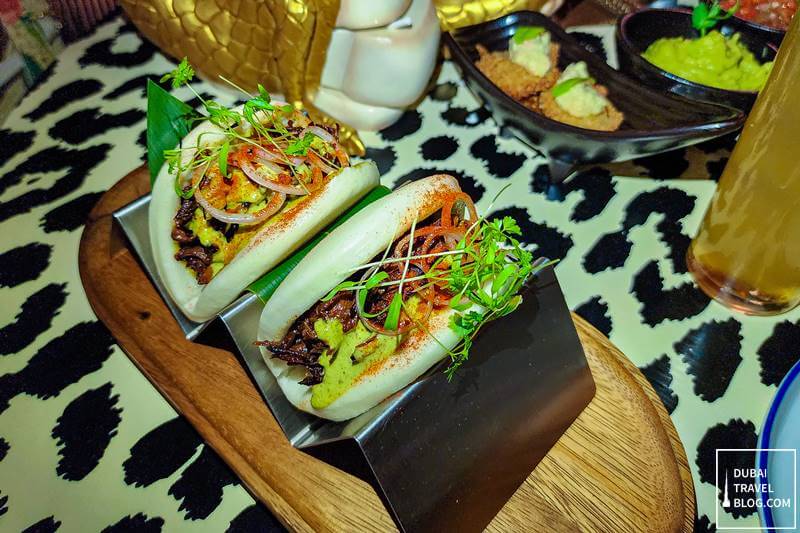 Chuck Beef Short Ribs Taco Bao – AED 95
36-hours braised beef short ribs, soft bao bun, coriander and lime mojo, pickled shallots, sweet smoked paprika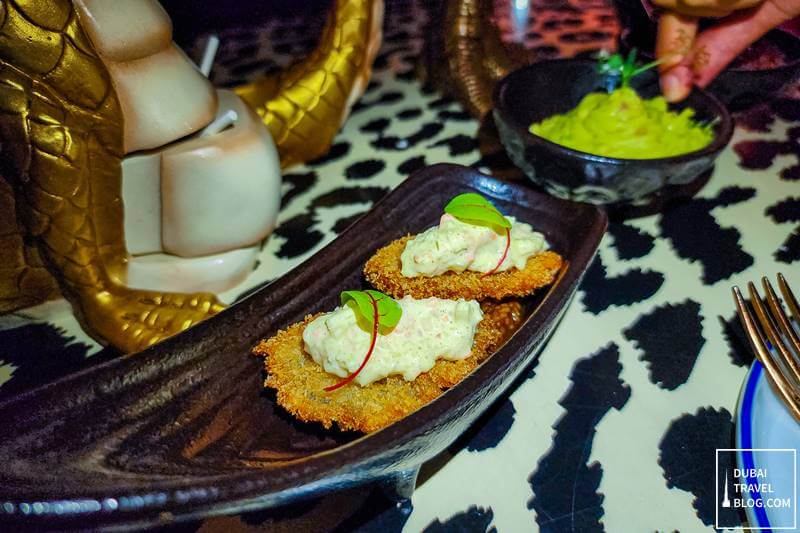 Against the Current Goldern Fried Oysters – AED 66
Panko fried oysters no.2, pickled tartar sauce and granny smith apple BBQ
Crips, Chips and dips – AED 65
Selected chips, homemade tex mex guacamole, soft goat cheese cream, tomato salsa
Main Course
for our mains, we savored Instant Fried Chipirones which was a flavorful combination of Low-fire cooked bomba rice in squid ink-infused fish broth as well as slightly fried baby squid. We also indulged in Wagyu Beef Tonnato – a delightful dish comprised of tender beef medallion grilled to perfection with tonnato sauce.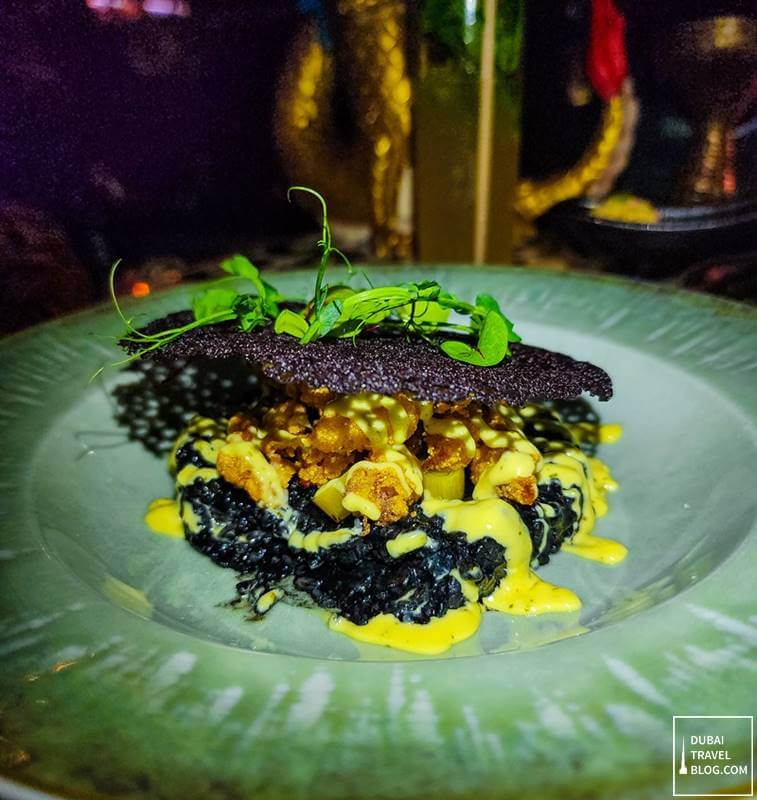 Instant Fried Chipirones – AED 148
Low-fire cooked bomba rice in squid ink-infused fish broth, slightly fried baby squid, sous-vide leeks, citric allioli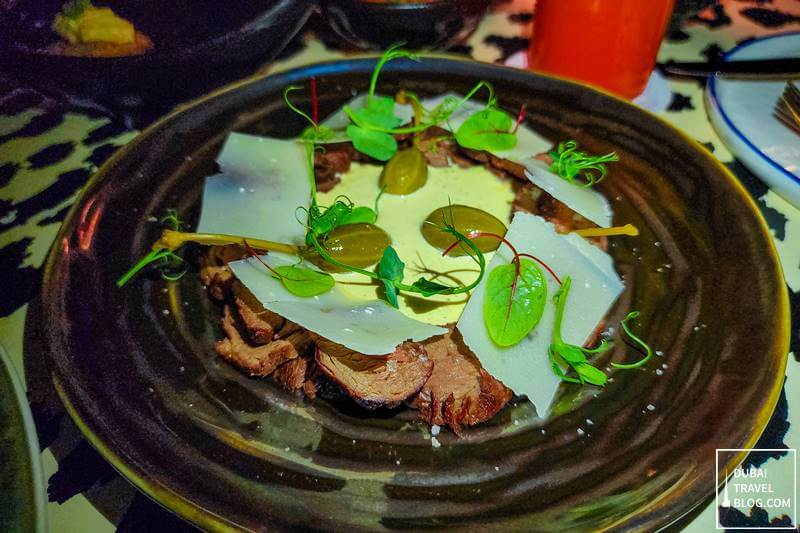 Wagyu Beef Tonnato – AED 180
Beef tenderloin medallion grilled in josper oven, sliced, and served with tonnato sauce, caper berries, aged parmigiano-reggiano
Desserts
To finish off the meal, we decided to go all out and share one drool-worthy plate of chocolate indulgence. Chocoholics was a dream come true for any choco lover with its 70% dark chocolate brownie ganache, creamy white & double dark chocolate gelato, richly dense mousse topped with crunchy feuilletine and sprinkled in popping candies.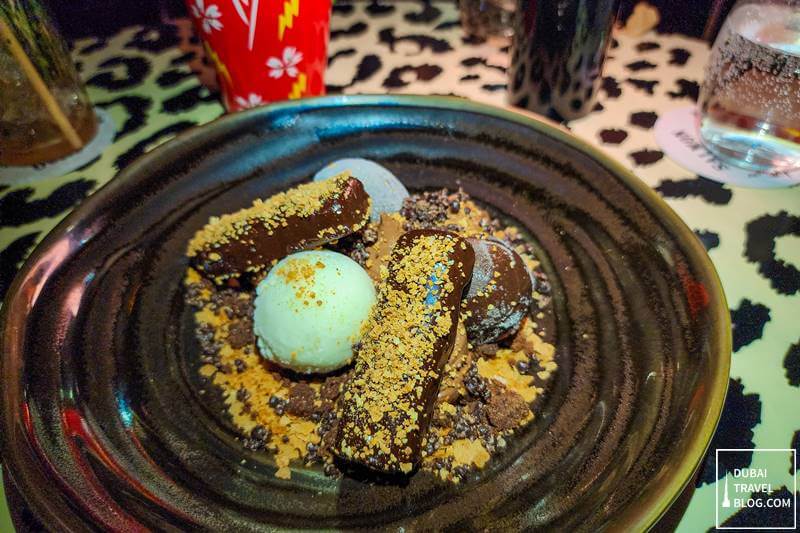 Chocoholics – AED 60
70% dark chocolate brownie ganache, white chocolate and dark double chocolate gelato, chocolate mousse, chocolate feuilletine, chocolate popping candy
Video: Salmon Guru Dubai Restaurant
Here's a quick video featuring our dinner experience:
31 Photos of Salmon Guru Dubai in Business Bay
Check out these photos of our experience below:
Summary
It's clear why Salmon Guru Dubai has been gaining positive attention recently — great drinks and food in a unique setting that's unlike anything else in Dubai!
In addition to its stunning design created by visionary architect Zaha Hadid, its prime location close to Burj Khalifa and Financial District makes it one of the most desirable nightlife destinations around. So don't miss out on this exclusive experience – visit Salmon Guru Dubai today!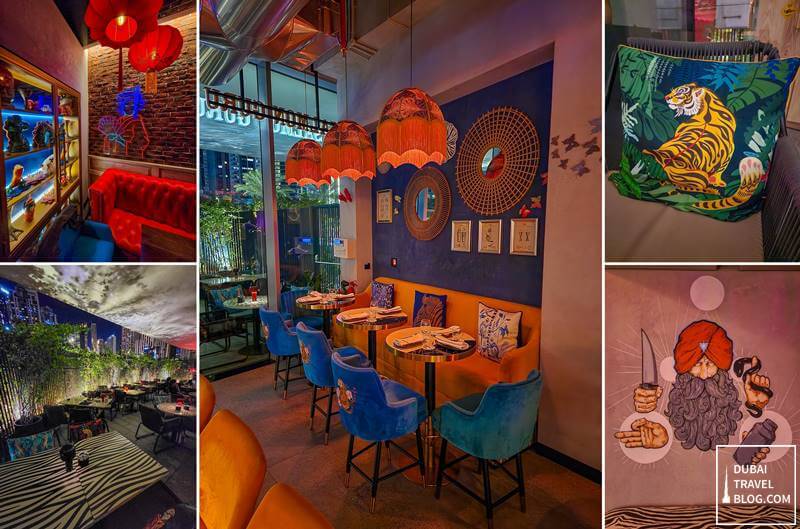 inside the cocktail bar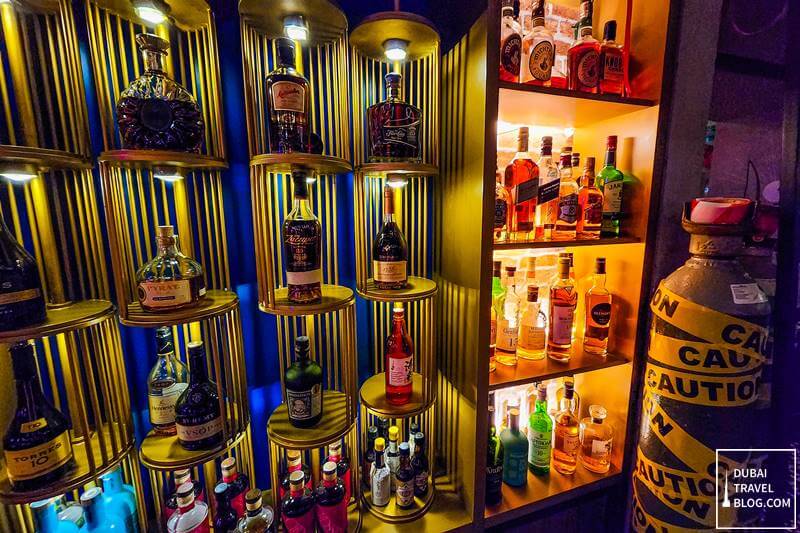 wall of drinks
Zaha Hadid-designed building – ME by Melia – where Salmon Guru is located
Contact Information
Salmon Guru Dubai
Address: The Opus by Omniyat – 803 Al A'amal St – Business Bay Dubai, United Arab Emirates
Telephone Number: +971 52 814 9537
Website: https://salmonguru.es/
Instagram: @salmongurudubai
Google Map Location
Please check out the map guide to the location of Salmon Guru Dubai. Valet parking is available.