Nazcaa Dubai is a unique dining experience inspired by the ancient Nazca civilization in Peru. This contemporary Peruvian-Japanese restaurant, located on the 12th floor of Address Fountain Views, offers an exquisite blend of Peruvian dishes and Japanese flavors. With amazing views of the iconic Burj Khalifa from its terrace and sophisticated interiors, Nazcaa is the perfect spot to savor its Beyond Nikkei cuisine.
My wife and I were able to sample their Ramadan Iftar Set Menu which features some of the best of their Nikkei food.
Alcohol: YES
Nazcaa is located on the 12th level of Address Fountain Views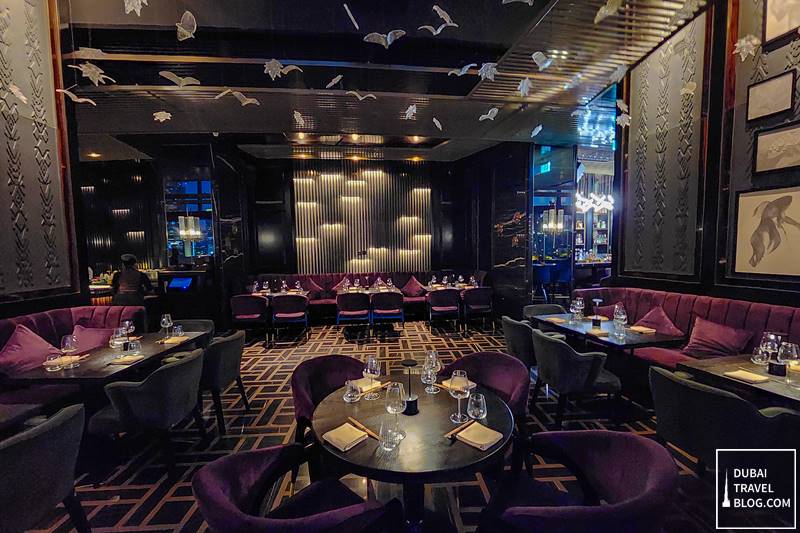 inside the restaurant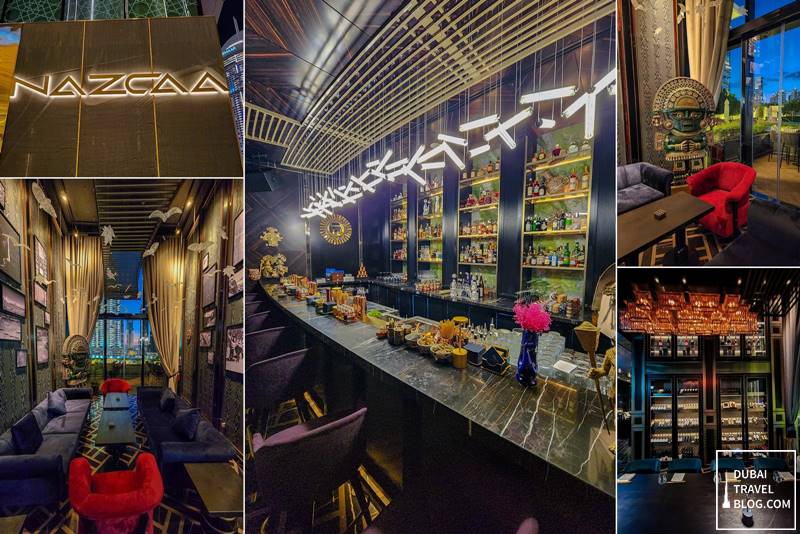 Nazcaa Dubai features a full bar
What is Nikkei Cuisine?
Nikkei cuisine is a style of Japanese-Peruvian fusion cooking. It combines traditional Japanese ingredients with Peruvian flavors to create unique and delicious dishes. Traditional Japanese ingredients such as miso, soy sauce, sake, mirin, and sashimi are combined with Peruvian flavors such as aji pepper, chili peppers, garlic, and cilantro to create dishes that are both familiar and exotic.
These flavorful combinations make Nikkei Cuisine an exciting addition to any dining experience!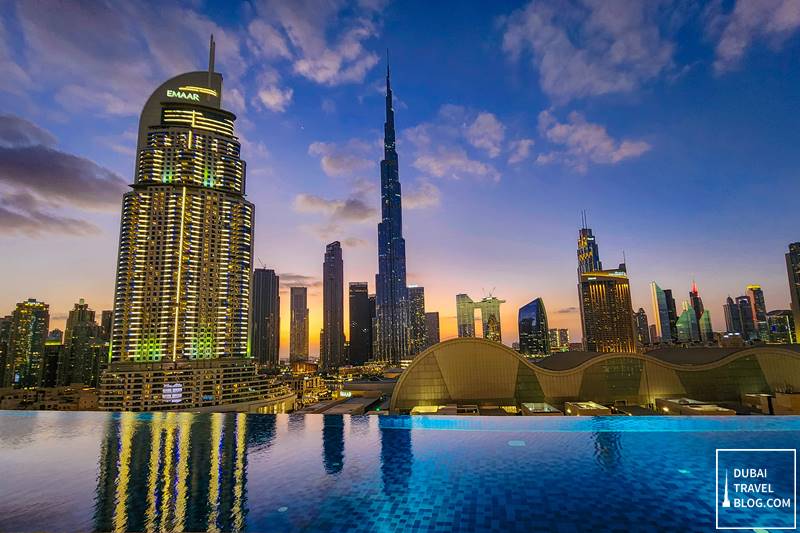 amazing view of Burj Khalifa from Address Fountan Views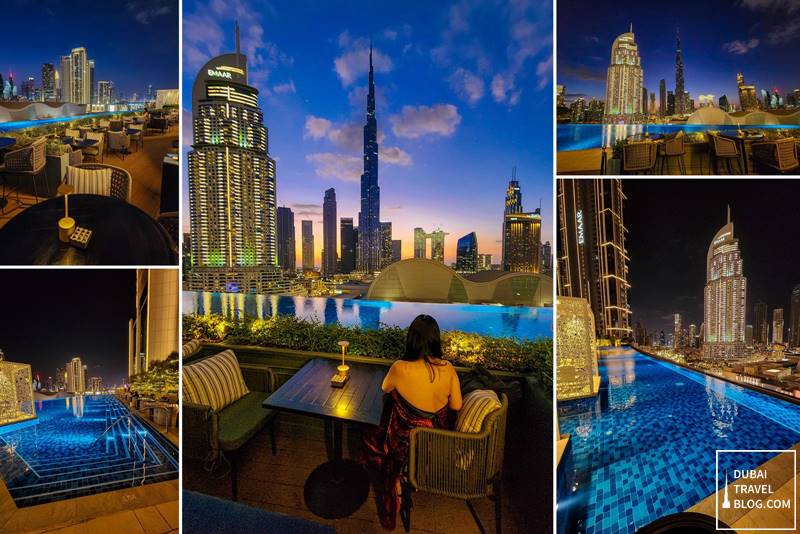 dinner at Nazcaa
Restaurant Review: Nazcaa Dubai at Address Fountain Views
Upon arriving at the restaurant, we were mesmerized by the stunning view of the Address Fountain View's infinity pool with the Burj Khalifa and Downtown Dubai as the backdrop. What a nice way to enjoy the chilly weather and views before the summer season arrives.
The founders of Nazcaa embarked upon a journey to explore the awe-inspiring UNESCO World Heritage site, known as the Nazca Lines. In doing so, they sought to encapsulate and honor the spirit of innovation and creativity of this ancient civilization within their restaurant's decor.
Thusly, timeless interiors were created with captivating linework inspired by Peru's historic culture – ultimately bringing life to an enthralling brand that embodies these same core values.
Appetizers / Starters / Soups
We started with their soups such as Chupe De Camarones and Lentil Soup. This was perfect as the weather was very chill and windy and the soups provided the perfect warmth and fuel to our bellies.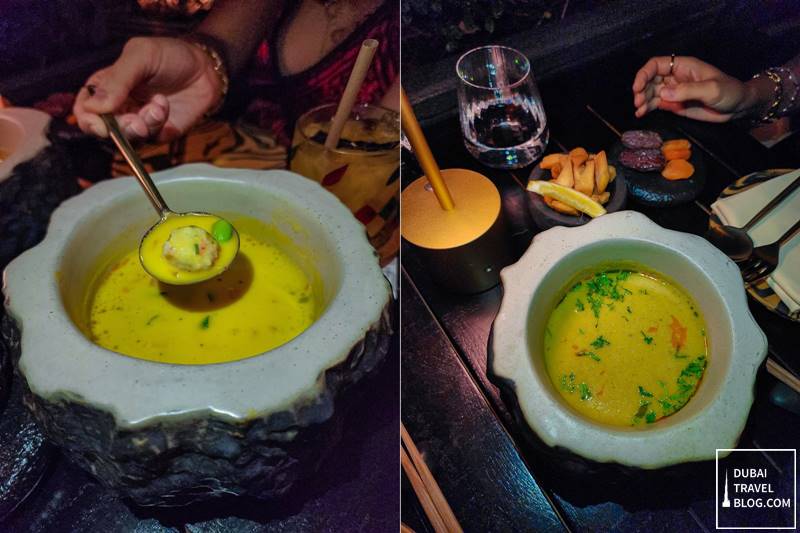 Chupe De Camarones
Seafood Dumpling Soup, Choclo, Edamame, Aji Amarillo
Lentil Soup
Red Lentil Soup with Pita Bread
We had Langoustine Taquitos and Wagyu Bao. These dishes were delicious and a great start to the evening. The flavors were complex and the presentation was beautiful.
They also served us a piece each of Wagyu Temarizhushi which is a handmade sushi with Wagyu charcoal beef.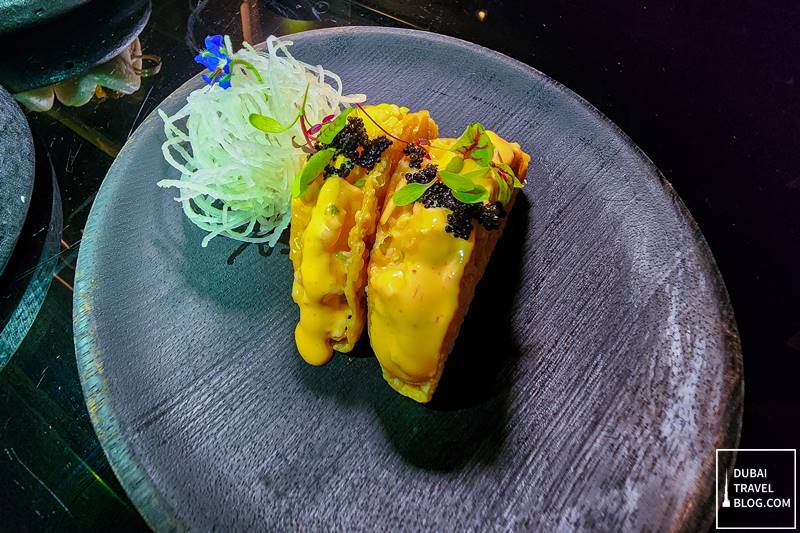 Langoustine Taquitos
Dublin Bay Prawns, Pickled Peruvian Raw Mango, Spicy Mayo, Black Tobiko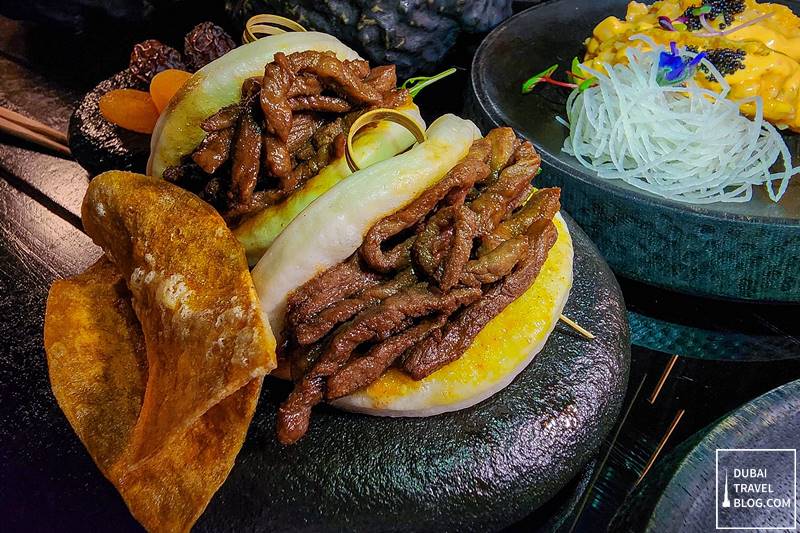 Wagyu Bao
Wagyu, Red Lotus Flour Buns, Chili Pineapple Compote, Dehydrated Sweet Potato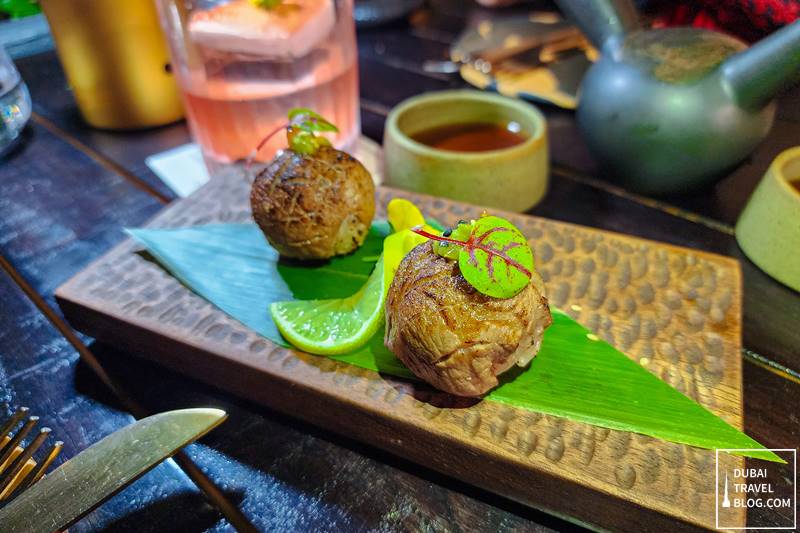 TEMARI ZUSHI
Wagyu
Spicy Charcoal Wagyu, Cured Egg Yolk, Kizami Wasabi
Main Course
For the main course, we had corn-fed baby chicken and lamb chops. Both of these dishes were served with Chaufa rice (fried rice).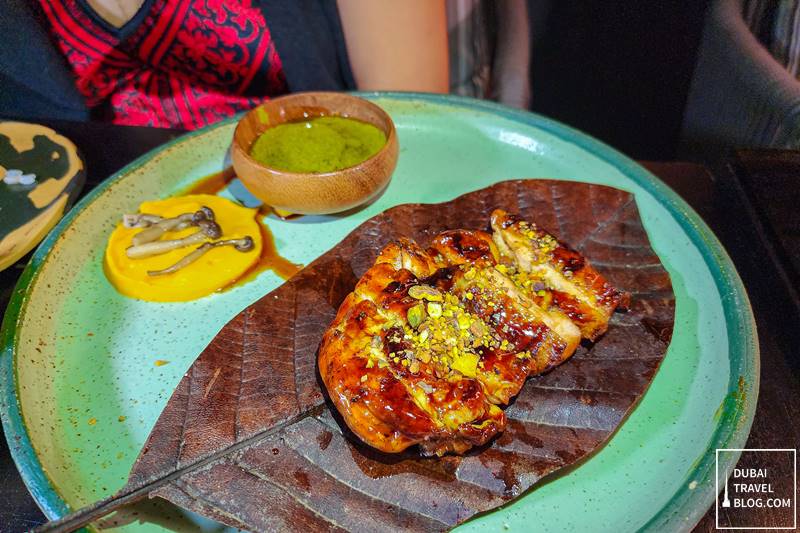 Corn Fed Baby Chicken (Served with Chaufa)
Spicy Miso, Chimichurri Sauce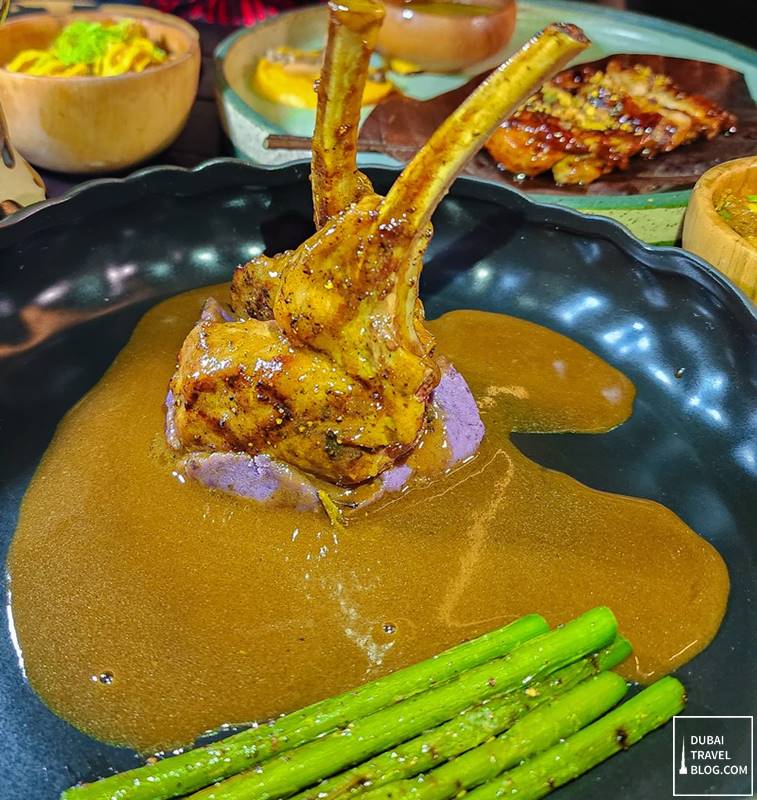 Lamb Chops (Served with Chaufa)
New Zealand Lamb Chops, Jus, Purples, Mash Potato
Desserts
Lastly, for desserts, we had mochi ice cream featuring different flavors, and a platter of fruit featuring slices of kiwi, passion fruit, grapes, dragonfruit, apple, and strawberries.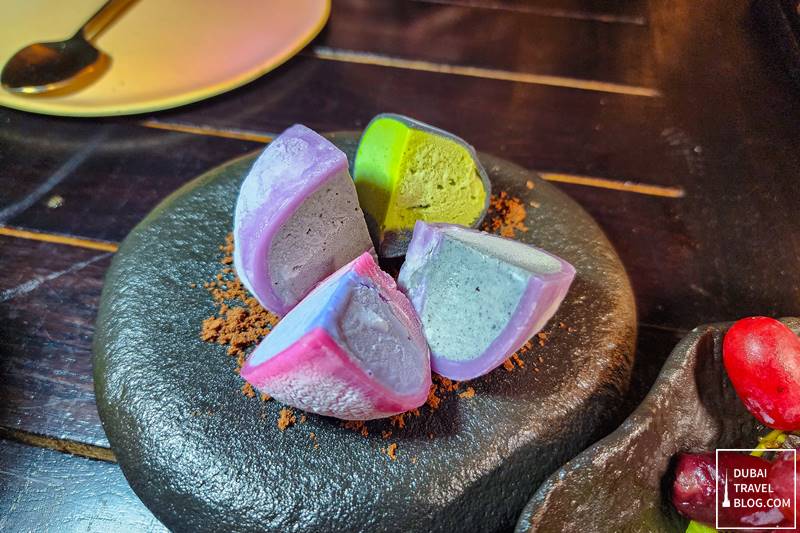 Mochi Ice Cream
Lavender, Black Sesame, Matcha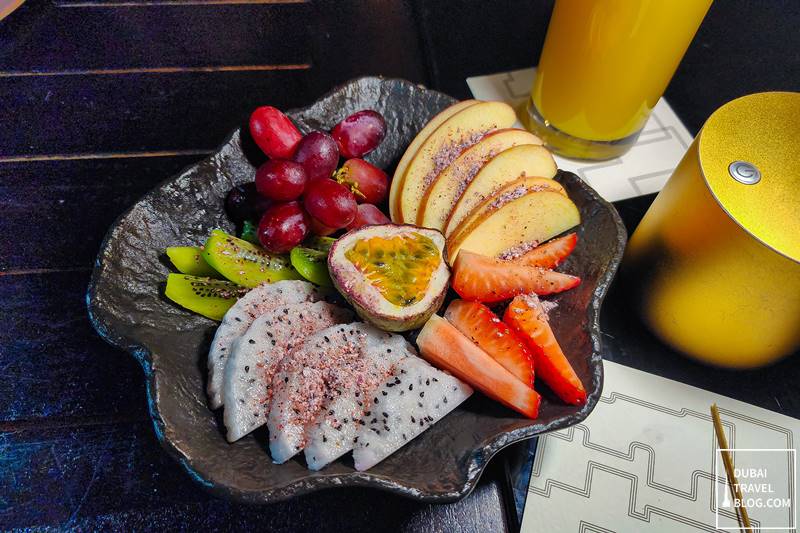 Nazcaa Fruit Platter (Assorted Fruit Platter)
Drinks
The drinks at Nazcaa Dubai are also something to highlight as they feature a variety of cocktails, mocktails, and smoothies that have been inspired by the Peruvian-Japanese fusion cuisine. They have a full bar with specialty drinks, including some unique concoctions that are inspired by local culture and flavors.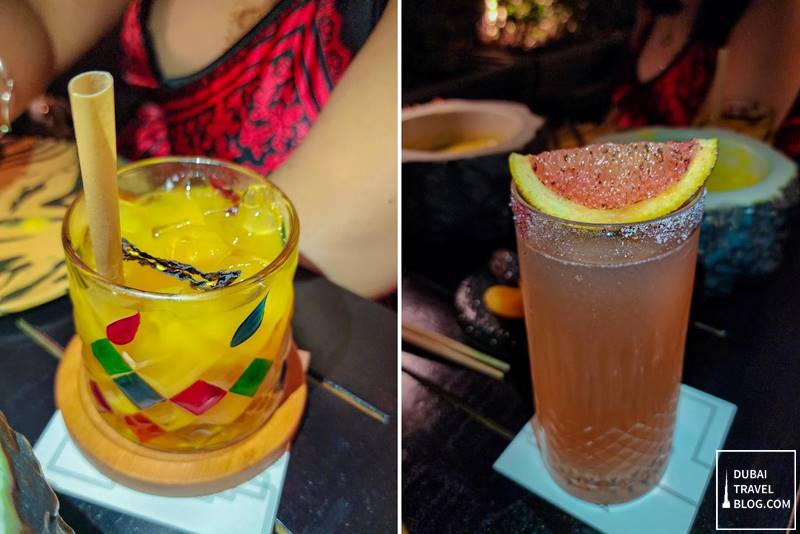 Vichama – AED 45
Mango, Passion Fruit, Jasmine Tea, Fresh Lemon
Huaca Morada – AED 65
Purple Tequila Anejo, Sauvignon Blanc, Solera Reserva, Lillet Rose, Grapefruit Soda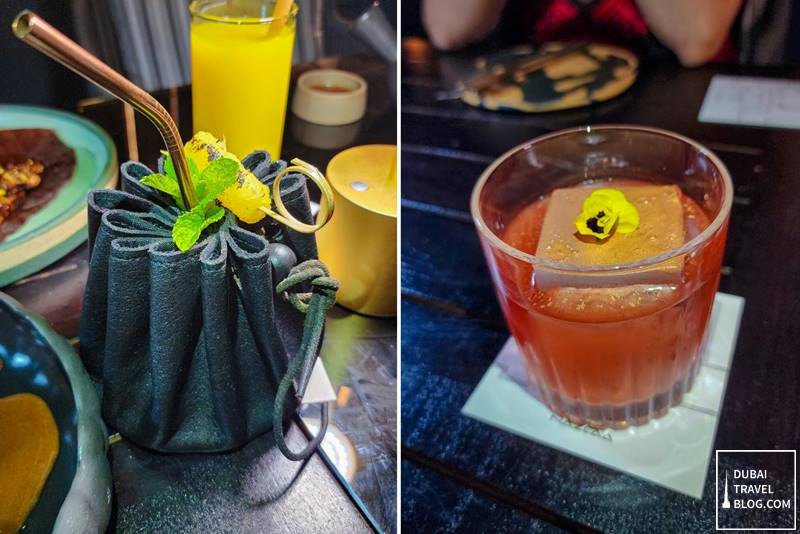 Fuji-Picchu – AED 65
Gin, Chai Aperitivo, Curry Pineapple, Ginger beer
Granadilla – AED 60
Codka, Bergamot Liquor, Granadilla mix, Dolce Picanto cordial
31 Photos of Nazcaa Dubai
Here are some pictures of the place based on our experience:
Video: Nazcaa Dubai at The Address Fountain Views
Check out this short video clip of our dining experience at Nazcaa Dubai:
Summary
At Nazcaa, guests are invited to an adventure through innovative Beyond Nikkei dining and signature cocktails that transport them on a journey through diverse cultures. Guests can enjoy delightful music that blends South American organic instruments with electronic genres including Afro/Latin/Brazilian, Downtempo, Deep House, and House.
As if this weren't enough, impeccable service complements each dish perfectly and ensures a memorable experience for all patrons.
If you're looking for a new dining destination with great views, Nazcaa offers diners an experience like no other.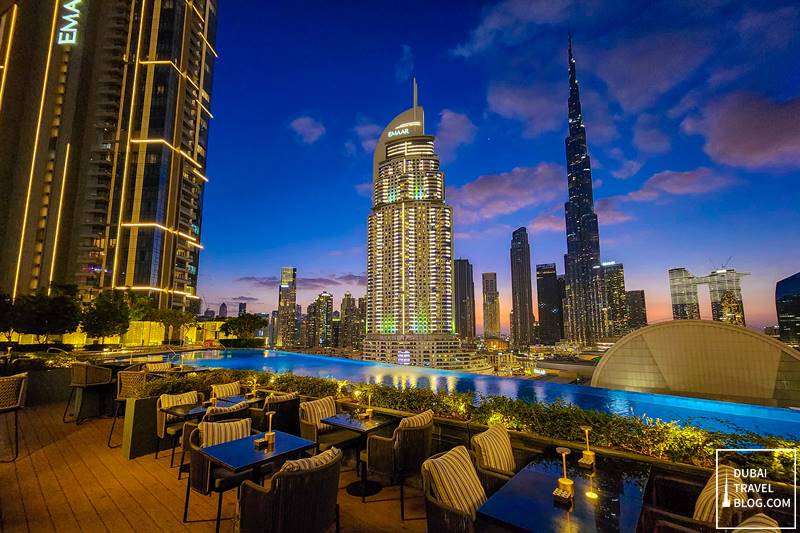 Nazcaa Dubai View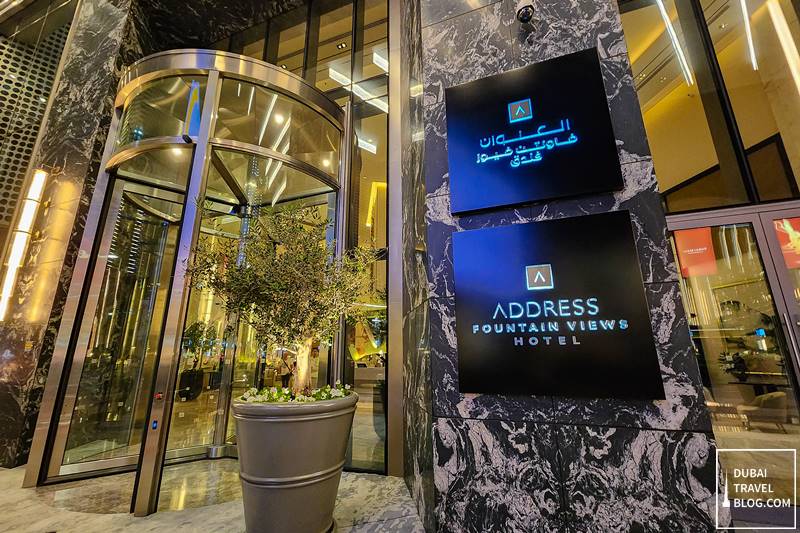 The Address Fountain Views hotel
Opening Hours
Lunch: Daily 12PM – 4PM
Dinner: Daily 7PM – 2AM
Contact Information
Nazcaa Dubai
Address: Level 12 The Address Fountain Views, Mohammed bin Rashid Blvd, Downtown Dubai, UAE
Telephone Number: +971 54 217 2123 / +971 4 542 4200
Email: reservations@nazcaa.com
Website: https://nazcaa.com/
Instagram: @nazcaadubai
Facebook: @Nazcaa-Dubai
Google Map Location
Check out this map guide to the location of Nazcaa Dubai. Valet parking is available: