My wife and I had a 7-course Italian dinner at L'Olivo Ristorante one Friday evening. Located at Rixos The Palm Dubai, this fine-dining restaurant offers a variety of traditional Italian as well as Mediterranean-inspired dishes.
L'Olivo Ristorante offers a relaxing ambiance with elegant lighting and a lovely view where you can enjoy an intimate dinner. Upon receiving the menu, we were glad with the variety of options from risottos, pastas, pizzas, main courses, etc. As we were up for anything, we requested for suggestions from their friendly and polite staff.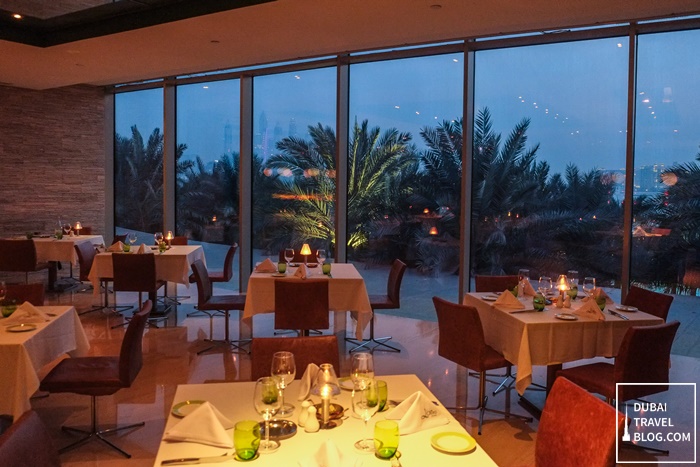 L'Olivo Ristorant at Rixos Dubai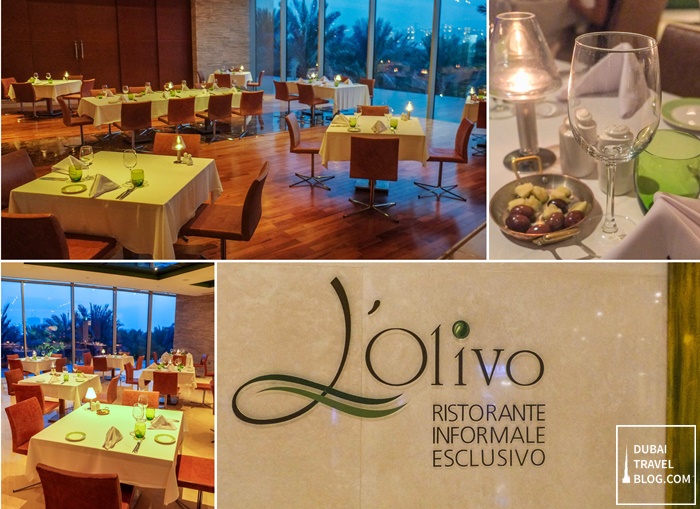 L'Olivo restaurant
Italian Dinner at L'Olivo Restaurant in Rixos The Palm Dubai
We've been to Rixos The Palm Dubai before when we took advantage of a discounted deal. During that time, we only ate at A La Turca, their main restaurant. We were happy with our experience then so this invitation for this 7-course menu was a nice treat.
Award-Winning Restaurant
Rixos The L'Olivo Ristorante had recently won two awards in the World Luxury Restaurant Awards 2017 held in Vietman. They took home the Global Winner for the Luxury Hotel Restaurant category and the Country Winner for the Italian Cuisine category.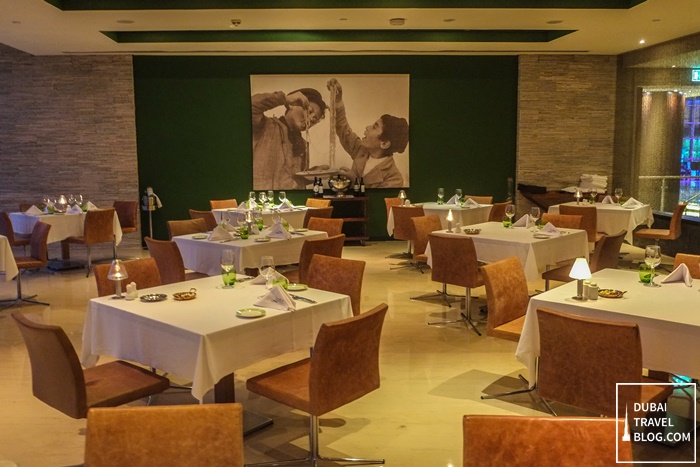 dining inside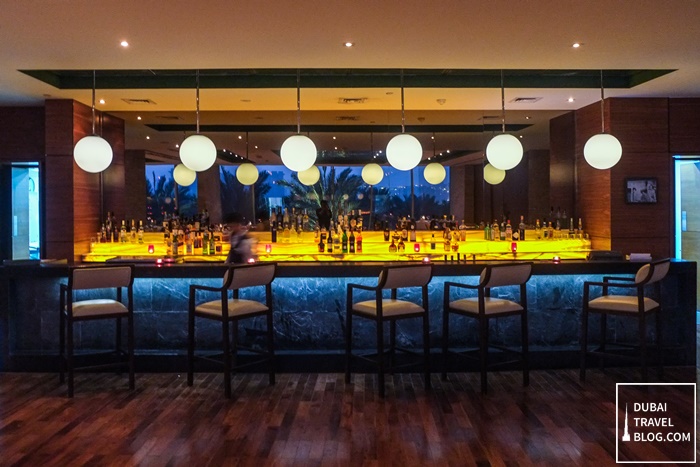 bar area
7-Course Menu
The restaurant's supervisor mentioned that the 7-course menu might be too overwhelming and was gracious enough to offer a 3-course meal for each of us. We came to the decision in still choosing the 7-course but my wife and I would share plates. This proved to be a wise choice because we couldn't we left the night full and satisfied without overeating. 🙂
They served the food as follows: appetizer and soup, pasta and risotto, main course and pizza, and desserts. Below are pictures of the food that we ate.
1. Antipasti / Appetizer
For starters, we had this prime beef carpaccio.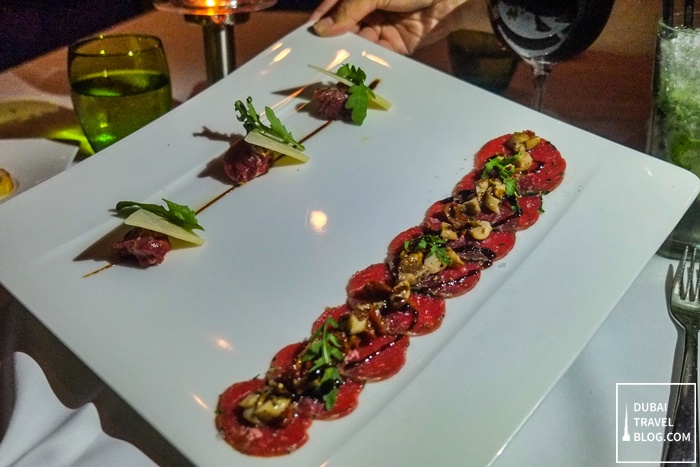 Appetizer: Prime Beef Carpaccio  – 65 AED
Prime beef tenderloin, marinated mushroom, goat cheese, Carpaccio, tortellini and aged balsamic
2. Zuppe / Soups
The 2nd one was Topinambur soup, a must-try!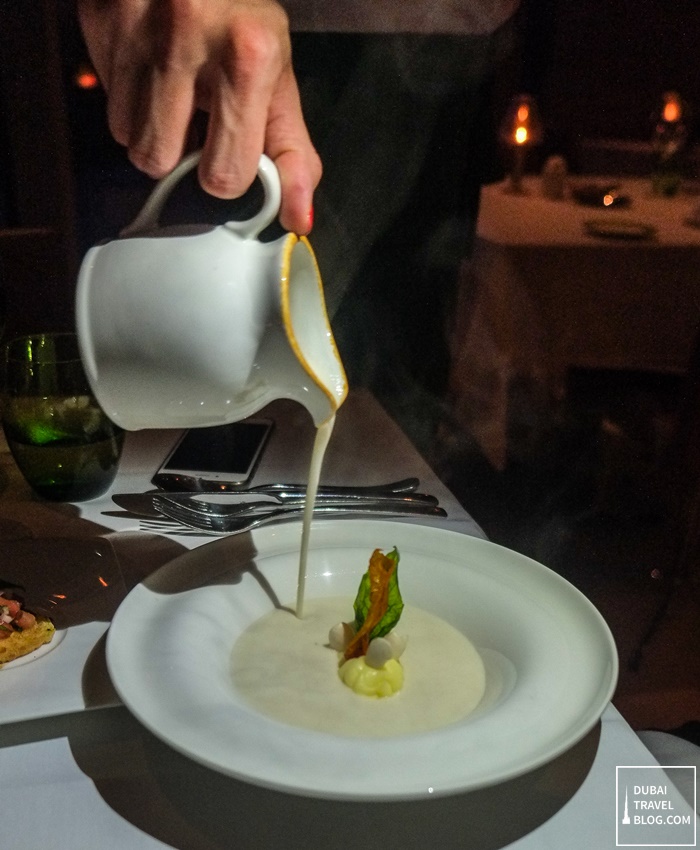 Soup: Topinambur Soup – 35 AED
Creamy Jerusalem artichoke soup, almond, assorted crest and lemon perfume
3. Award Winning L'Olivo Risotto
We had a serving of their seafood risotto.
Risotto: Seafood Risotto – 120 AED
Lobster, Shrimps Clam, calamari, saffron and asparagus
4. Primi / Pasta
For pasta, we had ravioli. The size might be small if you're going to order it as a stand-alone. But as we had other meals, the portion was good enough and ideal for us.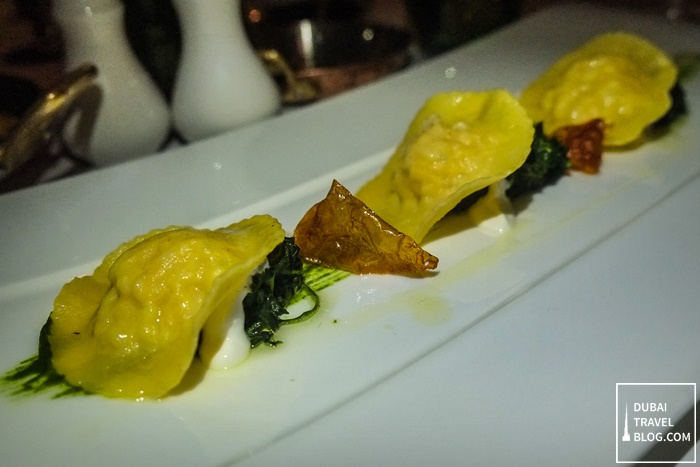 Pasta: Crustacean Ravioli – 95 AED
L'Olivo signature seafood filled ravioli, spinach and lemon cream
5. Secondi / Main Course
For main course, we had this rack of lamb chops, another delicious dish.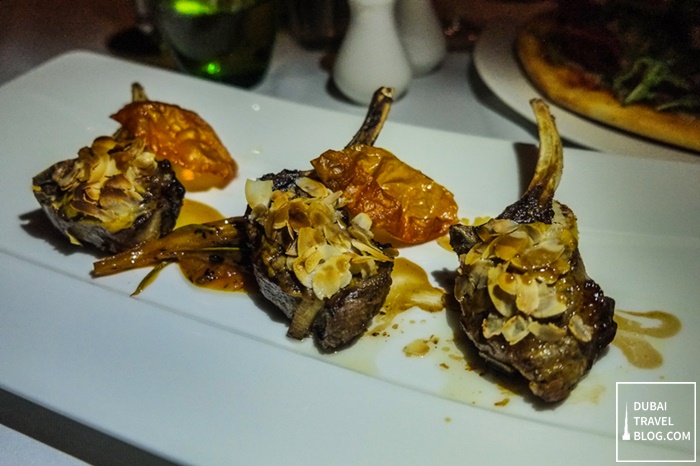 Main Course: Braciole Di Agnello – 135 AED
Rack of lamb, toasted almonds, Semolina Gnocchi "A La Romana", Honey Endives
6. Pizza L'Olivo
They had us try their signature L'Olivo pizza. By this time, we took some time in finishing this course. 🙂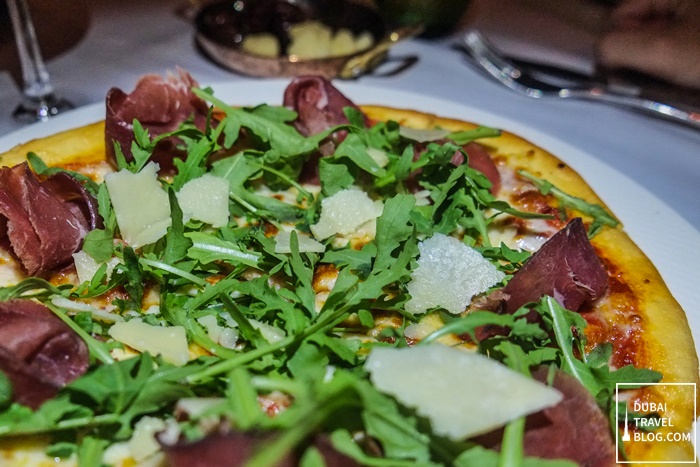 Pizza: L'Olivo – 75 AED
Bresaola, rucola, parmesan cheese, mozzarella cheese and tomato sauce
7. Dolci / Desserts
Lastly we had 2 desserts. Okay so we cheated and this was not really a 7-course meal. I'm a sucker for desserts so I wanted to order an additional item from their menu. We had the Flamed Alaska which is like 3 ice creams wrapped in burned cotton candy with berries and vodka (yes this has alcohol). Presentation is unique because they will light the dessert with flames in front of you. We also had a serving of the classic Italian dessert, Tiramisu.
The alcohol in the Flamed Alaska was bit strong for me, but I believe you can request for a non-alcoholic version. 🙂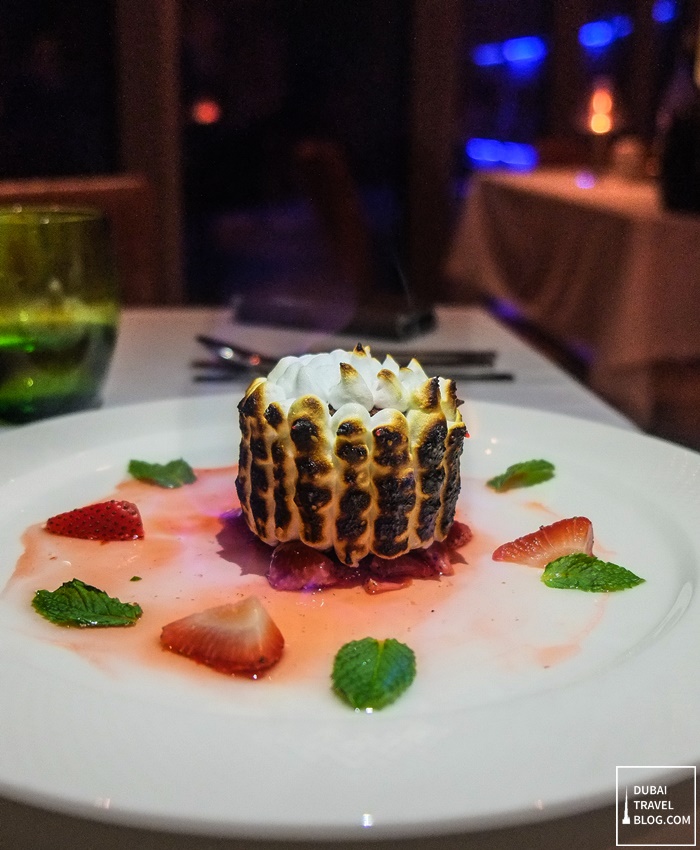 Dessert: Flamed Alaska – 45 AED
Chocolate, vanilla, and strawberry ice cream, cotton candy, berries, vodka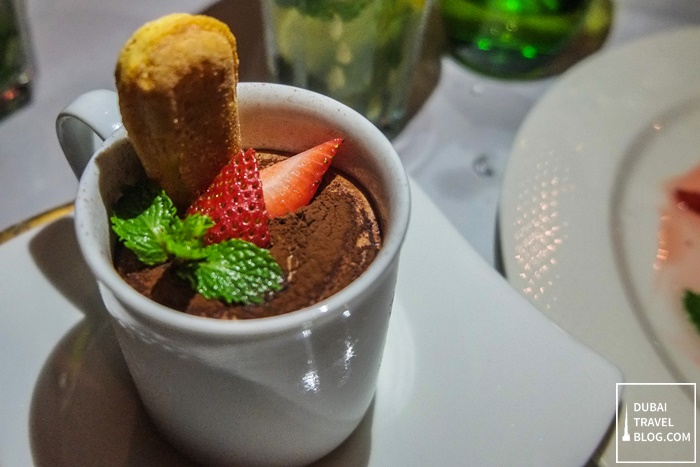 Dessert: Tiramisu – 50 AED
"Venetian Style" Mascarpone Cheese "A la Minute", Espresso, Lady Fingers
Live Band & Bar
Aside from the great ambiance and food, L'Olivo Ristorante has a live band that played songs to add to the relaxing mood that night. It was a Friday, a weekend for Dubai residents who wanted to have a good time. You can opt for a few drinks from the bar as well.
Below is a video of the band with live music during that evening:
Overall, if you're looking for a good place to relax and that's away from the cityscape, try heading to L'Olivo. Better yet, check in their beautiful resort for a few nights and enjoy the vibe of being away from the busy city.
Contact Information
Website: http://thepalmdubai.rixos.com/food-and-beverage/detail/LOlivo-Ristorante/123/55/0
Location: Rixos The Palm Dubai
Opening hours: 7:00pm – 11:00pm daily
Phone Number: +971 4 457 5454
Dress Code: Elegant Attire
Google Map Location Below is a map location of the Rixos The Palm Dubai. The restaurant is just near the lobby of the hotel.