I'm very glad that it's already winter season in Dubai which means there are more instances where we can dine outdoors. We had the opportunity to sample the offerings of Hi Five Restaurant and Lounge located at the 5th floor (rooftop) of Holiday Inn Express in Dubai Media City.
Hi Five DXB has over 7000 square meters of space. The dedicated elevator entrance sets up the mood for a fun evening when you enter this restaurant and lounge. It has a full bar and lounge area, booths and barstool seating, and two terraces with views of the Arabian gulf. Wood and leather accents the restaurant and they even have a pool table.
Alcohol: YES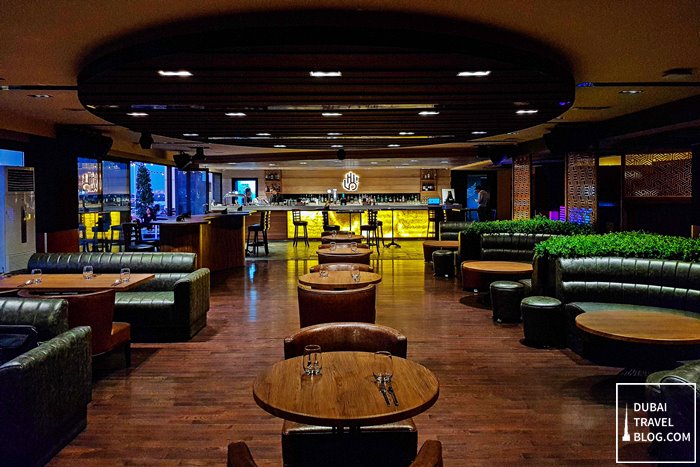 soft leather seats and wooden tones
inside the restaurant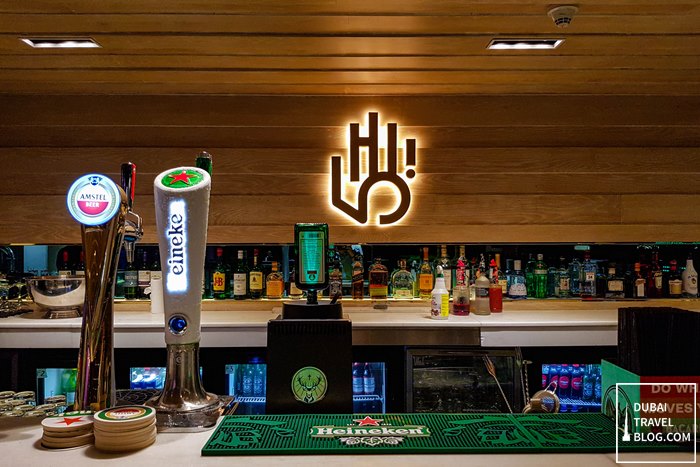 full bar
Restaurant Review: Hi Five Restaurant and Lounge at Holiday Inn Express – Dubai Knowledge Park
As we entered Hi Five, we immediately looked for a spot at their terrace. Noticeably the rest of the guests who arrived early also sat in this area. If you've been an expat here for years, you will really relish the moment of dining outdoors.
We started our dinner with their house wine (white for my wife, red for me) while enjoying seeing the view of Burj Al Arab and The Palm. It was a surely a good afternoon to unwind.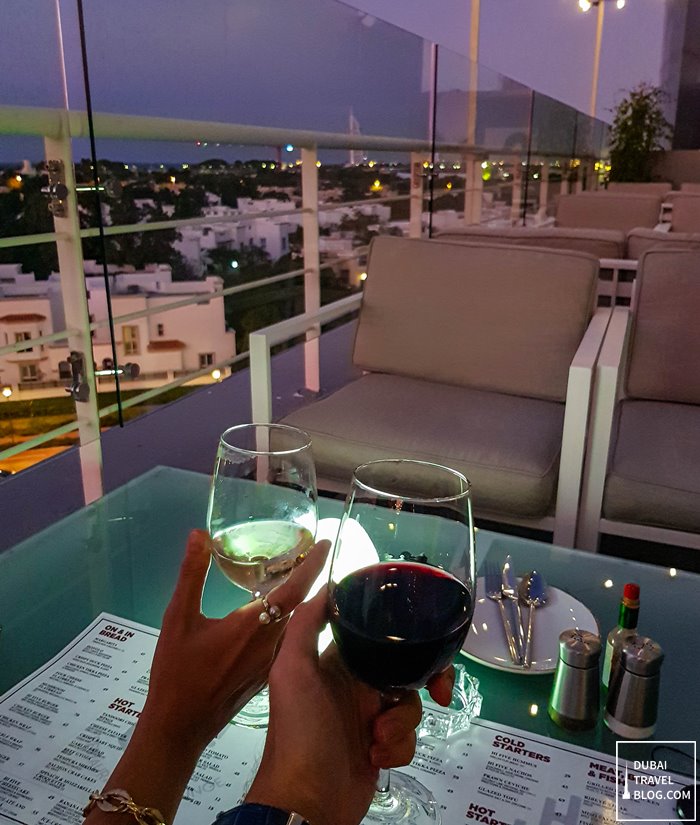 enjoying the house wine
Appetizers / Starters
For starters, we had Prawn Ceviche, Crispy Baby Squid, and Spinach & Mozzarella Croquettes. These three items were among the specialty items in their starters list, but I really enjoyed the croquettes which were so freshly prepared and tasted really appetizing.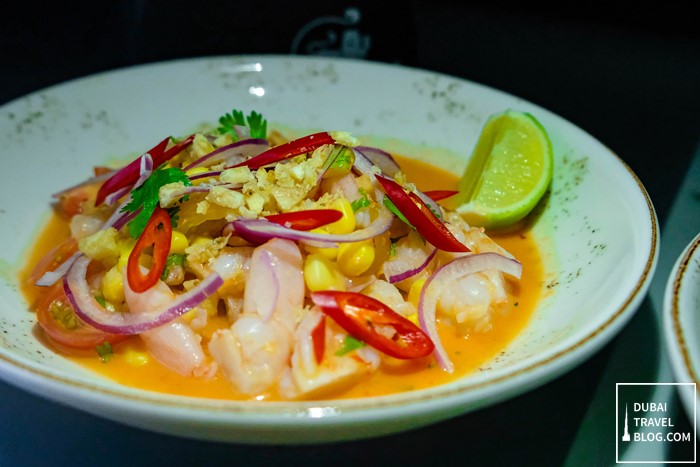 Prawn Ceviche – AED 69
Coconut Lime Dressing, Red Chilli, sweet corn and coriander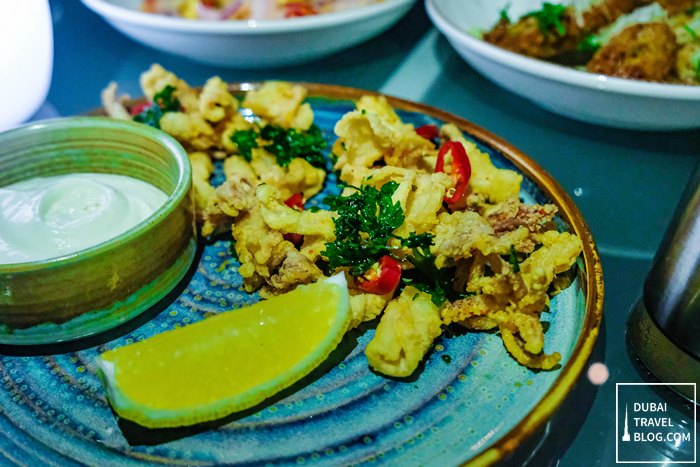 Crispy Baby Squid – AED 55
Citrius Aioli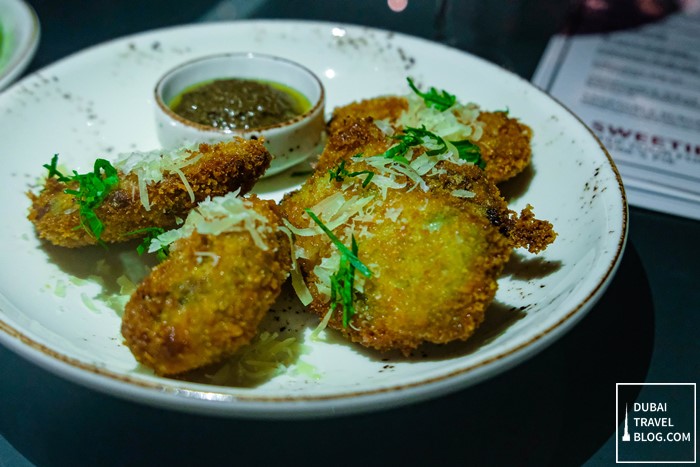 Spinach & Mozzarella Croquettes – AED 45
Black Olive Tapenade
Main Course
For our main course, we ordered the Crispy Duck Pizza, Rib-eye steak and Miso Salmon. I enjoyed the steak a lot and most especially the Crispy Duck Pizza. Instead of the usual pancake wrap, the duck and its Hoisin sauce were topped on equally satisfying dough.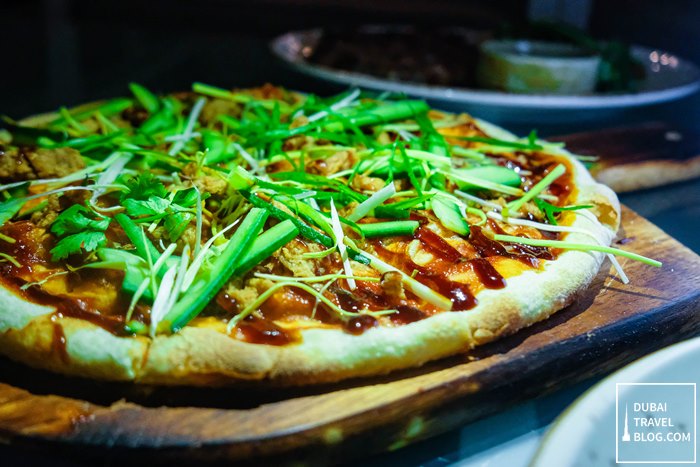 Crispy Duck Pizza – AED 69
Hoisin Sauce, mascarpone & leeks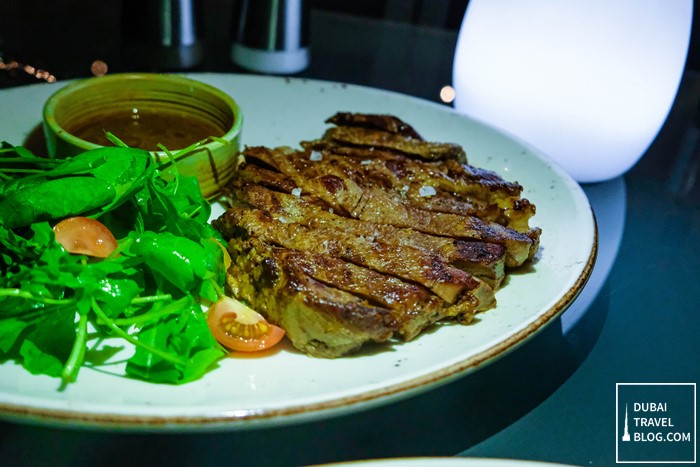 Ribeye Steak – AED 125
300 grams Angus beef and Anticucho Sauce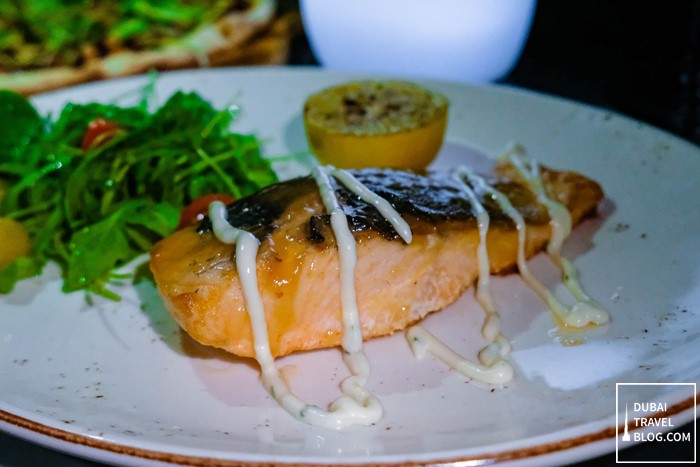 Miso Salmon – AED 95
Spicy Sesame Dressing
Dessert
For dessert, we had ordered only one item. The Chgcolate and Nutella was also a great highlight though I stopped myself from ordering an extra scoop of their ice cream. 😉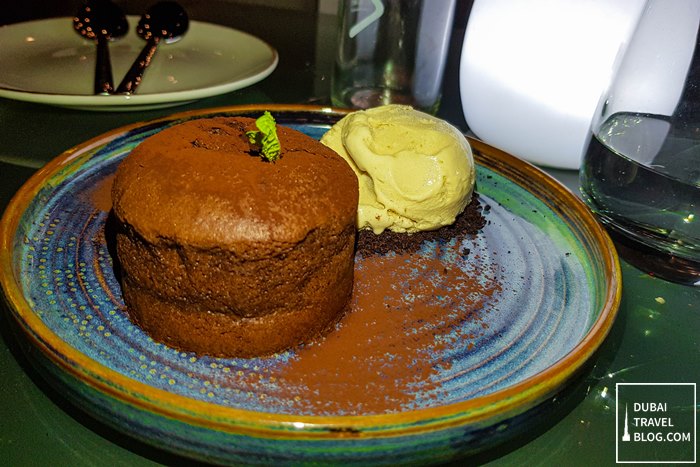 Chocolate and Nutella – AED 55
Fondant Hazelnut Ice Cream
Hi Five Dubai has a good number of items on their menu and I like that the items are not complicated. At the end of the day, we just wanted good comfort food to relax while enjoying the scenery outside.
The team was also attentive. Thank you to Josephine, Milan, and Nick for the wonderful service.
---
It's been a long while since my wife and I went out to dine in one of the restaurants in Dubai. We came back from a 10-day vacation in the Philippines and we were trying to go back to the grind of our usual set-up of checking out restaurants to feature.
Also, I got busy with my freelancing and online projects that I wasn't so aggressive in reaching out to potential food/hotel visits. So we were quite happy when we had this experience to dine out.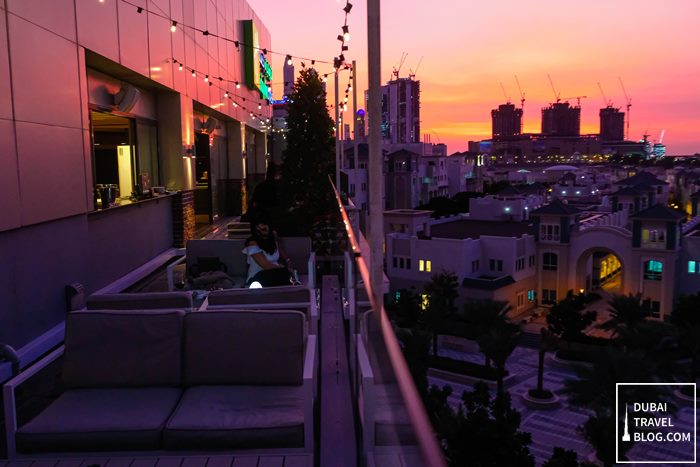 in time for sunset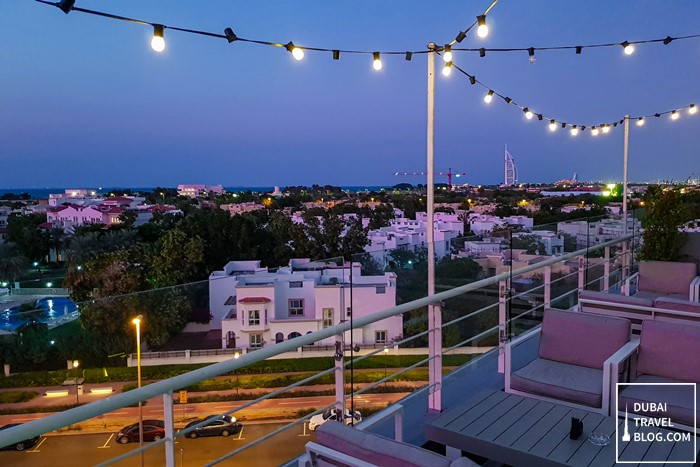 view of Burj Al Arab – glad to be outdoors again!
EXPERIENCE HI FIVE
Residing on a rooftop that enjoys views across the Arabian gulf seas and Dubai's Palm, Hi-Five is the city's latest restaurant, lounge and bar set to tantalize Dubai's' discerning dinners.
Nestled in Internet City, Hi-Five enjoys the buzz of the city lights, making it a perfect spot to sip on sundowners with friends on either of the two rooftop terraces.
Sprawling over 7000 square meters, Hi Five boasts a dedicated bar and lounge area with cozy booth and barstool seating, as well as a formal dining space and two terraces. Furnished impeccably with soft leather and earthy wood accents, Hi-Five is the ultimate spot to unwind in whilst sampling the eclectic menu accompanied by a glass or two.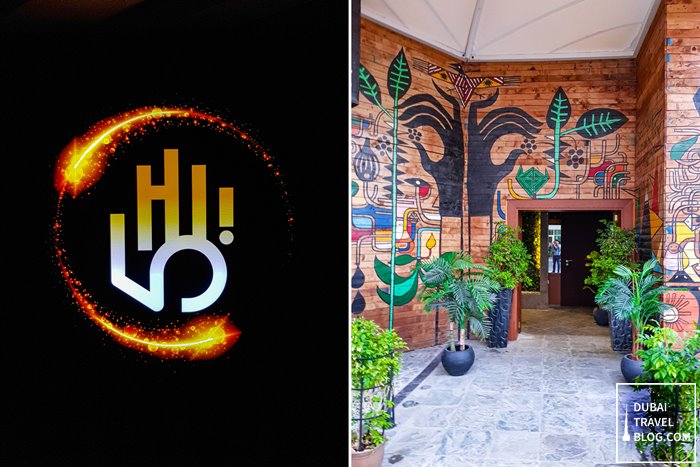 entrance area
OPENING HOURS
Saturday – Wednesday 12:00 PM – 02:00 AM
Thursday 12:00 PM – 03:00 AM
Friday 01:00 PM – 03:00 AM
Contact Information
Hi Five Dubai
Address: Holiday Inn Express, Dubai Media City, Dubai
Telephone Number: +971 55 53 777 14
Email: reservations@hifivedxb.com
Website: www.hifivedxb.com
Facebook: @HiFiveDXB/
Instagram: /@hifivedxb/
Google Map Location
Below is a map guide to the location of Hi Five Dubai.