Are you a fan of butter naan, rotis or parathas? These are typical flat breads which you can easily get in Indian restaurants in Dubai. These are breads typically made without any leavening agent (anything which makes dough rise, example baking powder, yeast).
In most cases, flat breads are usually looked over, with curries or gravies becoming the star of the meal. This time, we try to highlight these flat breads and invite you to try them over a hot cup of tea or coffee.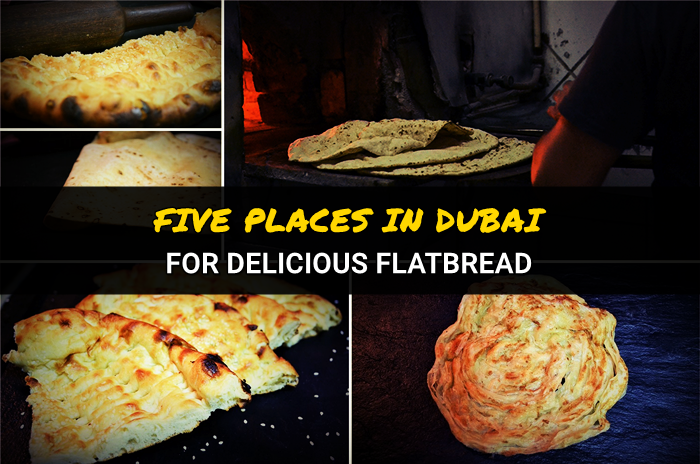 Where to Get the Best Flatbread in Old Dubai
We share with you a a list of common flat breads and where to get them in the streets of Dubai. Here's a list of top 5 restaurants / bakeries that are definitely worth the visit!
Paratha at Mizbah Al Zahabi Bakery – Bur Dubai

Location: Opposite City Mart Supermarket, Rolla Road, Bur Dubai
Price: AED 1 – AED 5 per paratha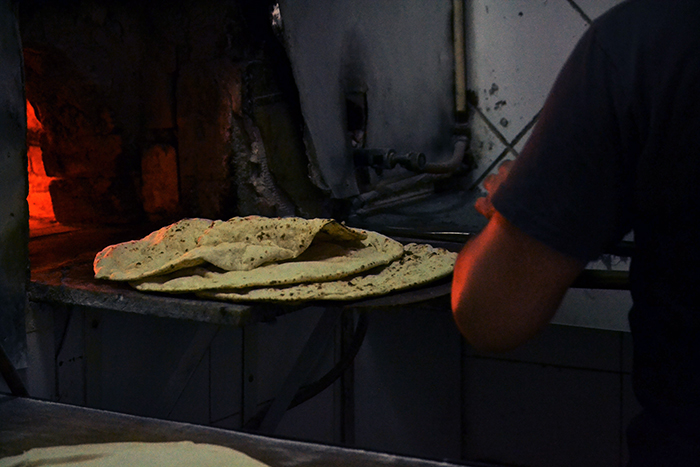 Located in the narrow lanes of Bur Dubai, this bakery provides delicious parathas. Paratha is a staple in North-Indian households and rightfully so, because of their versatility. They are flatbreads made with a simple mix of flour, water, salt and sometimes oil, which is knead to make a soft dough. The dough is rolled out and can be stuffed with a variety of fillings – most popular one being a spicy potato filling. This bakery makes just 4 types – cheese, potato, plain, and even takes on a middle-eastern spin with their specialty – za'atar paratha.
Butter Naan at Karachi Darbar – Oud Metha
Location: Near Lamcy Plaza, Oud Metha Road, Oud Metha, Dubai
Price: AED 2 per butter naan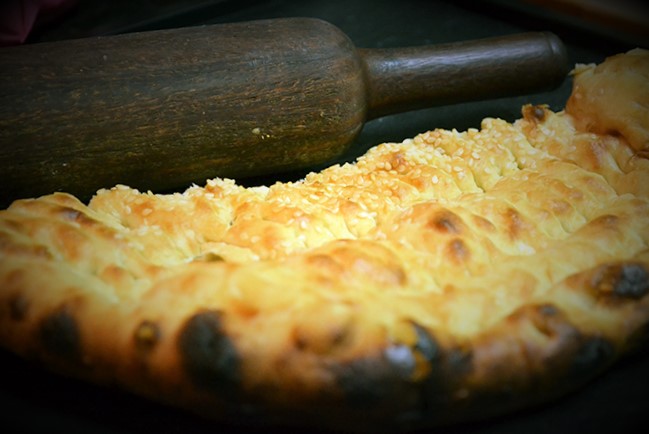 Situated in Oud Metha, right after the Al Nasr Club roundabout, Karachi Darbar is a multi-cuisine restaurant specializing in Indian, Chinese, Mughlai, and authentic Pakistani cuisines. From kababs to curries, you can be rest-assured that every mouthful would be filled with bundles of flavor. The flatbreads don't seem to disappoint either. What steals the show is their butter naan, which is slightly different from traditional butter naans.
A naan is simply a light flatbread, which is traditionally oven-baked. The dough is made with a simple flour mix, with only the addition of yeast to make the dough rise and become airy. Once the dough is rolled out and cooked, butter is slathered on the warm bread, which makes it melt in your mouth. While butter naans at most bakeries / restaurants look to be an upgraded version of a tandoori roti, at Karachi Darbar, butter naans are more structured, more buttery, more flaky. They're not just accompaniments for curries, but also perfect with a hot cup of tea or coffee.
Roti at Ravi Restaurant – Al Karama
Location: Opposite Burjuman Metro Station, Al Karama, Dubai
Price: AED 1 per Rumali Roti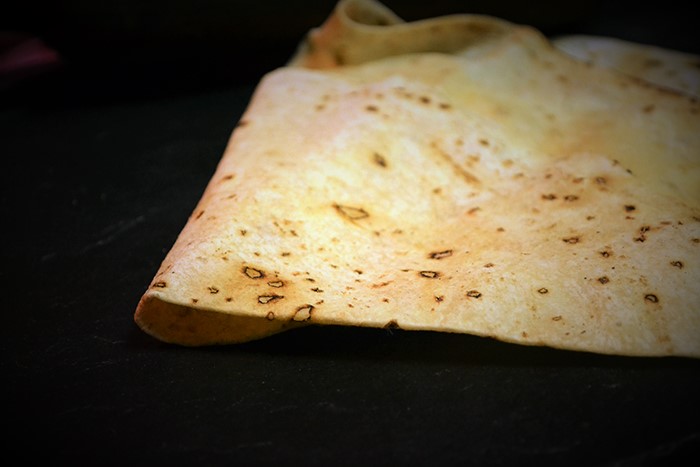 Located in a prime neighborhood, Ravi restaurant serves up the best Rumali Rotis. Roti is another special flatbread, which is common in most South Asian households. The twist comes along with Rumali Roti, which is a thin version of a traditional roti. Rumali comes from the word 'rumal' which in Hindi means handkerchief. Because of its thinness, this roti is a perfect accompaniment with curries, and can be used to soak up delicious gravies. Ravi Restaurant makes the softest Rumali Rotis, which tear apart smoothly, instead of stretching like a rubber band.
Roghni Naan at Des Pardes – Oud Metha
Location: Near Lamcy Plaza, Oud Metha, Dubai
Price: AED 2 per Roghni Naan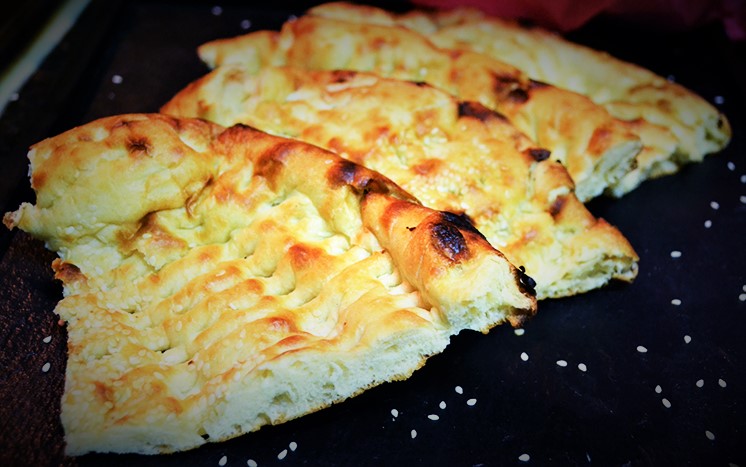 The next flatbread to look forward to with your curry or beverage would definitely be Roghni Naan. This form of naan is very popular in Indian and Pakistani cuisine. Because it's bigger in diameter and is crustier, Roghni Naan can surely handle the heat from gravies. With a final sprinkle of sesame seeds a nuttier flavor is added to the naan, making it rich and indulgent. Make sure to check out Des Pardes to get a taste of this yummy naan!
Kerala Paratha at Green City – Oud Metha
Location: Opposite Al Nasr Leisureland, Oud Metha Road, Oud Metha, Dubai
Price: AED 1.50 per Paratha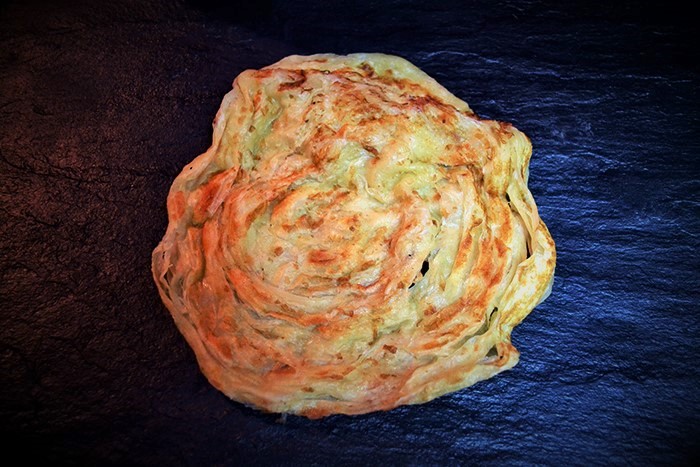 South Asian food at its best can be expected from this restaurant which is located at Oud Metha. The flatbread to try would be the Kerala Paratha. Like the name suggests, this Paratha has its origins from Kerala and makes a perfect vehicle for South Indian curries (or any curry in general!) The Paratha is rolled out in a layered way and each layer can be distinguished from the other. When served hot, it is nice and flaky.
—————–
In Dubai, there are plenty of fancy restaurants from various cuisines and offers some of the best views and some of the most indulgent meals. But there is no shortage of great food experiences even when you're on a budget.
So this time, instead of exploring Dubai for the stars, why not go ahead and visit these restaurants / bakeries just for the freshest lot of bread, and enjoy it with a hot cup of tea and coffee?