UPDATE: This Thai restaurant in Roda Al Bustan is now named "Bambooda" restaurant.
My wife and I had an enjoyable Thai food dinner at Blue Elephant restaurant located in Al Bustan Rotana. We arrived on a Monday and was surprised to see the atmosphere inside.
Traditional wooden furniture adorn the restaurant. Waterfalls, green plants and a stream filled with koi fishes can be found as well. Seeing the view inside made us wonder how this place was set up inside a desert as it's totally different from the scenes outside.
Blue Elephant in Al Bustan Rotana
Thai cuisine in Dubai
Blue Elephant Thai Restaurant in Dubai – Al Bustan Rotana
The restaurant is known for its award-winning fine dining Thai cuisine as well as its ambiance. It is near the Dubai airport so for travellers who are in transit or need a quick meal stopover, you can drop by the Al Bustan Rotana hotel for a quick fix of lovely Thai dishes.
They have a Mega Night buffet wherein they offer a two in one buffet and is combination of Thai food from Blue Elephant and Japanese food from the neighboring restaurant Benihana. This happens every Tuesdays and Thursdays from 6:30pm onward. Since it was a Monday, we had their regular a la carte meals which was not any less grand.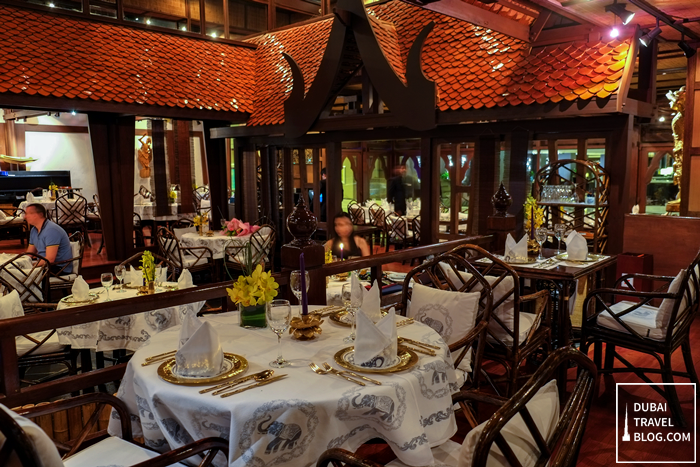 Blue Elephant Dubai
Blue Elephant, Al Bustan Rotana
Appetizers / Starters
For appetizers, we had mieng kham where we could place ingredients like shallots, peanuts, lime, etc. on piper leaves and wrap them together (like a small shawarma). We also had 2 tom yam soups where one had coconut milk.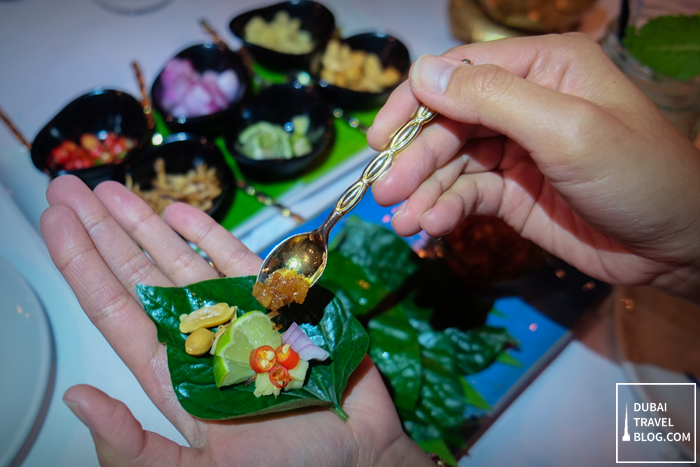 Mieng kham – piper leaves with roasted coconut, peanut, lime, dry shrimp, ginger, shallot, chilli and caramelized coconut sauce.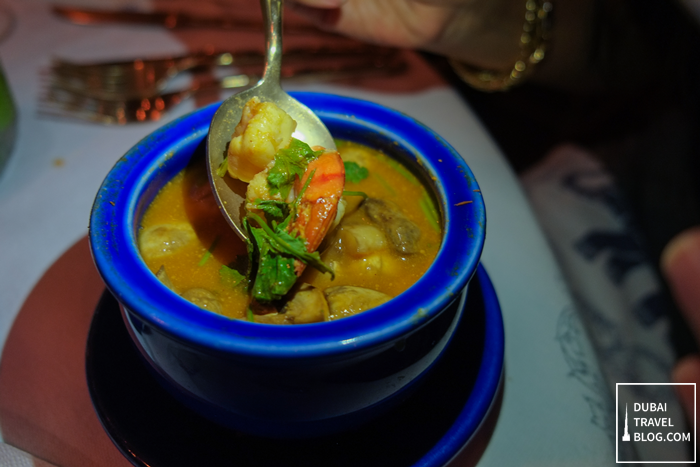 Tom Yam Koong – Thai's favorite soup, a clear broth with spicy prawn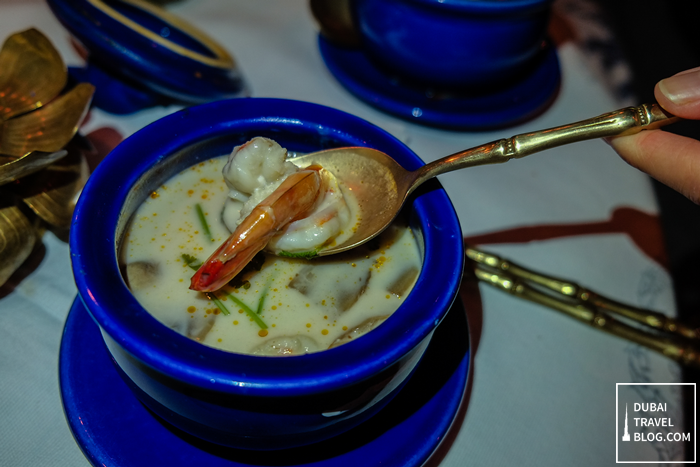 Tom Yam with coconut milk
Main Course
For our main course, we ordered sea bass, pad thai noodles and Thai chicken curry.
Lime Chilean Sea Bass – steamed fillet of Chilean sea bass, Thai herbs, fresh lime juice, and chili.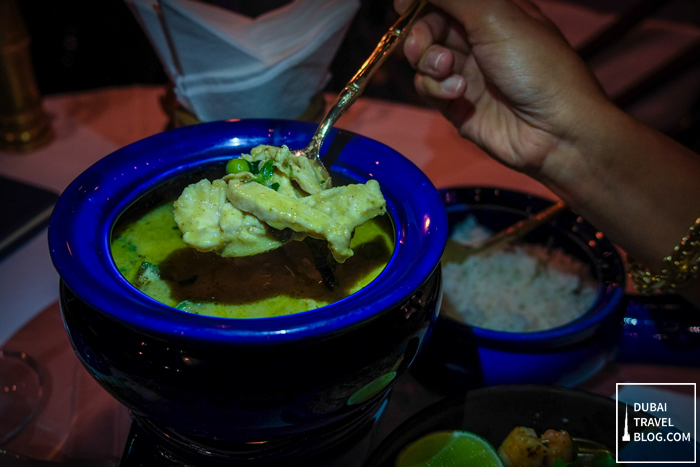 Thai Chicken Curry – Green chicken curry in coconut milk with sweet basil leaves and Thai green eggplant.
Phad Thai noodles – Fried rice noodles with fresh prawn, ground roasted peanut with tamarind dressing.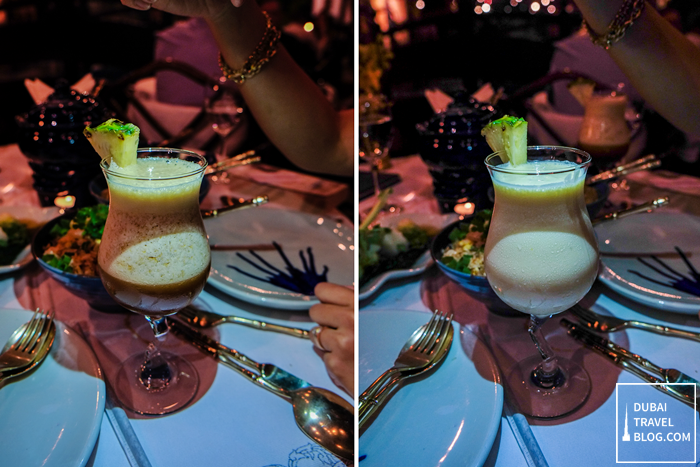 Drinks at Blue Elephant
We were very full afterwards that we didn't order any desserts. I simply went towards the bar area and walked past other areas of the restaurant to take some more photos while my wife was enjoying her tea.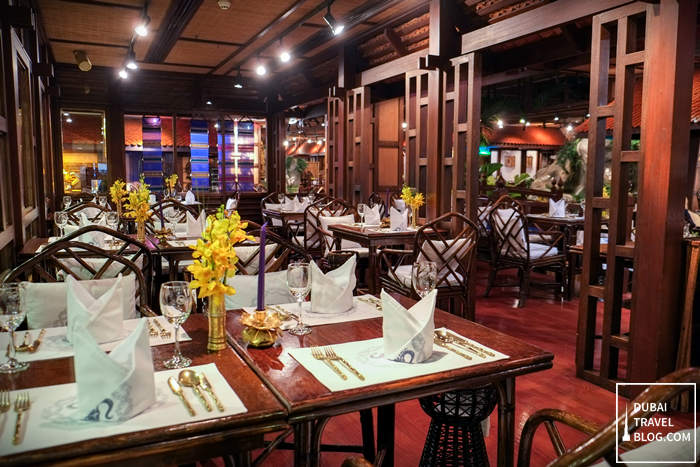 dining section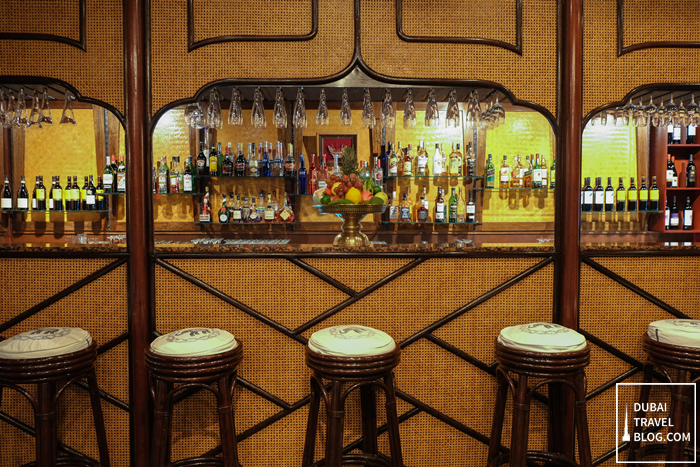 bar area
bar
One thing to note when dining at Blue Elephant are the designs and decorations. From the statues to the nature and greenery. From the wooden carvings and Thai accents to the yellow orchids, elephant tea pots. Even the prints on the table and cutlery, Thai designs are present in this restaurant.
If you're looking for some quality Thai food in Dubai, you can drop by Blue Elephant.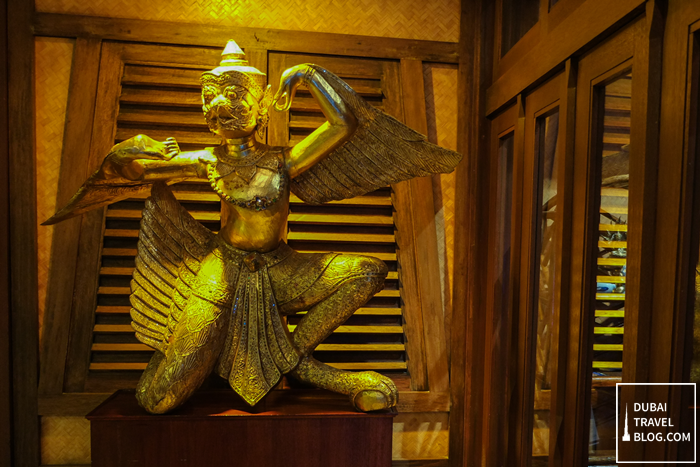 Thai statue
elephant design on the glass
Voted "Best Far Eastern Restaurant" in Dubai, Blue Elephant offers a truly magnificent variety of dishes, prepared with only the finest ingredients from around the world. Dine at the Blue Elephant and you'll be transported into an authentic Thai village complete with traditional huts, waterfalls, streams and lush greenery.  A memorable occasion is guaranteed whether dining a la carte or during its exciting theme nights.

– Al Bustan Rotana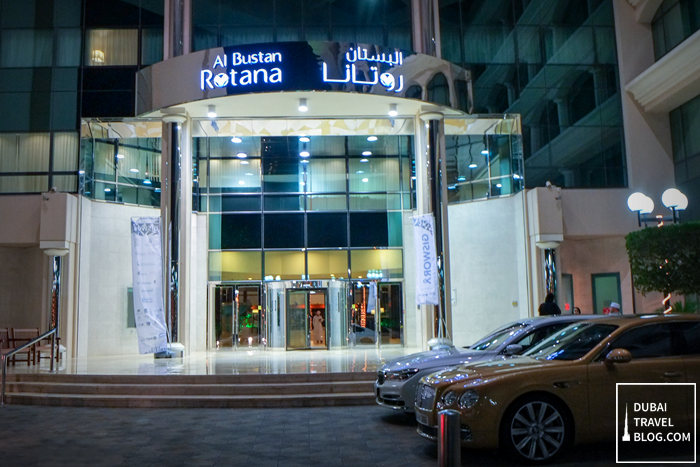 outside Al Bustan Rotana
Operating Hours
Lunch : 12:00nn – 3:00pm (Ala Carte)
Dinner : 6:30pm – 12:00am (Theme Nights)
Dinner: 7:00pm – 12:00am (Ala Carte)
Location: Al Bustan Rotana Hotel
Address: Casablanca Road, Al Garhoud, Dubai
Website: https://www.rotana.com/rotanahotelandresorts/unitedarabemirates/dubai/albustanrotana/dining
Telephone: (+971) 4 282 0000
Email: fb.albustan@rotana.com
Google Map