We had a fun night at Cubano Lito tapas bar, a new place in Dubai where you can experience a taste of Old Cuba. The hotel bar is located at the Ibis One Central hotel at the World Trade Centre area. We were able to drop by and sample some savory Cuban dishes on Monday evening.
Cubano Lito is a new lounge bar offering a unique and colorful Cuban theme design and atmosphere. The bar counter area offers plenty of selections of cocktails, spirits and beverages.They also have a Cuban lounge and an outdoor terrace. To complete the experience, live music is played by Dollar Latin Trio band.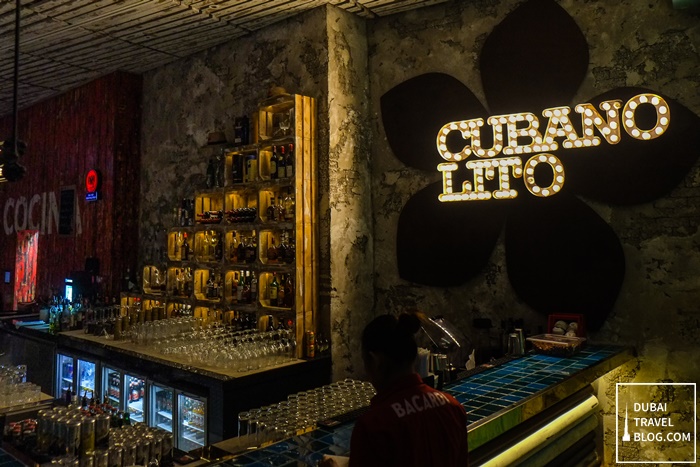 Cubano Lito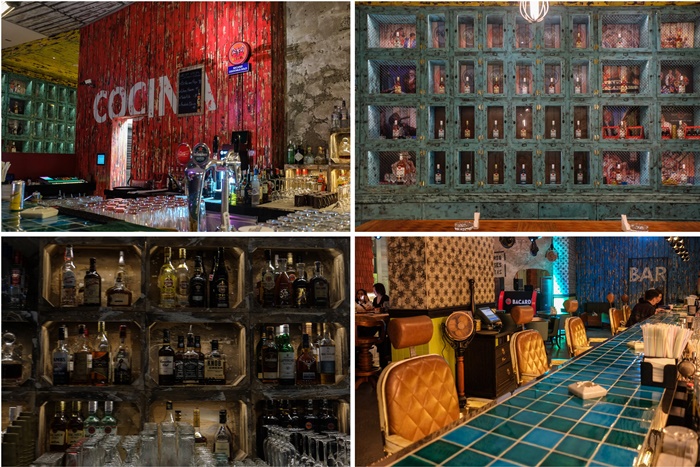 good selection of drinks
Cubano Lito Review: Cuban-Themed Lounge Bar at Ibis One Central
To get into the bar, you have to enter a huge blue wooden door. When you get inside, you'll feel you've been transported to unique set-up. This Cuban-themed lounge bar in Dubai is designed with a street art culture interior and striking colors on wooden walls which re-imagines a lively classic nightspot in Cuba.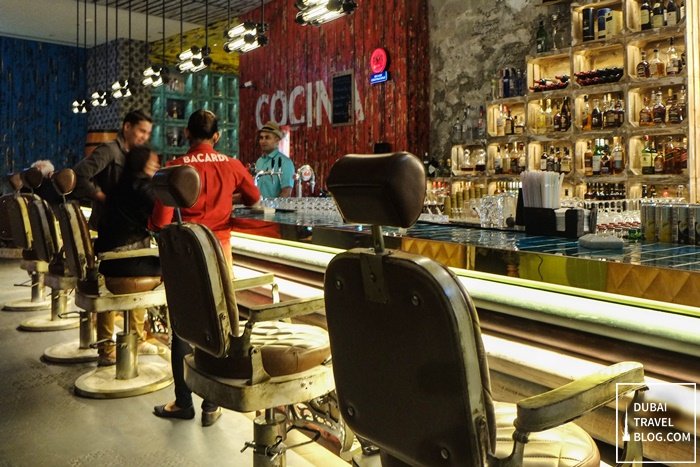 bar counter area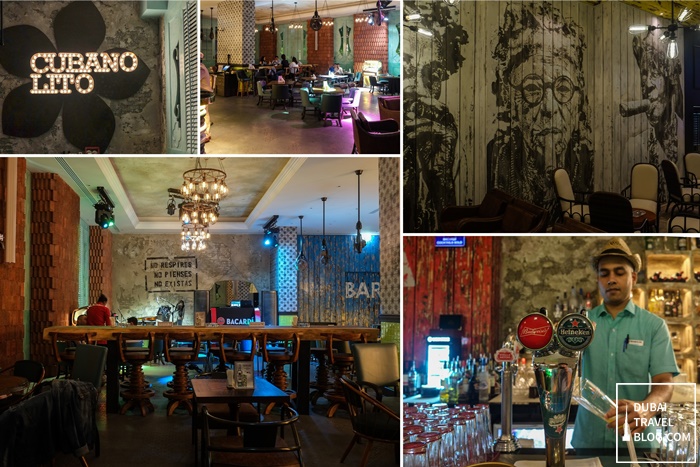 inside the Cubano Lito Bar – Dubai
Cubano Lito Food
Cubano Lito mainly offers a wide variety of appetizers. Bar manager, Sandor Sigler Gonzalez, prepared servings of their tapas menu options. One of the highlights we loved were the Tostones con Camaron y Piña, Empanadas de Guayaba y Queso, Croquetas de Media Noche, Sandwich Elena Ruz, and the Frita Cubana.
They also have a few selection of main courses in case you wish to have a full meal. As this is a bar, these small Spanish savory dishes are the main highlights to go along with your bar drinks.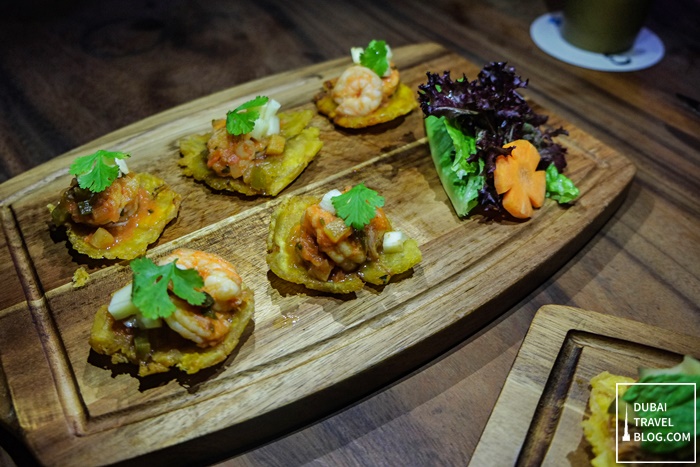 Tostones con Camaron y Pina – 40 AED
Plantain crackers topped with sautéed shrimp and pineapple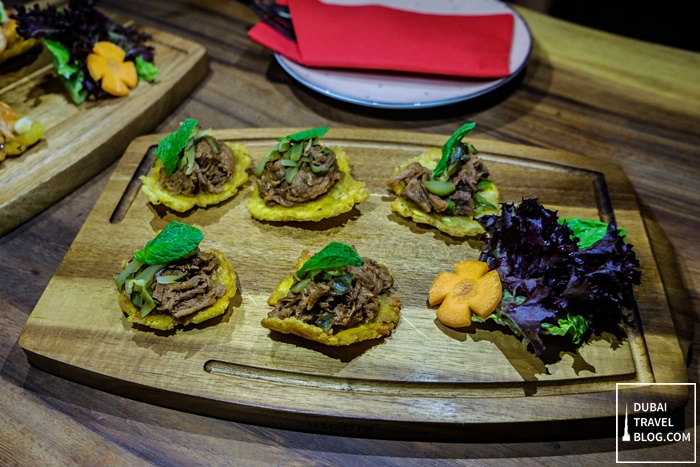 Tostones con Ropa Vieja – 40 AED
Plantain crackers topped with Cuban shredded beef
Empanadas de Guayaba y Queso – 35 AED
Pastry pockets filled with halloumi cheese and red guava paste
Empanadas de Carne – 42 AED
Pastry pockets filled with Cuban shredded beef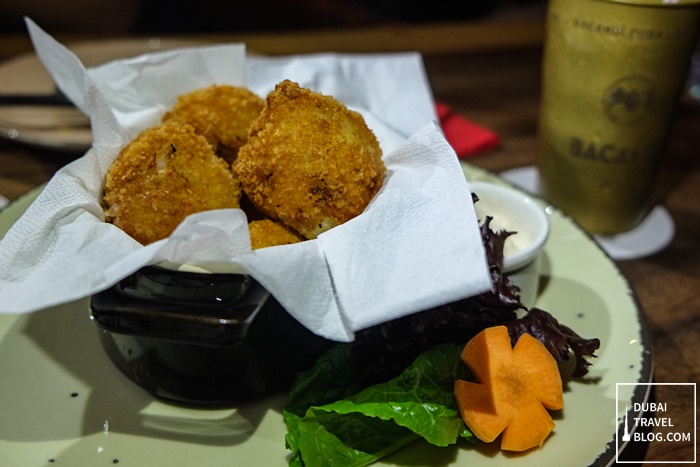 Papas Rellenas – 40 AED
Fried, crispy balls of mashed potato stuffed with a traditional Cuban beef mixture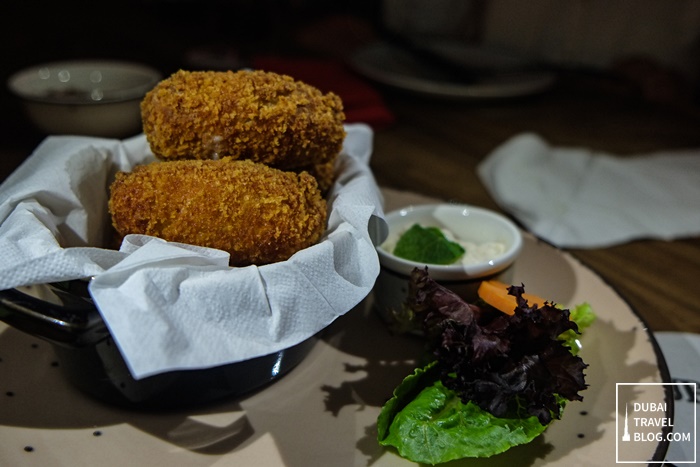 Croquetas de Media Noche – 40 AED
"Midnight Croquettes" filled with all of the delicious flavors of a Cuban sandwich.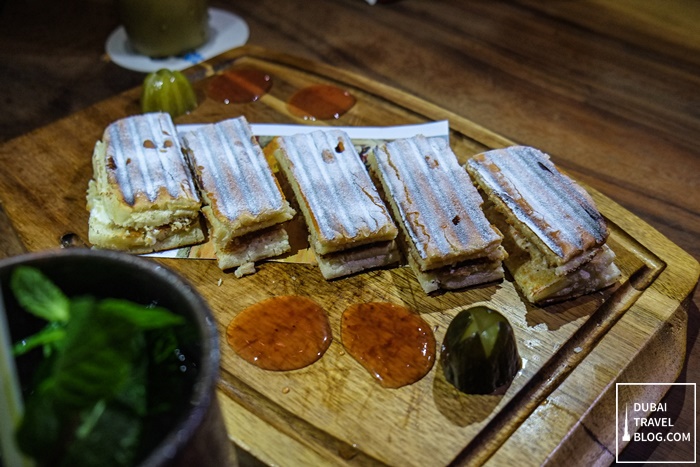 Sandwich Elena Ruz – 70 AED
Roast turkey, cream cheese and apple & cranberry sauce served in a brioche bun.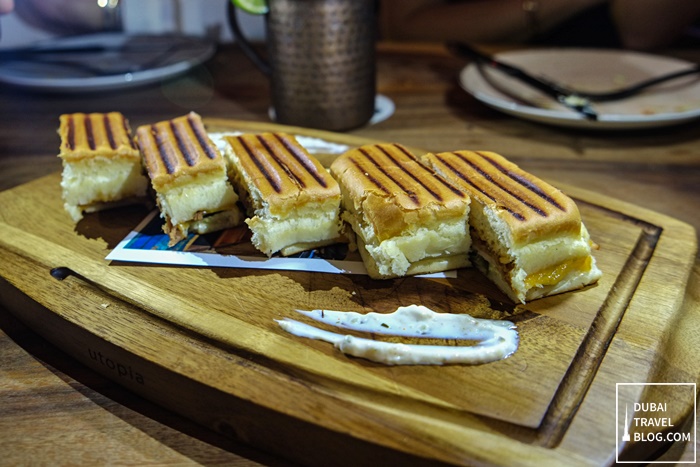 Sandwich Cubano Lito – 65 AED
The famous Cuban sandwich with pulled beef, Swiss cheese, dill pickles and spicy mustart, pressed in ciabtta bun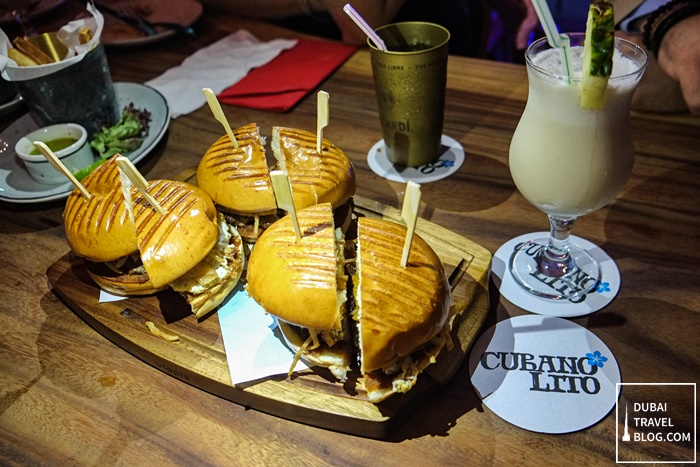 Frita Cubana- 65 AED
Traditional Cuban burger made with black Angus beef, topped with fried egg, crispy fries and the Chef's special sauce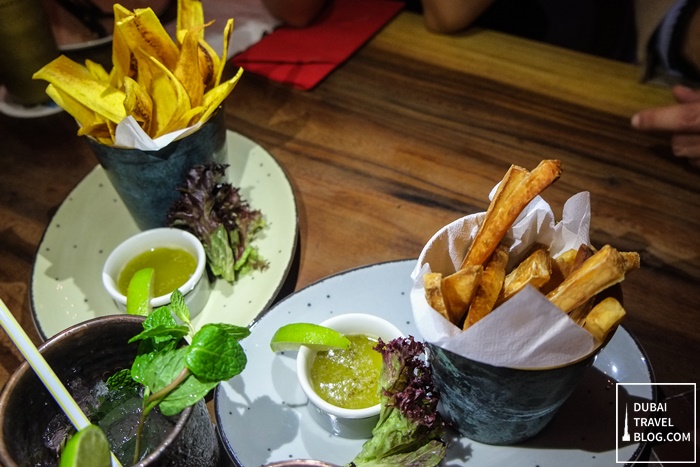 Mariquitas con Limon – 10 AED
Crispy sliced plantains chips served with lemon-cilantro vinaigrette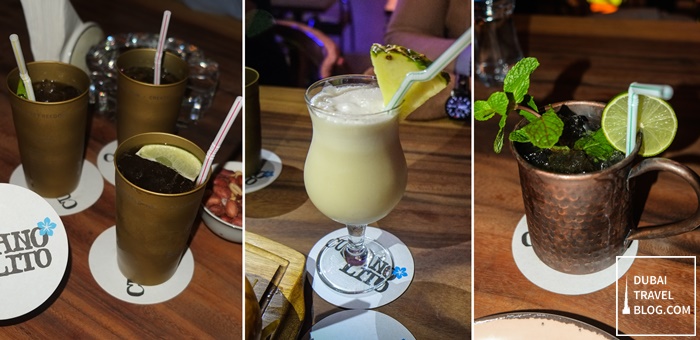 Cubano Libre, Piña Colada, Mojito
Dollar Latin Trio Band
Aside from the food, live music was played by Dollar Latin Trio, a band from Venezuela. Here's a short clip of them playing Besame Mucho. You should try and check out Cubano Lito for some good chill-out music as they play from Monday to Saturday.
Relaxing Ambiance
Cubano Lito offers a great place to hang out especially for some good music. We had a great time that night as the mood of the people inside is also relaxed. We prefer these types of places where you can have a casual get-together with friends over some light bites and good drinks.
Be advised that the lounge bar can get busy especially during Thursday evenings as they host salsa nights in Dubai.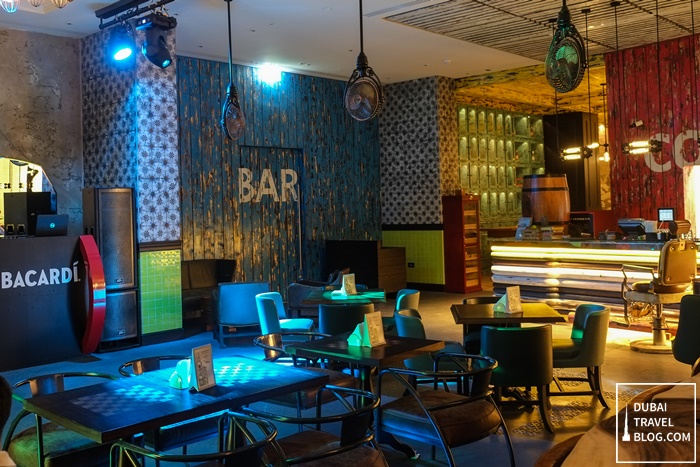 bright Cuban-colors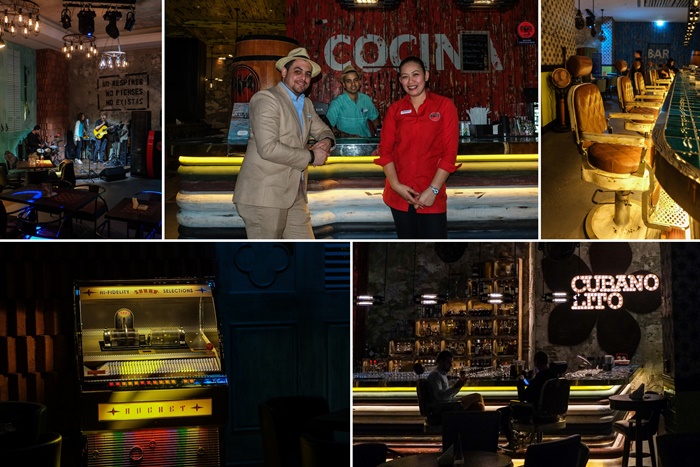 jukebox, staff and team, unique 'barber' chairs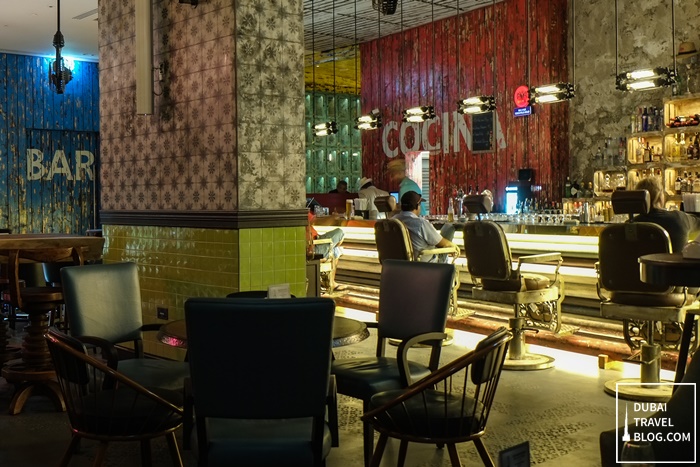 Cubano Lito interior
Opening Hours: 5pm to 2am
Happy Hours: 5PM to 8PM Everyday
Contact Information
Phone Number: 04 519 5523
Email: H7080-FB@accor.com
Facebook Page: https://www.facebook.com/cubanolito/
Instagram Page: https://www.instagram.com/cubanolito_dubai/
How to Get There
Nearest metro station is the Dubai World Trade Centre metro station (red line). Walk towards the World Trade Centre district and find the Ibis One Central (not to be confused with Ibis Hotel).
Google Map Location
Below is a map location of Cubano Lito at Ibis One Central