Welcome to Dubai! Dubai is a mega city and plenty of people visit the United Arab Emirates to find work and live as expats. For a first-time traveller, you might get overwhelmed by the culture and set-up. Don't worry, you're not alone. This page was created to help people who want to know more about Dubai, UAE.
NOTE: This page is still being updated with more information to help every traveller understand this city even more. Please bear with us as we post new content in time.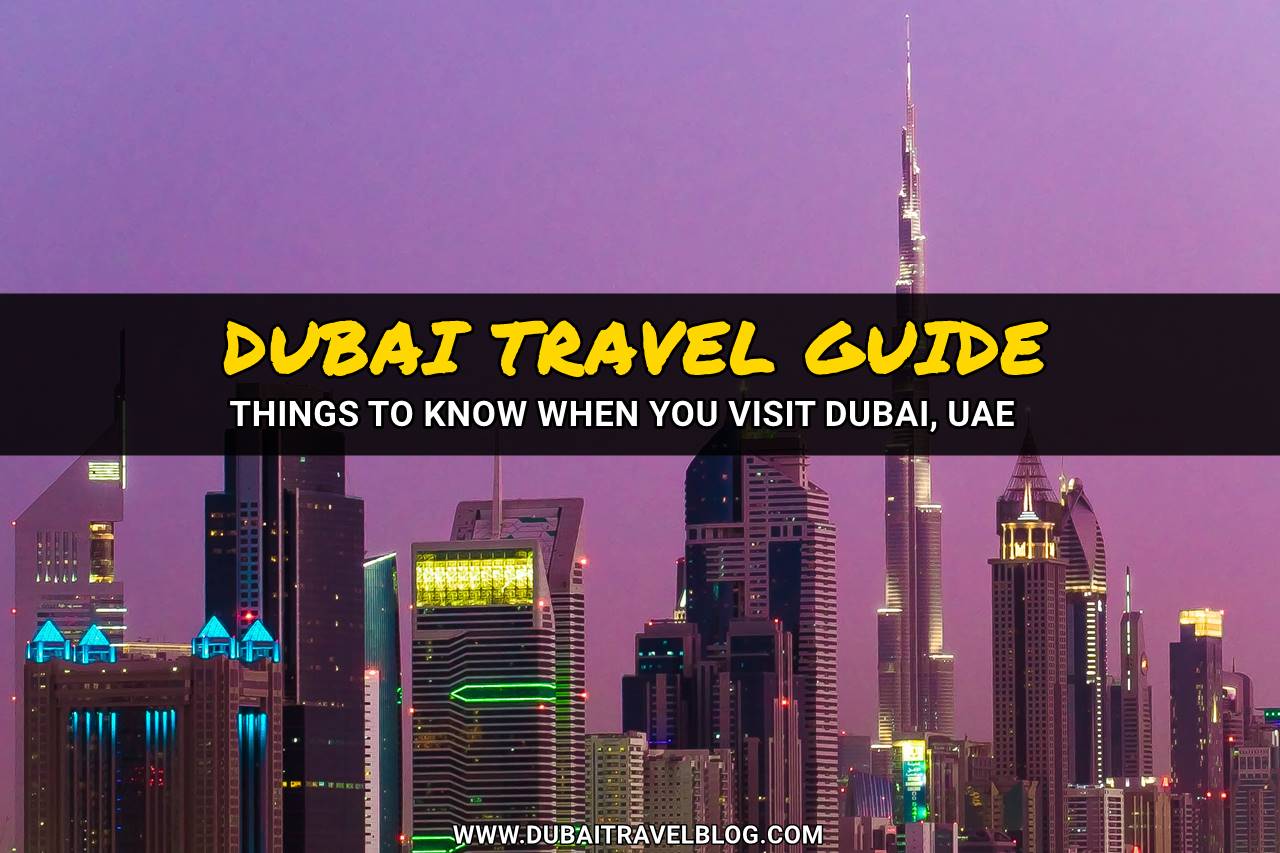 Dubai Travel Guide
Guide to Dubai by DubaiTravelBlog.com
Based on the developments in this Emirate, and if you've been living in Dubai as an expat, you will feel that His Highness has turned this city into a worldwide hub of trade and tourism in the Middle East. Here's a guide to understanding the city for newbie travelers.
Dubai is one of the seven Emirates forming the UAE. Other Emirate cities are Abu Dhabi, Sharjah, Ajman, Ras Al Kaimah, Fujairah, and Um Al Quwain. Although Dubai is not the capital city (capital is Abu Dhabi), it is regarded as the most popular among the 7 Emirates.
Current Ruler: His Highness Sheikh Mohammed bin Rashid Al Maktoum.
Religion
Islam is the official religion of the UAE and you will find plenty of mosques (place of worship) throughout the city. Be advised that non-Muslims are not allowed to enter these mosques unless you are on a guided tour.
Population
Dubai has an estimated population of about 2.2 million people with 80% of this number are expatriates (expats). Locals are called Emiratis. Many of these expats come to the city because of the tax-free salary. Dubai also has a relatively crime – free and relaxed lifestyle.
Local Time
UAE is 4 hours ahead of GMT.
Language
Arabic is the official language but you will notice that English is a common language used all throughout the city. You may also notice that Hindu and Urdu are used widely.
Weekends – Days Off
Fridays and Saturdays are the weekends in Dubai so expect that you will be starting your workweek on a Sunday.
Weather and Climate
Dubai is built on a desert. Expect a tropical desert climate here. Summer months fall on May to August with the temperature getting as high as 40 degrees Celsius on July and August during the day and 30 degrees at night. Winter season starts from December to February and temperature  averages to 25 degrees during the day and drops to as much as 14 degrees at night.
You may notice that during the change in climate, there might be some rains that come with it. People in Dubai say that the rainfall signals as the change in climate. It is advised that you stock up on vitamin C during these transition months to prevent colds and sickness. Be prepared!
Currency
The currency is Emirati Durham and is referred to as AED (Arab Emirates Dirham) or DHS (Dirhams) when you see price tags labeled in merchandise and goods. Coins are called "fils" and the available coins are 25 fils, 50 fils, and 1 Dirham.
Paper bill denominations are Dhs 5, Dhs 10, Dhs 20, Dhs 50, Dhs 100, Dhs 200, Dhs 500, and Dhs 1000.
Money Exchange Centers and Banking
When you are travelling in Dubai, you will notice that there are many money exchange centers in shopping malls and all throughout the city.  So it is not that difficult I'd you need to change currencies. Banks are open from Saturday to Thursday and closed only on Fridays.
1 USD = 3.67 AED
1 EURO = 3.97 AED
Culture
The residents of Dubai give tribute to the local culture and heritage. Even if this Emirate is known as one of the most modern cities in the world, people still value history. Here are some frequently asked questions about Dubai and it's people. This is helpful to first-time travelers to learn how to behave.
Public Display of Affection for Husbands and Wives

Holding hands, kissing and hugging in public is NOT typical in local society. Therefore it is important to conduct oneself in a respectable manner. Holding hands may be acceptable for married couples, but it is advised to keep things in a respectable manner. As for unmarried couples, you will be questioned by authorities if you show any PDA beyond that of a married couple. Remember to keep pleasantries in a family-friendly manner.
Food
Given that most of the population in Dubai are composed of expats, you can expect a mix of cuisines available. Lebanese, Indian, Filipino, Persian, Chinese, French, Mexican, American, Indonesian restaurants are available within reach. You can dine in the most posh dining places or grab a quick bite in a fast food shop. Dubai has plenty of offerings for everyone and the quality of the dishes are also good. If you are a foodie, this is something that will definitely interest you as you explore various places in Dubai.
Pork and Alcohol
Alcohol can be consumed legally in hotels and private residences if you have an alcohol license so there is no drinking of alcohol in public. As for pork, it is kept separately in certain supermarkets so please be aware of these areas. You may consume pork at the comfort of your home. These restrictions are part of the Quran (Muslim bible).
Mosque
If you are a non Muslim, you can  visit the mosque during a guided tour such as that of Jumeirah Mosque or in the Diwan Mosque during their weekly tours. You can also check out the Sheikh Zayed grand Mosque in Abu Dhabi as this is open for tourists.
Photography in Dubai
Taking pictures of locals/Emiratis is something you need to observe caution. If you are a shutterbug tourist, always ask permission to the locals before taking their photographs. If they refuse, do not get offended.
Photography is common tourist places like the Burj Khalifa, Waterpark and recreational areas may be permitted, but do not take pictures of government buildings,  airports, other mosques, etc.  Even if you feel that you are not doing anything wrong always ask permission and better to inquire from authorities to be on the safe side and avoid penalties.
Dubai FAQs
Dress code
Modesty is expected when dressing in Dubai. Business casual is the dress code at work. Wear attire that is wholesome. Wear clothing that covers your knees and shoulders.  Beachwear should be worn at the beach and you can wear evening wear when going to night clubs. Dubai is an open city but it is still best to wear decent attire so as not to offend anyone and to show respect as well.
'Disdasha' or 'kondoura' is the national dress for men and is worn with a 'ghuttra' headdress – usually white for Emiratis.
'Abaya' is a traditional black dress worn by local women and usually decorated with a headscarf known as a 'sheyla'. Some women wear a 'burgaa' which is a leather mask or a 'niqab' veil to cover their face.
Religion and culture is what influences the dresses of local men and women. As a tourist, it is advised that you respect them.
———————
Please stay tuned as we update this page with more useful tips and information.