A theatrical show and fine dining concept, this is what Maison Rouge Dubai promises its guests. We were able to experience a night of entertainment, food and drinks on a weekday — I put entertainment first as this is the main highlight when you spend an evening here.
Located at the M2 level of Conrad Hotel, Maison Rouge offers a unique dinner and performance show that fuses creative cuisine and vibrant stage production. With so many bars and lounge that Dubai has, this is another nightlife option you may want to try in the city.
Trivia: Doing a quick translate search on Google, Maison Rouge is French for Red House (Maison means 'house', Rouge means 'red')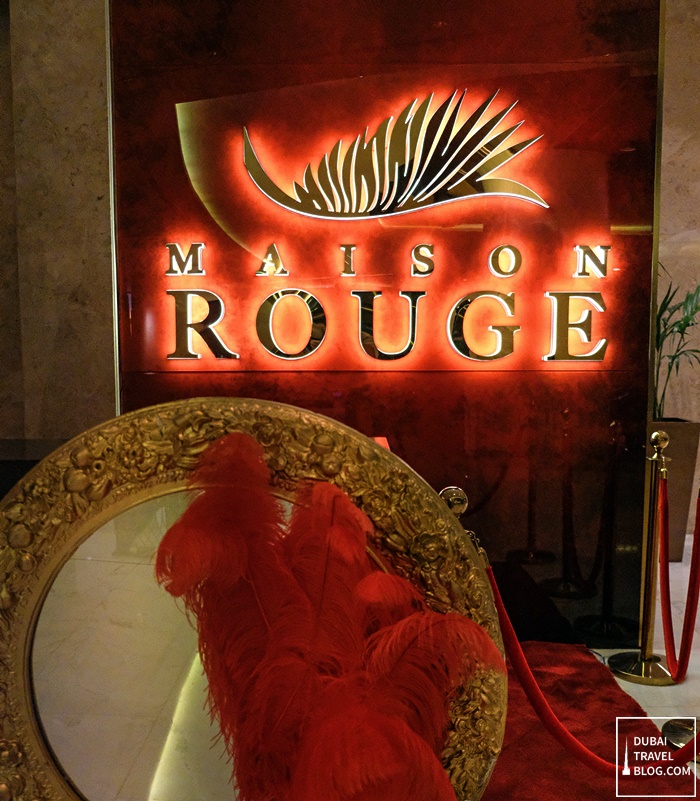 Maison Rouge entrance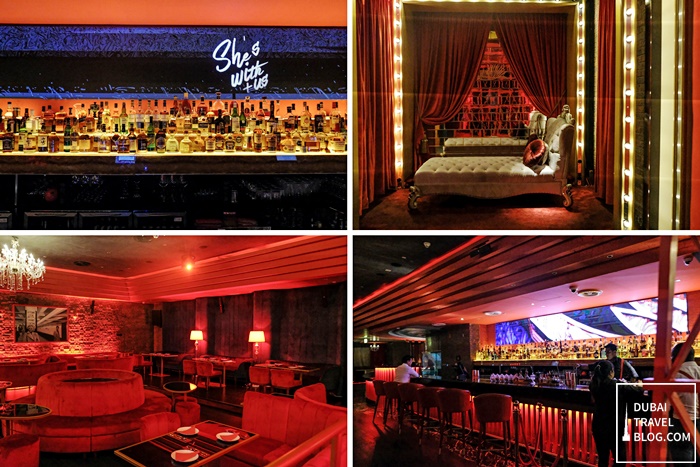 bar and lounge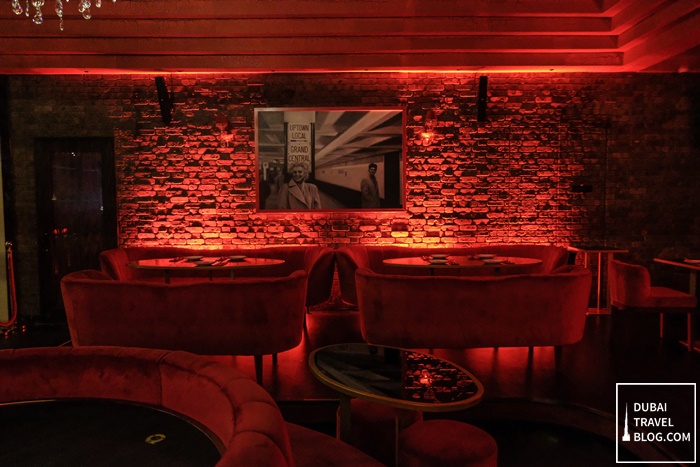 red lights, red nights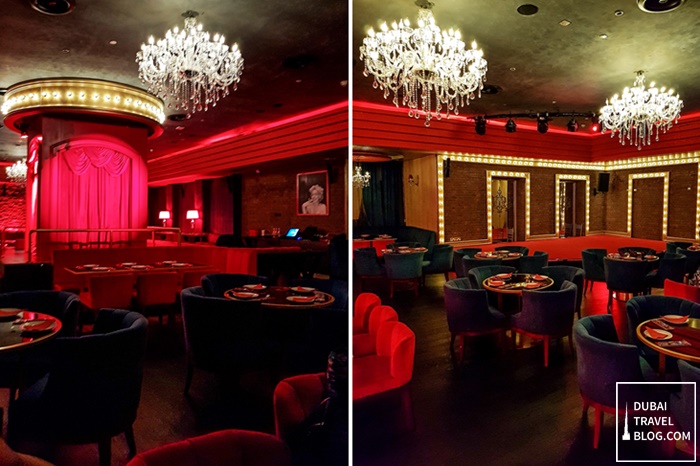 chandeliers and velvet accents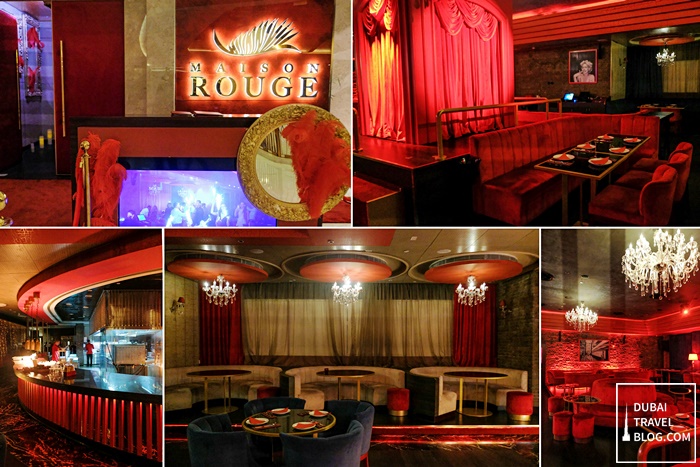 inside Maison Rouge
Maison Rouge Dinner and Entertainment at Conrad Hotel Dubai
We arrived a quarter past eight and this gave me the opportunity to take a few photos of the place minus other guests. The lounge is decorated in red velvet curtains, comfortable blue chairs, and crystal chandeliers. As you enter, you will see a full-stacked bar area on the right. Towards the far left corner is a stage where most performances are held.
To start our meal, they gave us complimentary jelly shots to give us an insight what to expect for our meals. This Raspberry Margarita shots placed on real flowers complete with the smoke effect was quite a welcome.
Raspberry Margarita shots serve in real roses
Cocktails and Drinks
Our designated wait staff, Kenji, gave us his recommendations on the drinks and food. We started the evening by ordering some cocktails which include the Nikola Tesla, Fighting Girlfriend, Make, Make, Captain Kidd, Zsa Zsa Gabor, etc.
They also have some mocktails and other beverages available. Some of these drinks come with their own presentation too.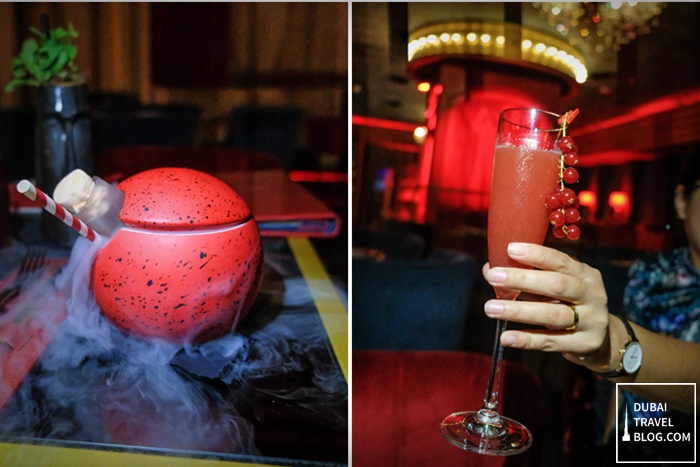 Nikola Tesla – The problem of increasing human energy – Cavados, Earl Grey, Pear, Apple Smoke
Fighting Girlfriends – The name of the tank driven by WW2 hero Maria Octyabrskaya – Red Currant, Pimm's, Sparkling Wine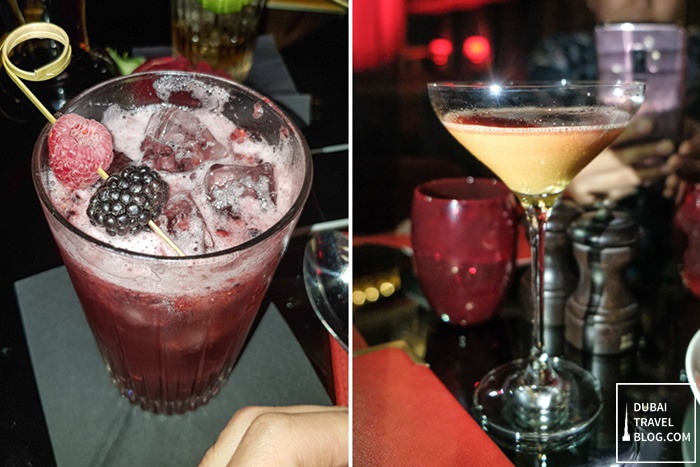 photo of drinks here
Captain Kidd – They say he never buried fold, I think, perhaps, he did.
Blended Scotch, Red Vermouth, Amaretto, Dark Cherry, Gold Powder
Starters / Appetizers
For our appetizers, we ordered beef carpaccio, quesadillas, shrimp popcorn and tuna tartare. Kenji, was thoughtful enough to add an extra plate of quesadillas for our group. While the shrimp popcorn was just okay for me (maybe it needed more salt), the rest were delicious.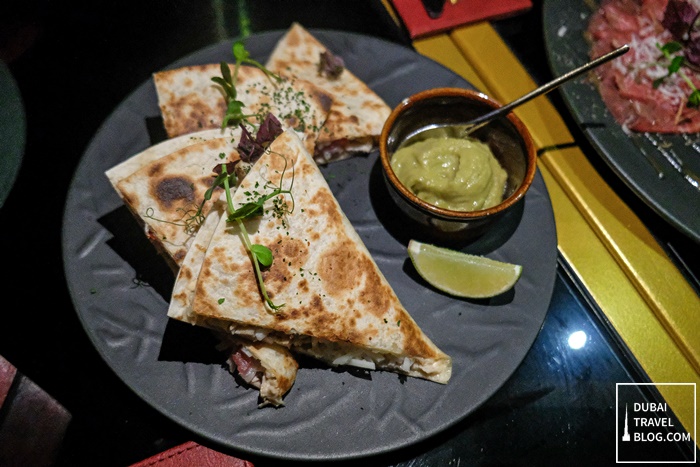 Mexican Quesadilla with Guacamole
Grilled chicken quesadilla with fresh guacamole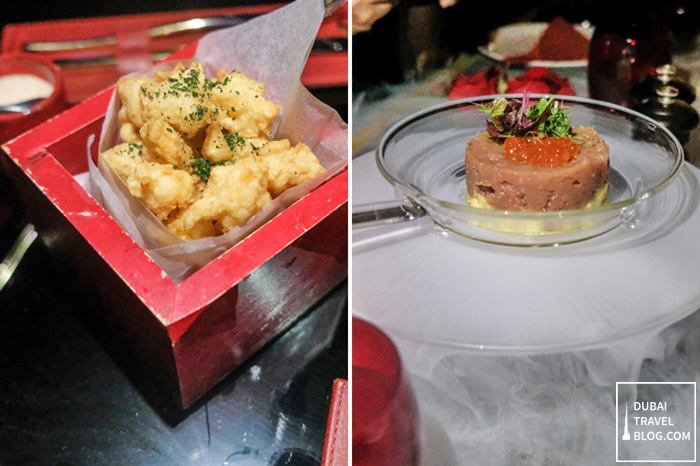 Shrimp Popcorn Tempura
Tuna Tartare – yellowfin tuna with avocado and tomatoes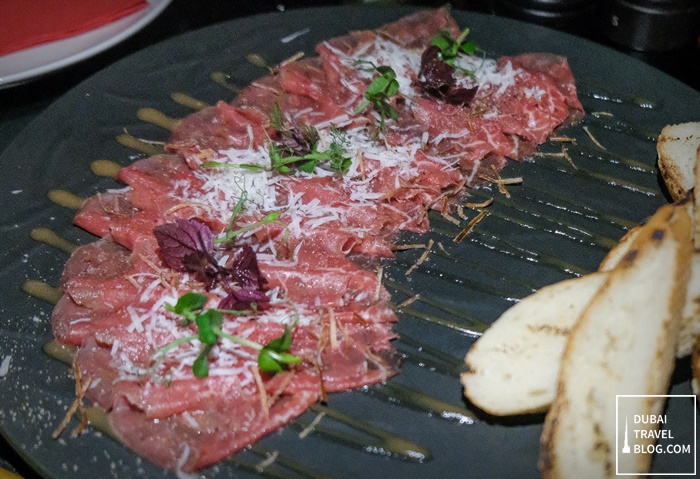 Beef Carpaccio
Beef tederloin with Yuzu lemon, truffle oil, balsamic and parmesan
Main Course
For our main course, we had pasta with lobster, spinach ravioli, lamb chops, cornfed baby chicken, khachapuri, and seabass with asparagus.
Among the main course meals, the grilled food items really stood out. I definitely recommend the seabass and the lamb chops. The corn-fed chicken was also appetizing.
Khachapuri – Traditional Georgian cheese pastry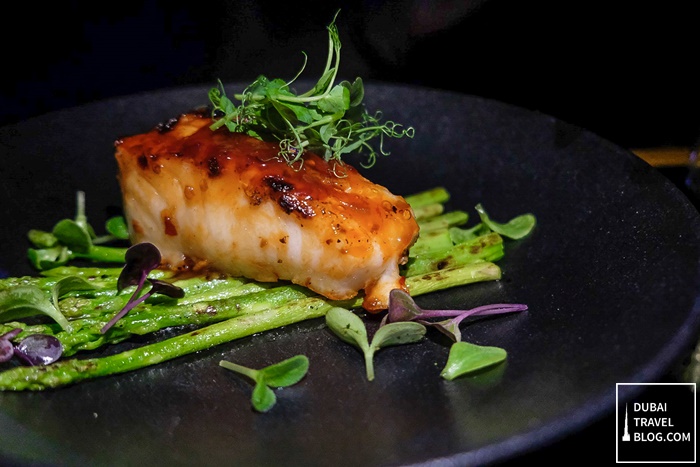 Seabass with Asparagus
Baked Chilean sea-bass served with asparagus and sweet chili sauce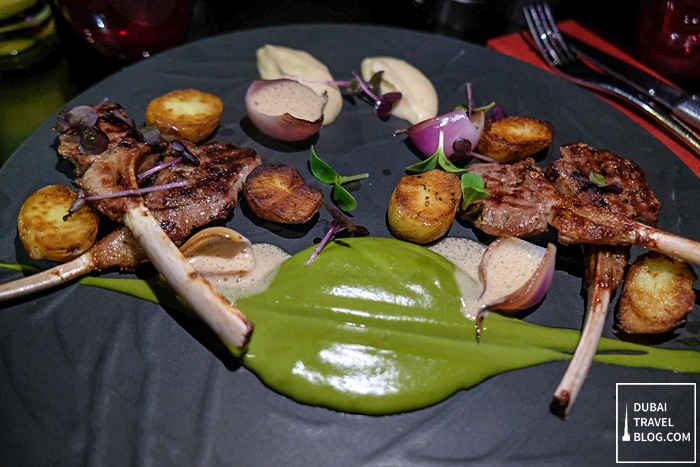 Lamb Ribs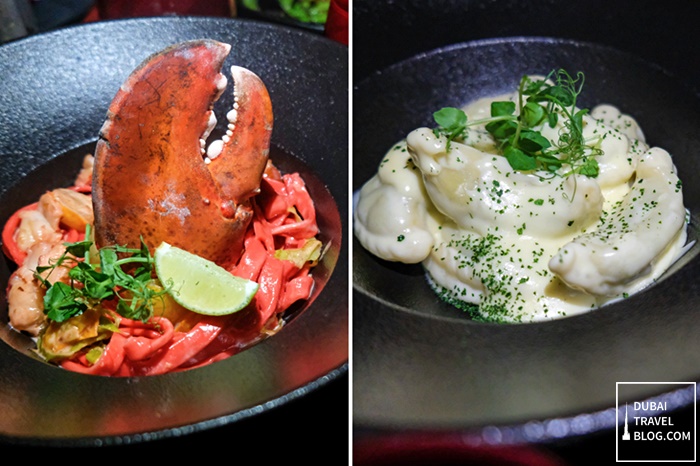 Pasta with Lobster & Ravioli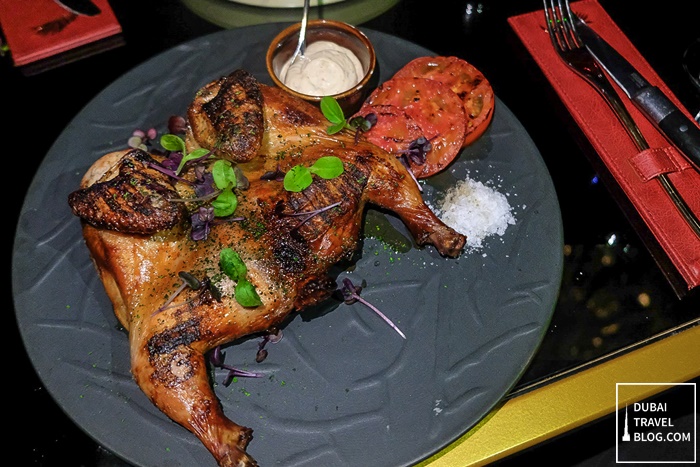 Baby Cornfed Chicken
Desserts
Lastly for the desserts, we ordered the honey cake, tiramisu, and signature cheesecake. The honey cake's texture was rich while the cheesecake for me was the best. The signature dessert is covered in what seemed like white chocolate and crunch bits. It added an interesting flavour to the cake.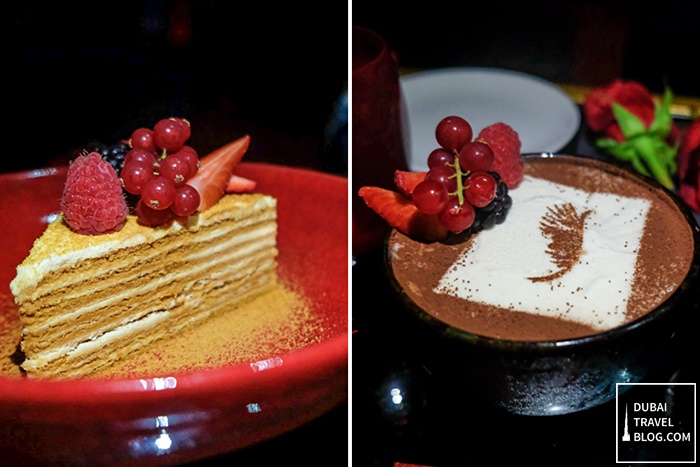 Honey Cake & Tiramisu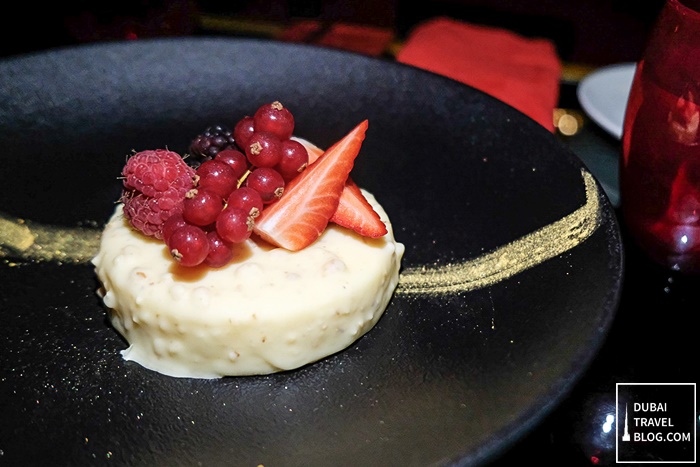 Maison Rouge Cheesecake
Performances
We were quite full after our sumptuous meals and we continued the night with drinks when it was time for the show to begin.
The shows include entertaining live performances with immersive music, unique dance acts. The performances start around 10 pm with each show happening every 30 minutes until midnight. While waiting for each set, the DJ was also there playing upbeat tracks.
My wife and I have been to the Moulin Rouge cabaret in Paris so we had some ideas on what to expect here. Maison Rouge is a conservative version (definitely a must given in this Middle East region) and maintains a sophisticated and tasteful show.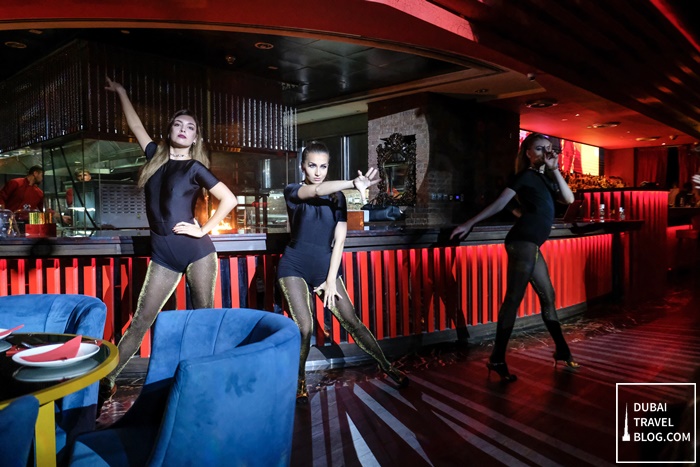 starting the performances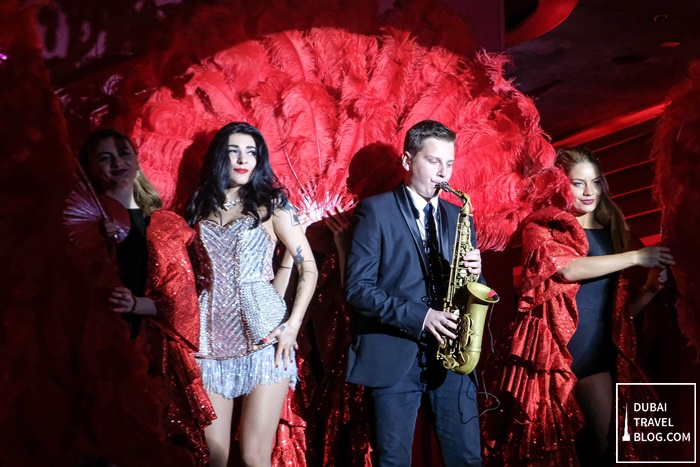 saxophonist, singer and dancers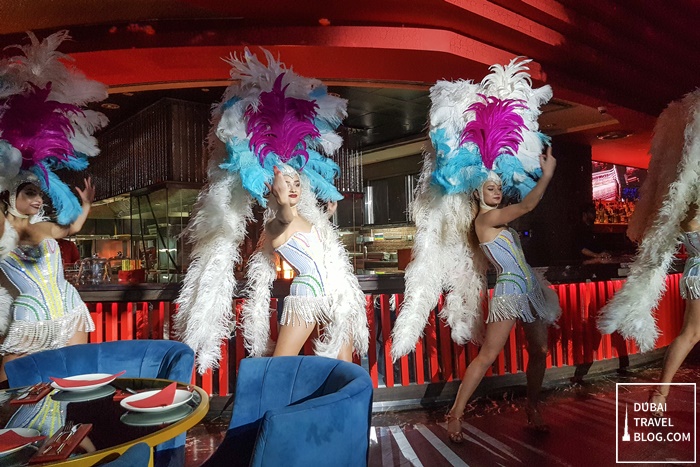 cabaret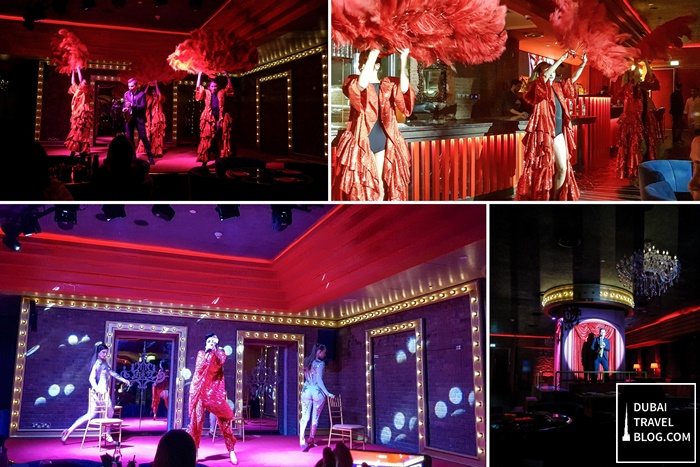 performers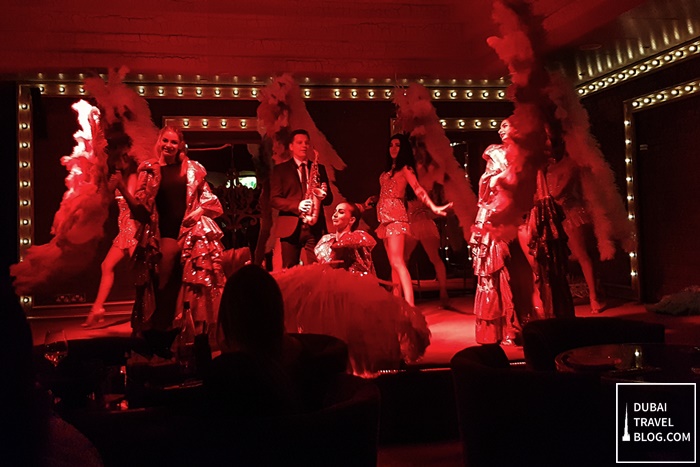 red evening
Video: Maison Rouge Dubai
Here's a video clip of our experience during a weekday.
Service was great as the staff were attentive and really looked out for us. For its unique concept of a cabaret and dinner, you should try and evening in Maison Rouge. Price of food is comparable to other fine dining restaurants in Dubai (minus the show) so a night here can be quite memorable.
Note: We were invited as guests at Maison Rouge. All opinions are my own.
Contact Information:
Address: M2,Conrad Hotel,Sheikh Zayed Road – Dubai
Phone: 04 352 8169
Website: https://maisonrouge.com/
Instagram: @maisonrougedubai
Facebook: @maisonrougedxb
Google Map Location:
Below is a map location to get to Maison Rouge. It's located at the 2nd level of Conrad Dubai. Take Exit 53 on E11 road.
If you're coming by metro train, stop at the World Trade Centre metro station (red line). Conrad hotel is just next to the metro.