A published author of 10 books (so far), Courtney Brandt, is the blogger behind A to Za'atar, where she shares unique culinary and hospitality experiences.
Courtney has been in the UAE for 11 years and it's surprising to know that despite having published so many books (purchase them here and here), she still makes time to blog and add a number of activities on her plate. Hosting a cooking show (What's Cooking UAE) and being a Zomato Ambassador are some of her latest feats.
One of the interesting reads you might find in her page is her Tips on Food Blogging which outlines some best practices as a food blogger, whether here in the UAE or elsewhere. The post is surely helpful in giving aspiring reviewers an idea about being professional in the blogging scene as well as some proper etiquette when doing food reviews.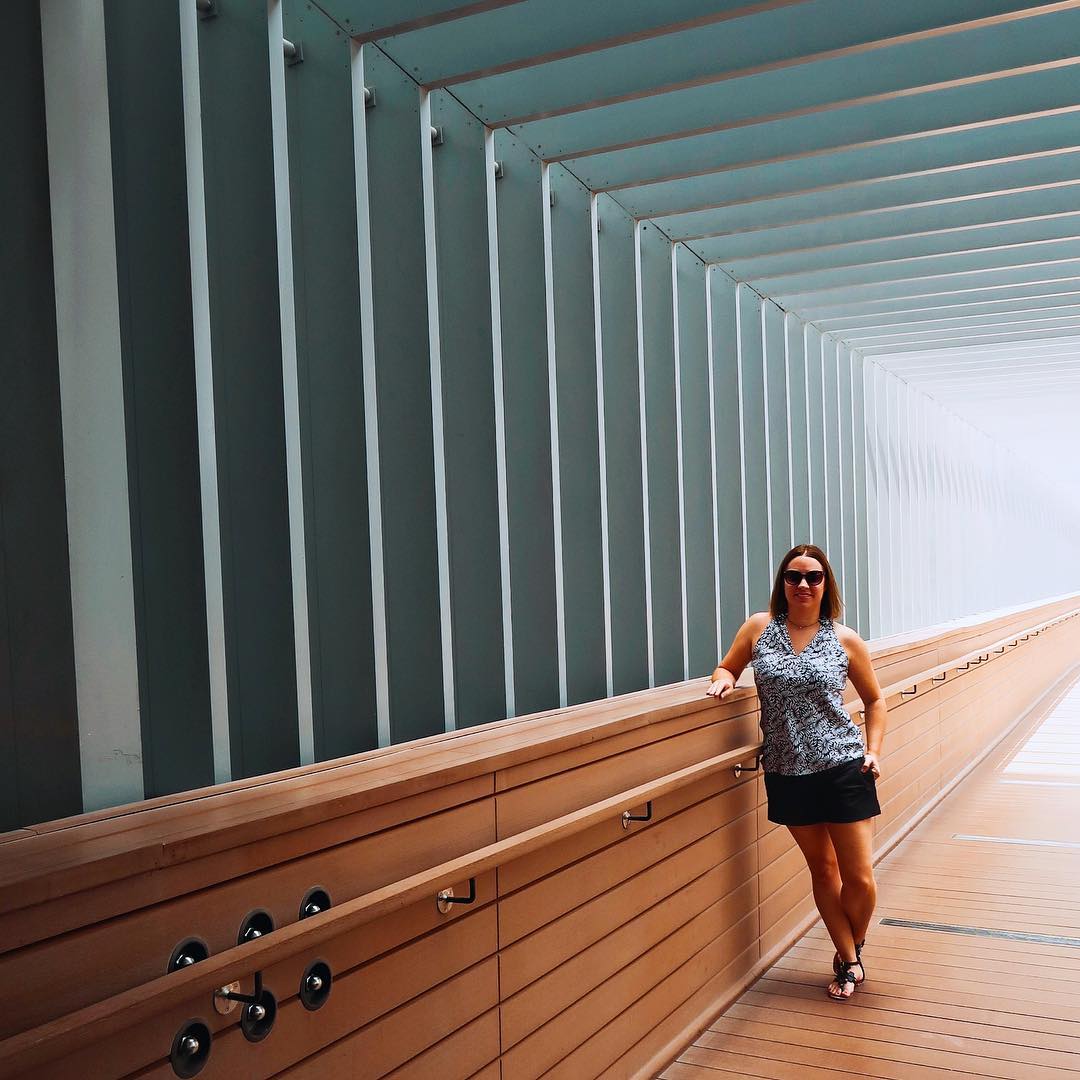 UAE Blogger Interview: Courtney Brand of AtoZaatar.com
In our feature, Courtney discusses her experience about how she arrived in the UAE and how she came up with her blog name. She also shares her love for writing as well as tips in blogging. Read the rest of our interview below.
1. Tell us a little about yourself.
I first moved to Dubai (from Los Angeles) in 2007, when my husband was offered a job. We thought it would be for a year or two, and here we are — 11 years later! I've worked in consulting and higher education, but in 2016, left a role at NYUAD to pursue writing full time. I'm a published author, focusing mainly on young adult novels, with two adult contemporary novels also available.
Food blogging started after I left my 9 to 5 job, but I've been writing my whole life. In the past year, I've also expanded to be in front of the camera on What's Cooking UAE, as well as a number of visits to the studio at Dubai Eye to talk about, what else? Food!
Currently, I'm looking forward to taking part in more conferences as a moderator and panelist, as well as being invited as one of 150 in the world to attend the Google Local Guides event in San Francisco in October.
2. Can you tell our readers more about your blog?
A to Za'atar actually came out of a trip to Noma, which, at the time we visited, was the best restaurant in the world (according to the World's 50 Best Restaurants, at least). We went by accident, thanks to the Copenhagen episode by Anthony Bourdain. I made a very late reservation (like, 48 hours before) and we somehow got a 4 top on a Friday night. What impressed me the most at this venue was how completely un-pretentious Rene's team was. Every person we interacted with was down to earth and easy to communicate with. I walked away thinking that fine dining should always be this accessible. No one should feel that they don't deserve to eat in the best restaurants. Thus, A to Za'atar was meant to talk about food and dining in a way that would make people feel comfortable. The name was a bit of a happy accident — I actually thought of it before I started writing (fall, 2015). It's clever enough and I generally receive positive feedback about it.
As I was VERY late to the food blogging network in Dubai (April, 2016), I came along when almost everyone was already established. I haven't been nominated for anything specifically, but I do often hear from chefs that they appreciate my honesty, which is something I'm very proud of. I was also made a Zomato Ambassador in the fall of last year.
3. What's a common misconception you had about Dubai or the UAE that's been dispelled after you got here?
I think a lot of people think Dubai is some sort of fantasy land where everything is dusted with gold. Certainly, that might be true for people on holiday, but the UAE is also a place where people work and live, celebrate and travel. We've made some amazing lifelong friends here, and I feel incredibly lucky to be a part of the growth in the city.
4. What are your top places to visit/attractions in the UAE?
I think the Louvre Abu Dhabi is a can't miss destination. While I love the various malls, and the beach, there is something truly stunning about the museum. It also doesn't hurt that it is the location of my next book! Also, I do love a good staycation, and the UAE has numerous properties that are well worth a visit.
5. What are the restaurants that you recommend in the UAE?
I've got a few all-time faves — BOCA or BB if you're in DIFC, Weslodge if you're looking for a view, and Folly by Nick and Scott for an all around great evening — whether for drinks and snacks, or dinner and excellent service. Cabin, in Barsha South, is a reliable cafe that is well priced.
For delivery, I love Friends Avenue, Sushi Art, and Freedom Pizza. In Abu Dhabi, it's either Butcher & Still for steak, or seafood at Catch.
6. What has been your most successful blog post and what is it about?
Great question! The article wasn't actually about food, but instead, about all the drama that was surrounding the 'Influencer' laws from earlier in the summer. Similarly, one of my second most reviewed articles was also not a review, but an open letter to Dubai F&B, which I posted last month.
As I have a policy of removing reviews for restaurants that have closed, one of my most notable food reviews was actually of a disastrous brunch I had at Hakkasan. In all honesty, it's easier to write about meals that don't go well versus ones where there isn't much to fault. I've currently got a backlog of venues to write from my trip to London and the States, but can't wait to share some new locations with my readers.
7. How many books have you published? Can you tell us more about the topics that you write about? (and where do you find time to write?) 🙂
10 books, all in! I first wrote about marching band (yes, I know, a very niche topic). Marching band was a big part of who I was and what I did growing up, so I wrote a series of four books, then two standalone novels. After finishing them, I turned to adult contemporary, with Room 702, a book that takes place entirely in one (fictional) hotel suite, and then Life After Joe, which is a bit like P.S. I Love You.
I'm currently two books into a steampunk / alternate history young adult trilogy focusing on a different take on Victorian England. I'll start the final draft of the third book this fall. As I generally write one book a year, 2018's rough draft is Under the Rain of Light, a heist book at the Louvre Abu Dhabi, which I hope to release next year.
I write my fiction first every day, before I focus on food. I've been writing nearly every day since 2006, so it's pretty much a habit for me. I'm also in the process of pitching trades outside the UAE.
8. Name some of the bloggers/personalities whom you look up to and why?
There is certainly a lot of talent in the UAE! I like Zoe's The Luxelogist, she has great global insights, the honest voice of Dan at the Emireati, David's genuine outlook of F&B outlets at Out and About UAE, and PassMeTheDimsum's stunning flat lays and recipes. If I had an outside budget, I'd love to go incognito in town, ala Food Sheikh.
Be consistent, be patient, and above all, be honest. Also, don't be demanding. The F&B market in Dubai is incredibly competitive and restaurateurs are just trying to make it. Acting unprofessional won't get you ahead.
Connect with Courtney Online
Website: atozaatar.com
Instagram: @atozaatar
Facebook: @AtoZaatar
Twitter: @atozaatar
Buy Her Books on Amazon
*Images provided by Courtney.