Chibog Restaurant in Dubai is a Filipino restaurant that has been providing delicious and authentic Filipino cuisine to the city since November 2022. Located in JLT, this cozy restaurant is run by young adults who take pride in introducing Filipino food to other nationalities. When you sample their dishes, they want to take you to a nostalgic 90's "Batang Pinoy" or "Filipino Childhood" experience.
Also Read: Pork Buffet at Lamesa Restaurant in Asiana Hotel
My wife and I were able to drop by this place one afternoon and had the chance to try some of their best dishes.
Chibog means "eat" or "food" in Filipino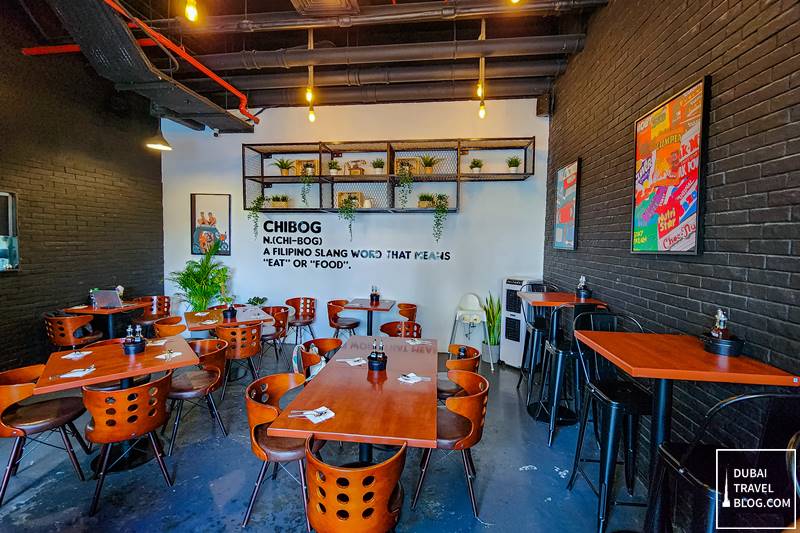 inside the restaurant
Chibog Filipino Restaurant Dubai Review
The atmosphere of Chibog Restaurant is simple, pleasant, and inviting. It's a no-frills restaurant and the kitchen staff were attentive to customers making sure they were satisfied with their experience.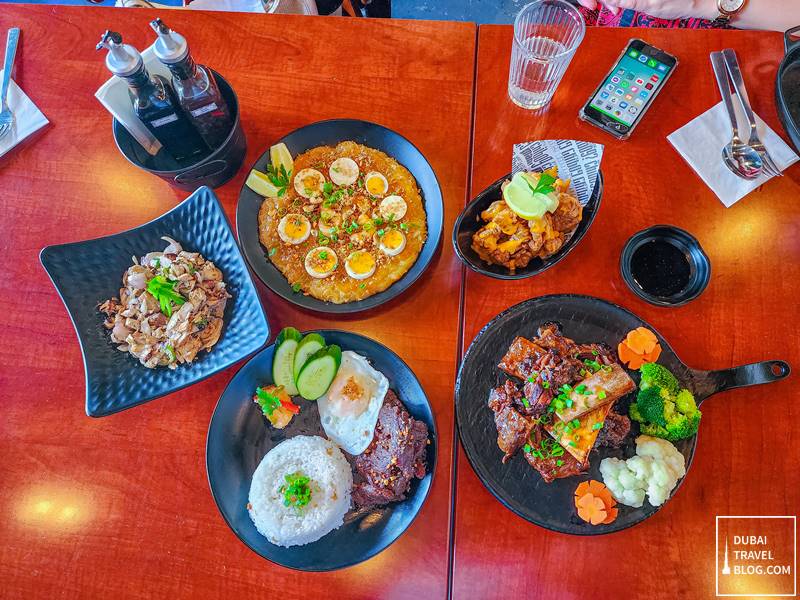 food on our table – Filipino feast!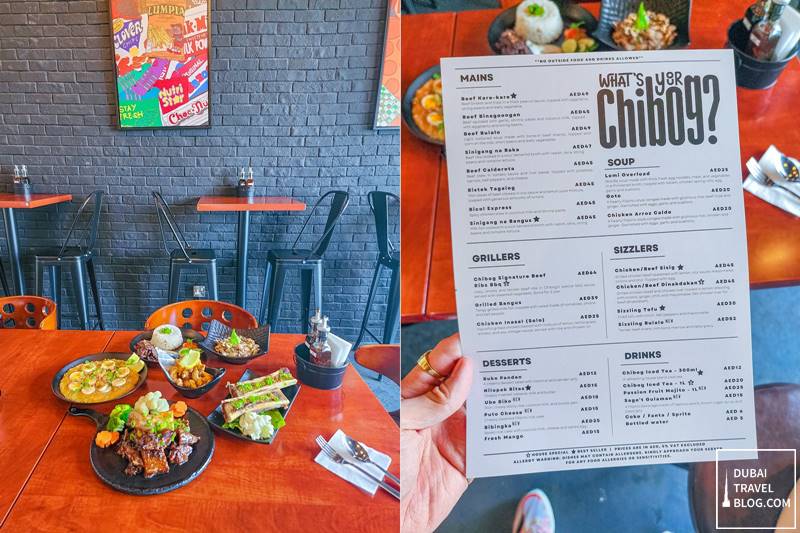 Chibog Food Menu
The menu at Chibog Restaurant is vast and they specialize in a variety of classic Filipino dishes like Sisig, Kare-Kare, BBQ Ribs, Beef Bone Marrow, Pancit Palabok, Lumpia Shanghai, Breakfast Silog meals, and Filipino desserts. They don't feature any modern fusion with Pinoy food. Instead, they focus on homecooked Filipino dishes done the traditional way.
Starters / Add-Ons
We had the dynamite shrimp and beef bone marrow for starters and add-ons. The Beef bone marrow is not a typical dish that is served in restaurants, but they serve it here.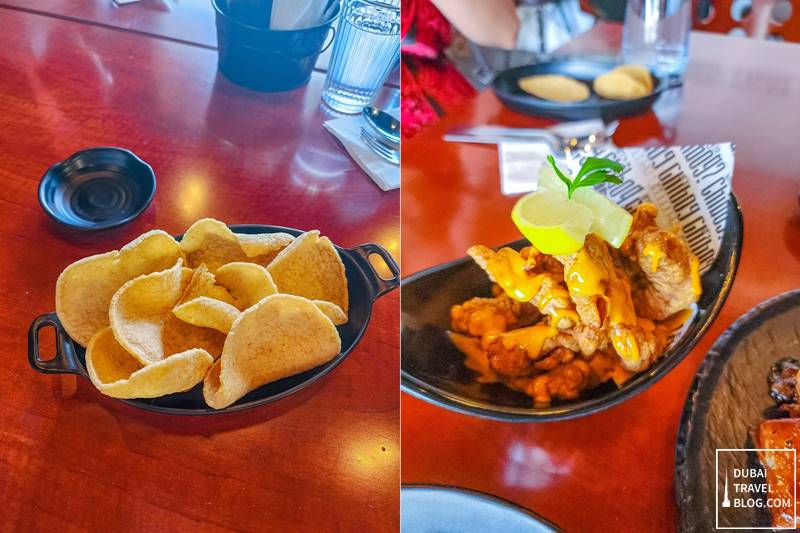 kropek prawn crackers
Dynamite Shrimp – AED 25
12-pc crispy fried shrimp paired with a delicious sweet and spicy mayo dressing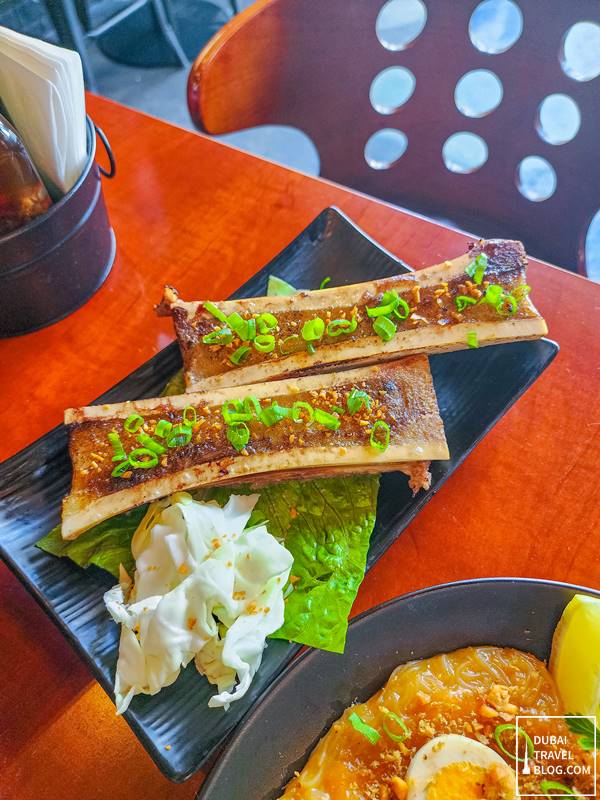 Beef Bone Marrow – AED 12
Grilled beef bone marrow (solo serving)
Main Course / Grills / Sizzlers / Noodles
For the main course, we had Pancit Palabok, Beef BBQ Ribs, Chicken Dinakdakan, and Tapsilog. We enjoyed the dishes, especially the palabok and chicken dinakdakan. The size of the Beef BBQ ribs is also huge (around 400g) and the price is very affordable at AED 64.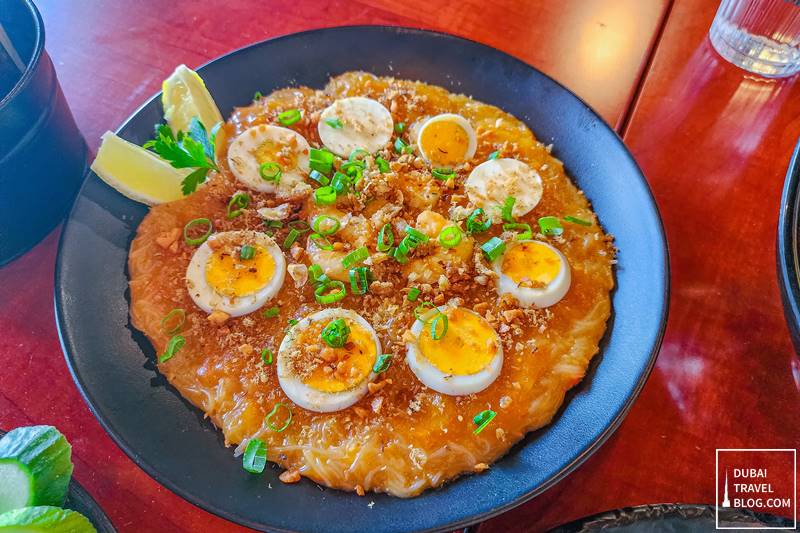 Pancit Palabok – AED 29
Thin rice noodle dish garnished with smoked fish, eggs, crispy chicken skin, shrimp, and a savory yellow-orange gravy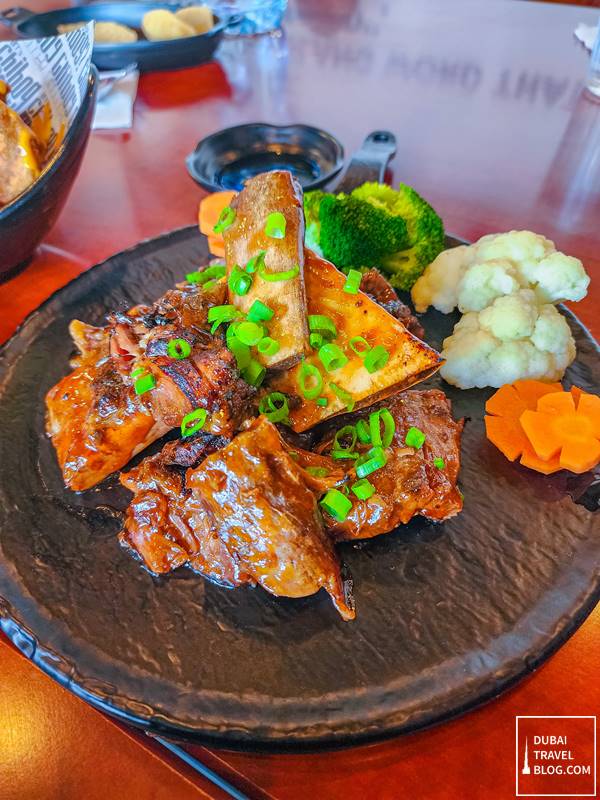 Chibog Signature Beef Ribs BBQ – AED 64
Juicy, smoky, and tender beef ribs in Chibog's special bbq sauce served with steamed vegetables. Good for 2 persons
Chicken Dinakdakan – AED 45
Grilled chicken and chicken liver tossed in lemon dressing with onions, ginger, chilli, and mayonnaise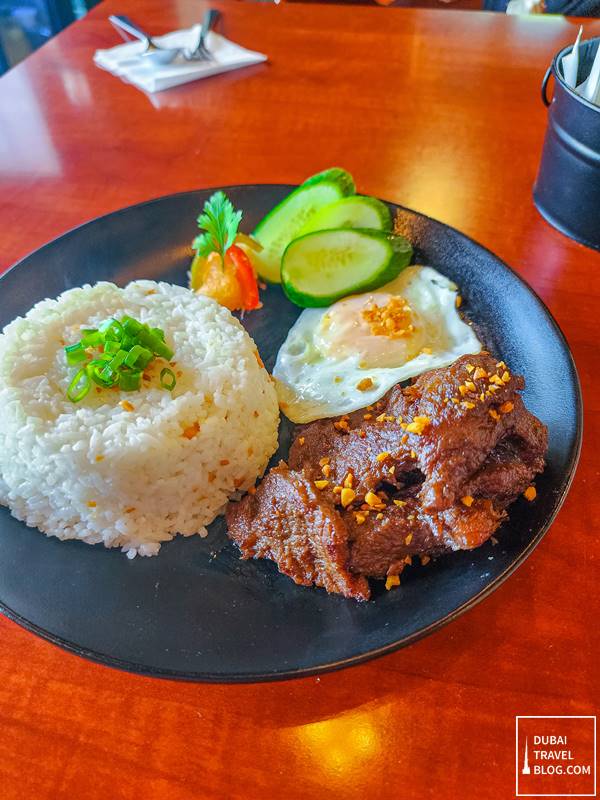 (All Day Breakfast) Tapsilog – AED 22
Tapa, egg, garlic fried rice, served with pickled papaya (atsara)
Desserts
For desserts, we had the Filipino halo-halo (mix-mix) and minatamis na saging (sweetened banana). I liked that the desserts weren't too sweet but instead had a balanced sweetness.
halo-halo – and minatamis na saging
Drinks
For the drinks, we had their sago gulaman drink and iced tea. Both were top-notch and are actually their best-sellers.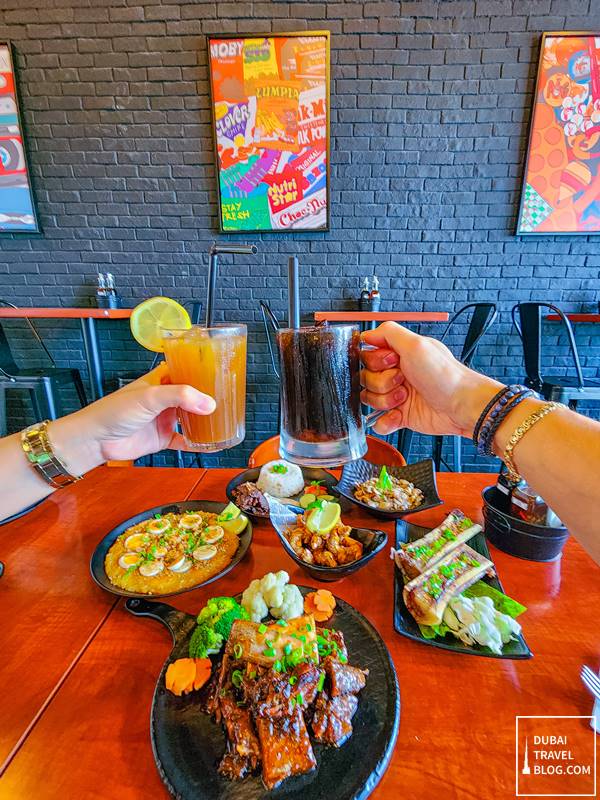 Chibog Iced Teal 300ml – AED 12
Refreshing house blend iced tea
Sago't Gulaman – AED 15
A Filipino beverage made of tapioca pearls, brown sugar syrup and black jelly
Their prices are also quite reasonable considering the quality and portion of their food. In addition to dine-in customers and catering services, they also offer delivery services around the area for those who would like their meals delivered straight to their doorstep.
Video: Philippine Cuisine at Chibog JLT
Check out this video of what to expect a Chibog Dubai:
18 Photos of Chibog Restaurant Dubai
Here are some pictures of the place based on our experience:
Summary
All in all, Chibog Restaurant is definitely worth checking out if you're looking for an authentic Filipino dining experience in Dubai. The atmosphere is cozy and friendly with efficient service, the food is of high quality and the prices are very reasonable.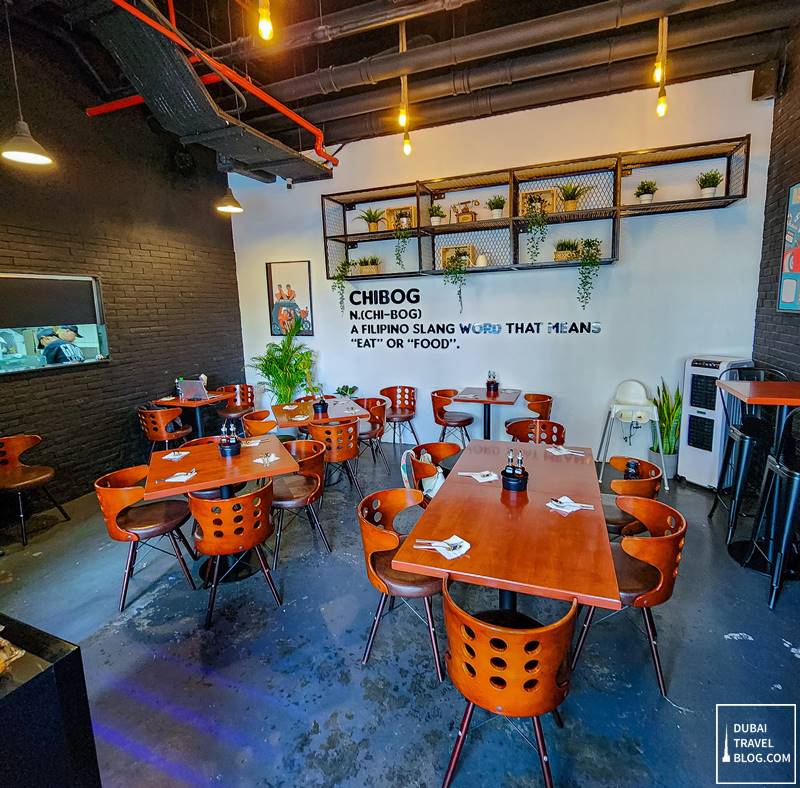 dining at Chibog JLT
Contact Information
Chibog Restaurant Dubai
Address: Shop S05, Al Seef Tower 2, Cluster U, JLT, Dubai, United Arab Emirates
Telephone Number: 04 568 4538
Facebook: @chibog.ae
Instagram: @chibog.ae
Google Map Location
Here's a map guide to the location of Chibog Restaurant in Dubai: