We had a relaxing staycation in Ajman Hotel by Blazon Hotels on a weekday. I booked an All-inclusive package which allowed us to enjoy the facilities of this five-star resort.
Ajman Hotel is located on the far end of Ajman Corniche and this resort features a 400-meter private beach which is the biggest private beach in the emirate. The resort is quite huge that they house over 10 restaurants and lounges and they even have a bowling center!
Arriving at the hotel, we were greeted by palm trees, golden chandeliers, and a fountain in their hotel lobby. It looked grand!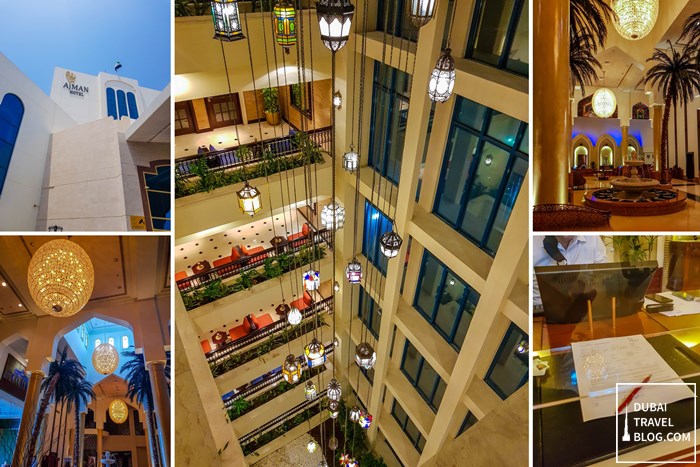 Ajman Hotel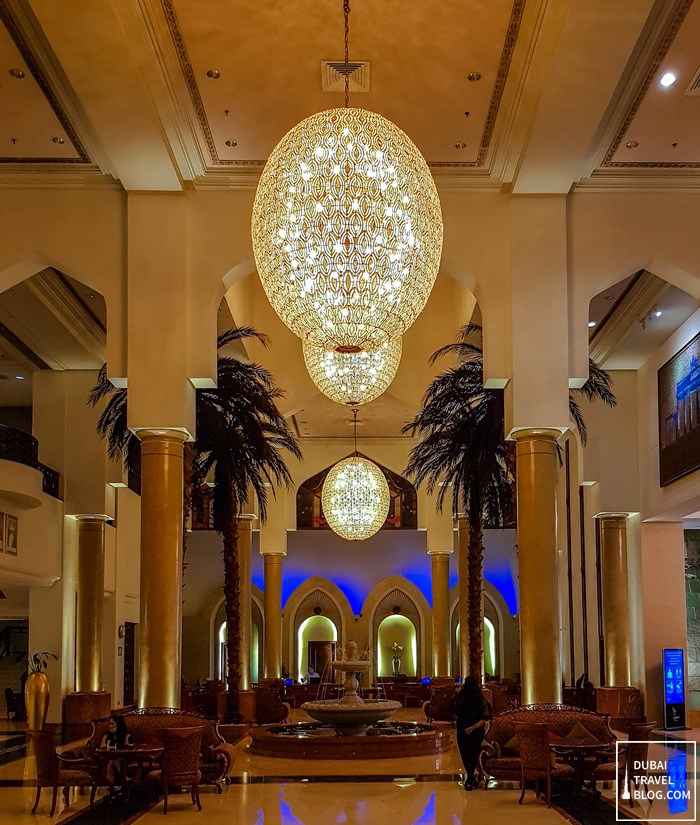 lobby at Ajman Hotel
Beach Resort Staycation at Ajman Hotel by Blazon Hotels
Ajman Hotel is previously known under the Kempinski brand. Now, it is managed by Blazon Hotels. The resort is about 25 km from Dubai International Airport. Depending on traffic, the ride can take between 25 to 40 minutes during non-peak hours.
Check-in was quick and I was really happy that the manager, Eli, informed us right away that it was going to be a dry night and alcohol would not be served starting 6:30pm.
Although we could order some beverages in our room, I was actually looking forward to unwind at their beach area. Still, we had a few hours to drink as we checked in at 1pm.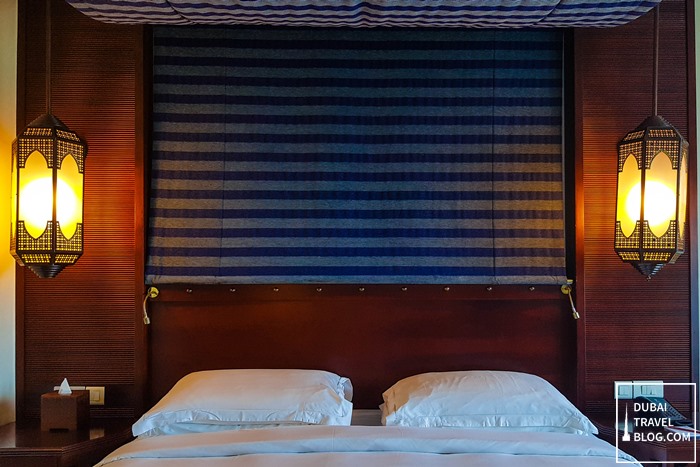 comfy bed
Signature Deluxe Sea View Room
We stayed in their Signature Deluxe Sea View Room located on the 8th floor. This room features wooden furniture and an Arabic traditional design. The comfortable king-size bed has a canopy that added a dramatic effect as though you are sleeping in an elegant tent.
The private balcony features a view of the pool, the palm garden, and the sea. It was nice to wake up with a view of the sea from the bedroom.
elegant room with Arabesque design
canopy bed
Signature Deluxe room
Bathroom
The marble bathroom also featured Arabic designs and includes a bathtub and premium toiletries.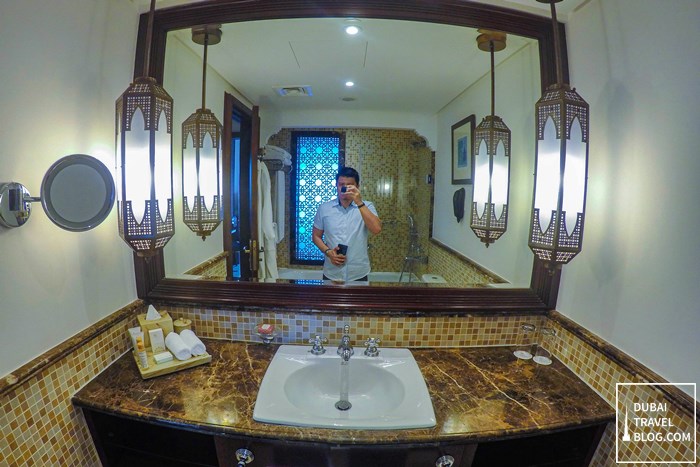 Ajman Hotel Signature Deluxe Sea View bathroom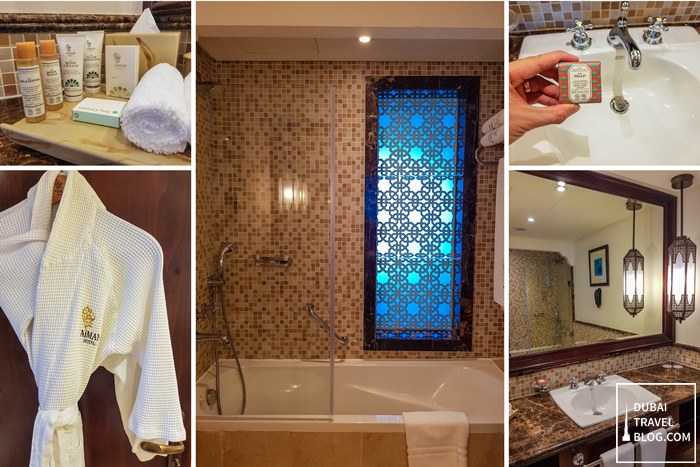 bathroom toiletries
WiFi Internet Speed
The internet speed at the time registered a download speed of 17.18 Mbps so the connection was more than enough for browsing on social media, streaming videos and reading emails.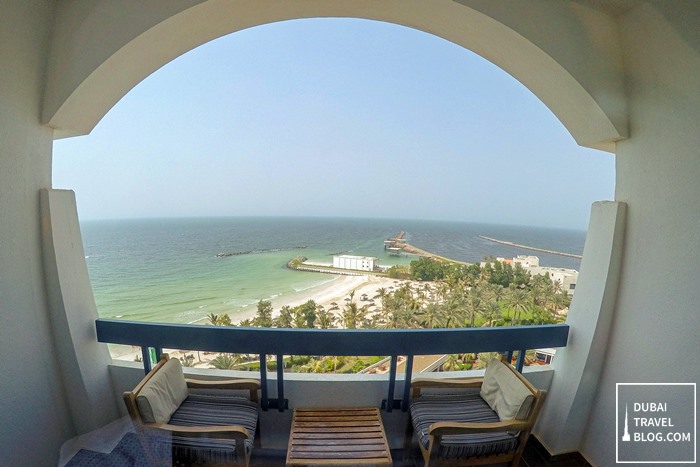 private balcony in Ajman Hotel
Restaurants
Ajman Hotel has a number of restaurants, bars, and lounges. Though a few are currently not operating, there were enough number of establishments open for us to enjoy a meal. In fact, other guests would just drop by the hotel in order to dine in some of their award-winning restaurants. They even have a bowling center in the hotel!
Cafe Naseem – their all-day dining restaurant offering international cuisine. At the time this restaurant was closed and they operated the all-day dining in their Italian restaurant.
Bukhara – an award-winning restaurant featuring North Indian cuisine and is the one and only replica of Bukhara restaurant in New Delhi.
Sabella's – offering authentic Italian cuisine. Currently, this restaurant operates as the all-day dining restaurant and this is where we had our breakfast, lunch, and dinner during our stay.
Zanzi Bar – located right on the beach, this was one of the highlights why I wanted to stay at Ajman Hotel. You can enjoy a drink while watching the sunset right on the beach! We ordered a few drinks and utilized our Cheers App on Entertainer in order to get a Buy One Get One offer on alcoholic drinks and even a bottle of wine. This bar also features special seafood grills and fresh catches of the day.
Lobby Lounge – you can order some sweets and light snacks as well as coffee and tea in the lobby lounge.
Cafe on First – their dedicated cafe offering light bites and a la carte menu.
Blazon Lounge – The Blazon Lounge is a place to meet friends for drinks. They also have a selection of cigars in this lounge.
Sports Bar – watch your favourite game with drinks in their sports bar.
Cosmic Bowling -a licensed 6-lane bowling alley and also features two billiard tables. They offer snacks like burgers and salads as well as drinks as you enjoy a game of bowling.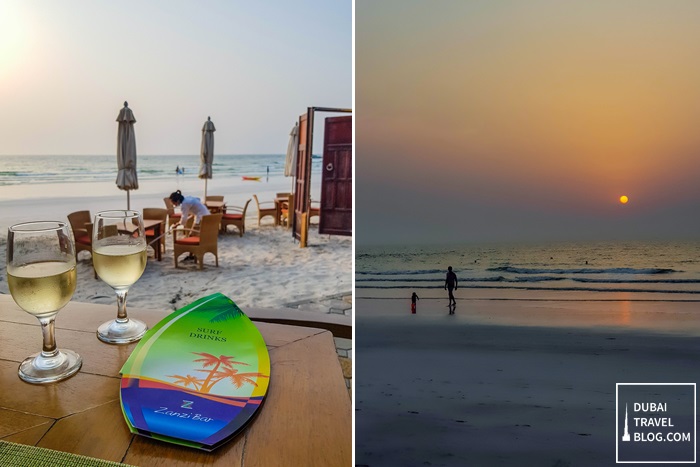 drinks during sunset at Zanzi Bar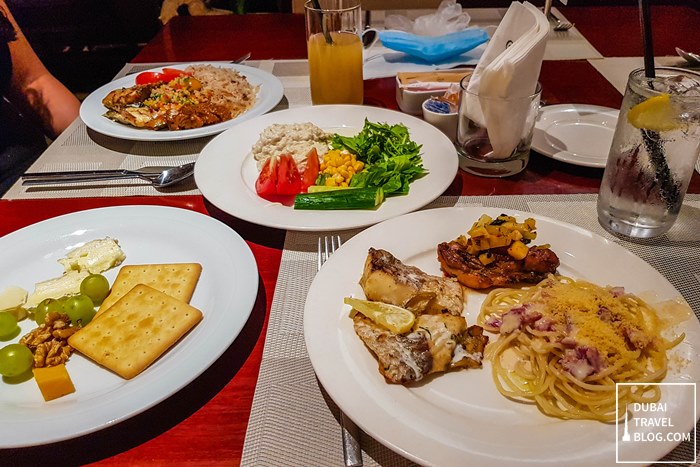 dinner buffet at Sabella's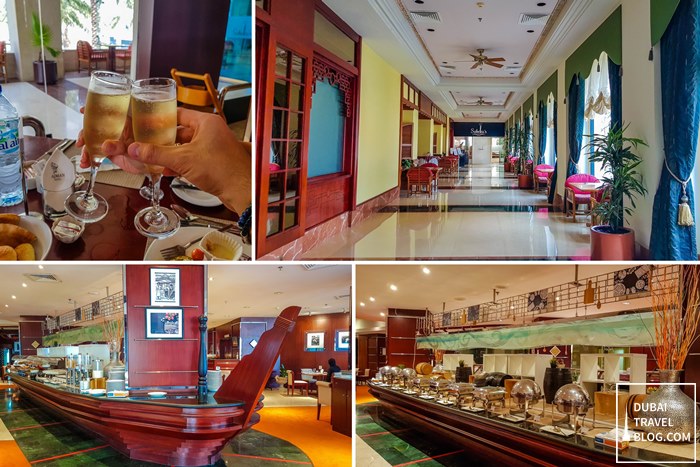 Sabella's Italian restaurant at Ajman Hotel
Swimming Pool
Although the pool wasn't as big as I thought it would be, we still enjoyed our stay lounging in the sunbed and taking a dip.
In the two days of our staycation, we alternated between swimming in the beach and dipping in the pool as the water in the former was warm and the water in the latter was cool.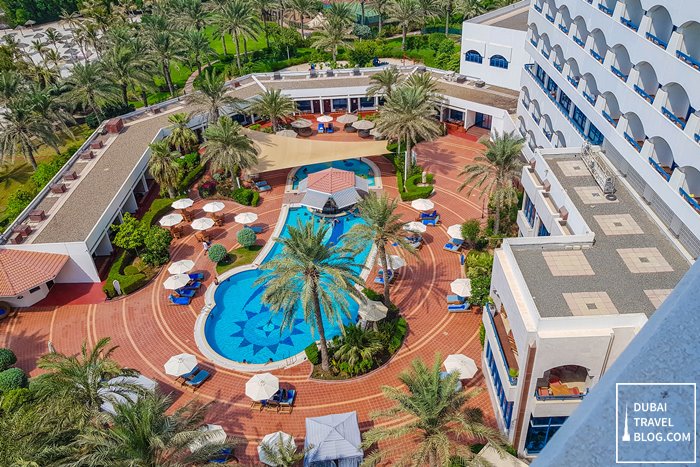 pool view from the balcony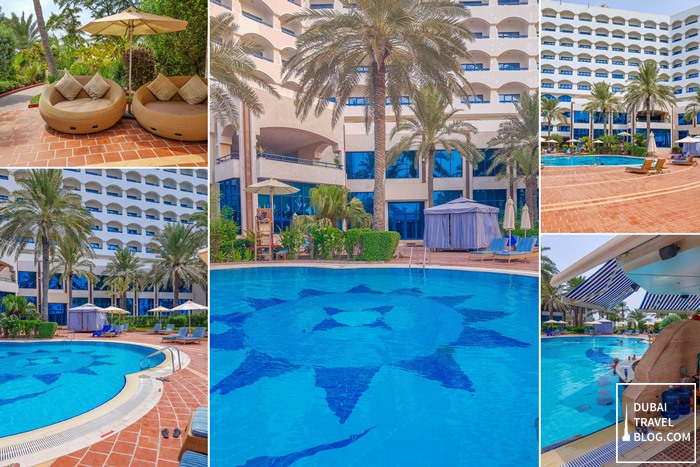 cool pool
Beach Area – Best Private Beach with Sunset in UAE!
The private beach is probably the main highlight why I wanted to have a staycation in this resort. From the hotel's website, they pride themselves with having the "best private beach with sunset in the UAE". I also read about how nice the beach was from our friends Ed & Lady when they described their beach experience during their stay in the resort.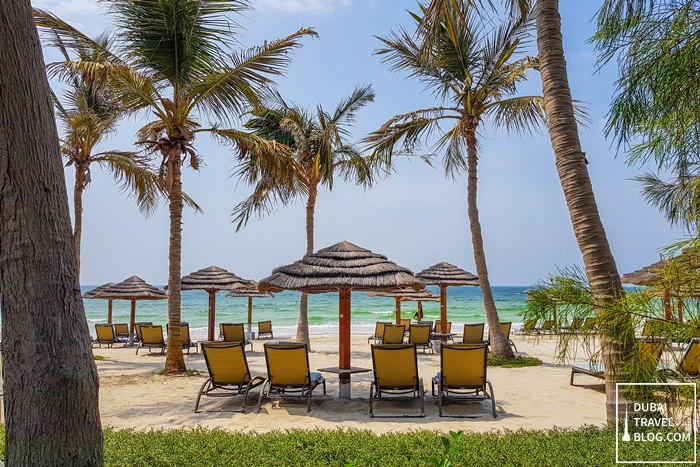 beach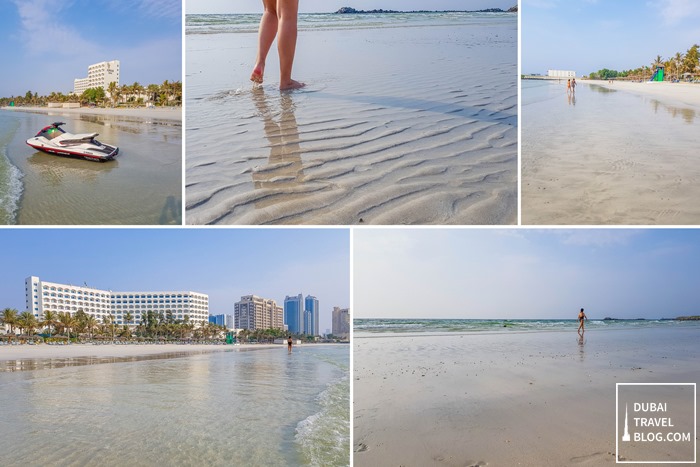 Ajman hotel resort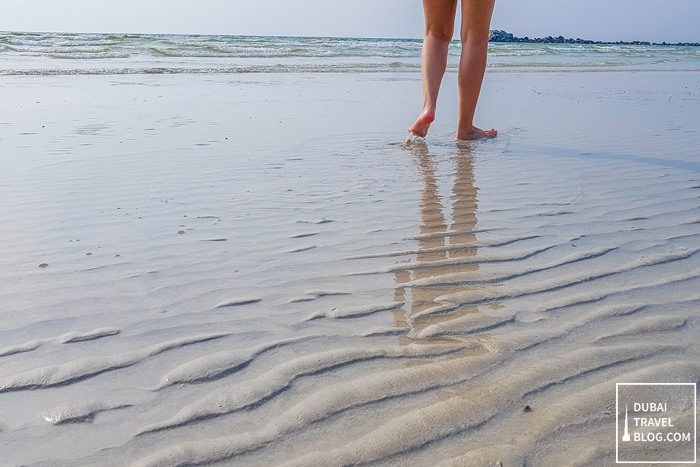 walking on the fine white sand
True enough, the sunset, low tide, and expansive private beach is a much-awaited moment when you're in this resort. The golden hour in Ajman Hotel reminded us of our happy and lazy days during our trip in Bali, Indonesia.
In case you drop by the hotel, whether for a staycation or to just dine in its restaurants, I highly recommend you wait out for the sunset at the beach as it's truly a moment worth checking out.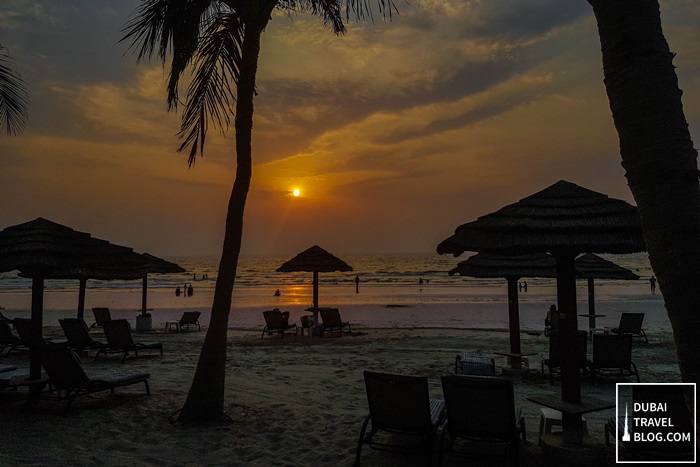 sunset at the beach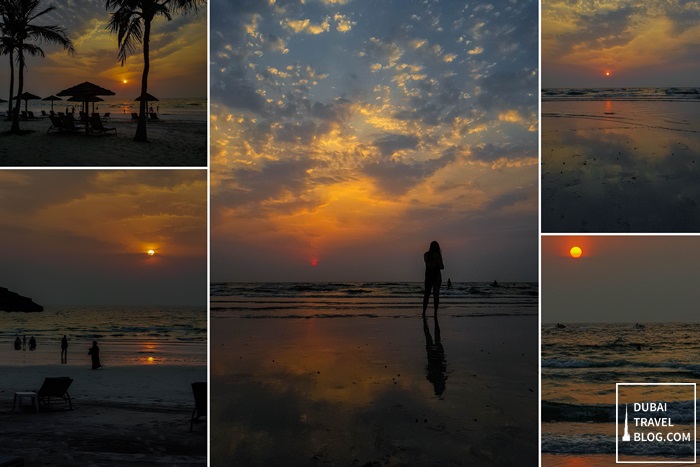 beautiful Ajman hotel sunset
Gym and Fitness Center
The gym and fitness center is located on the right wing in the 1st floor. The hotel was quite huge that we initially got lost how to get to there. But the helpful staff guided us and we were able to check this place out.
They have state-of-the-art equipment for strength and cardio training. They also have a locker, steam and sauna facilities. Although at the time, the steam and sauna were closed.
fitness center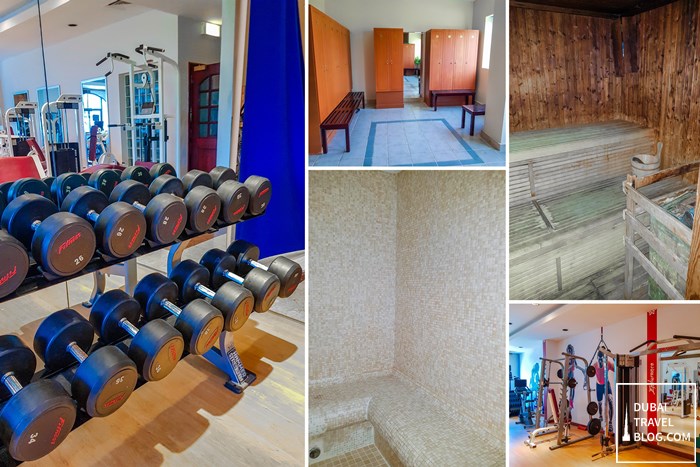 gym, locker, steam and sauna facility in Ajman Hotel
Spa
I believe that the hotel has 2 spas (one offers general treatments and one offering Ayurvedic treatments). I'm not totally sure it's really two as I didn't get to explore these spas during our stay.
According to site, the 2 spas are on the ground level and guests can book a spa treatment for some much-needed pampering. I wasn't able to get a photo of their spa centers. Maybe next time.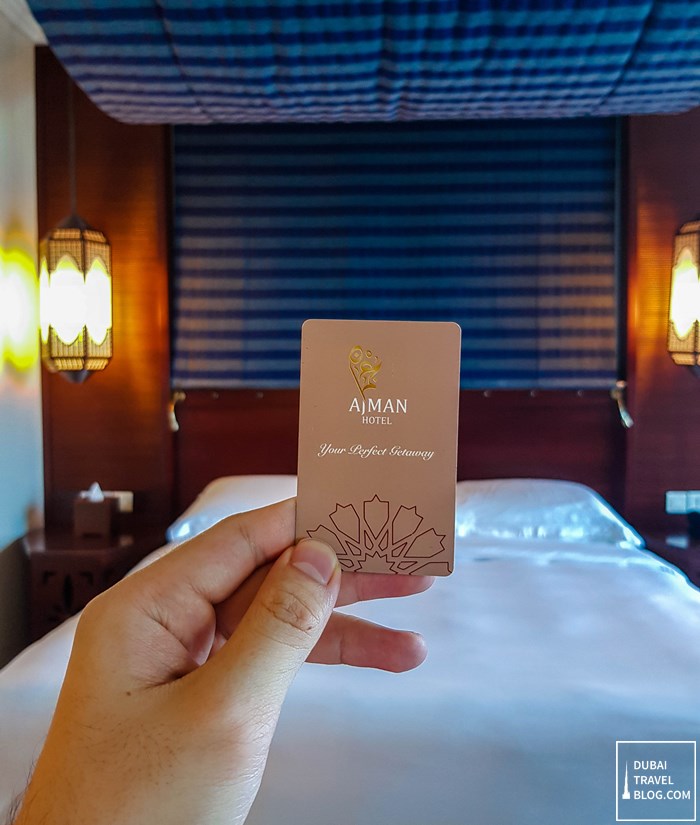 Ajman hotel key card
Our overnight stay in Ajman Hotel was one one of those spur-of-the-moment decisions as I was craving to go out. Given that travel outside is still not accessible, it's better that we booked a hotel stay within the UAE.
After our staycation, I told my wife that I would like us to visit the place again even for drinks at Zanzi Bar and to enjoy the sunset at the beach.
Video: Hotel Staycation Review at Ajman Hotel in Ajman
Check out this video below of our experience at Ajman Hotel Resort by Blazon Hotels:
Contact Information
Address: Sheikh Humaid Bin Rashid Al Nuaimi Street, PO BOX 3025 Ajman, United Arab Emirates
Telephone Number: +971 6 714 5555
Email: reservations@hotelajman.com
Website: https://www.hotelajman.com/
Facebook: @hotelajman
Instagram: @ajmanhotel/
Google Map Location
Below is a map guide to the location of Ajman Hotel by Blazon Hotels.